Rachel Is Very Honest About Being 'Bachelorette'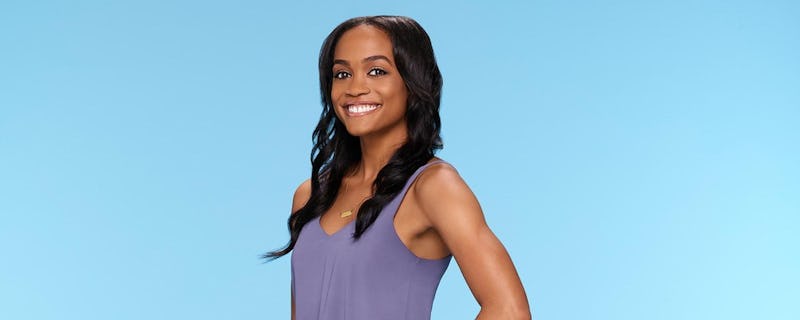 It's looking like Rachel Lindsay will be a refreshing addition to the roster of Bachelorettes — beyond the obvious reason. The 31-year-old attorney is making waves as the first black Bachelorette, an announcement that came even though she hadn't been eliminated from The Bachelor yet. She's seemed to be honest and up front during her time as a contestant on Nick Viall's current Bachelor season, and that honesty hasn't wavered when discussing making history in the Bachelor universe. On Tuesday's Good Morning America, the Dallas native spoke with Michael Strahan about how she "keep[s] it 100 and keep[s] it real," and, with that attitude, she really can make some history.
Rachel admitted she was "skeptical" when ABC presented the opportunity, but, ultimately, she was as excited as she was nervous. She's a lawyer, so it's no surprise she was transparent about weighing the pros and cons. "I decided that this was too good of an opportunity to turn away," she said.
When it comes to discussing being the first woman of color to take on the Bachelorette role, she sticks to her guns. "I don't feel added pressure. I'm honored to have this opportunity and to represent myself as an African American woman," she said. And, if she notices discrepancy between fan feedback in this season and next, it seems she'd have no problem calling it out.
"I just hope that people rally behind me like they did in Nick's season... and just realize that my journey is, I'm just trying to find love," Rachel said. "Even though I'm an African American woman, it's no different than any other Bachelorette." The thought of people needing to hear this message in 2017 is quite frankly frightening, but it's good to see Rachel won't shy away from dropping the truth bombs.
Regardless of any haters that may arise (obviously, when you're dealing with The Bachelorette), Rachel had a positive attitude. "I'm just glad I don't have to keep it a secret anymore," she said.
All in all, audiences never quite know what the intentions truly are of people who join these shows. But hearing Rachel be so unapologetically open about her pure motivation to find love gives me hope that her season might be one of the most real and genuine we've seen in Bachelorette history.