Rachel & DeMario Clashed On 'The Bachelorette'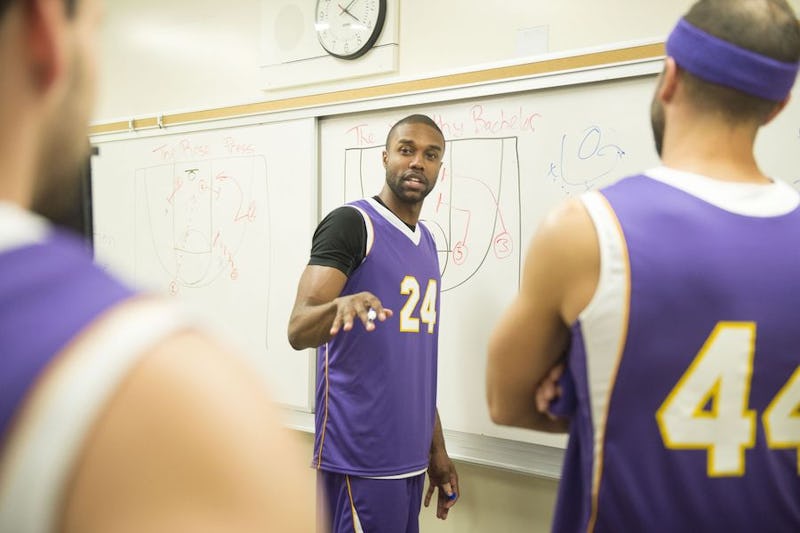 ABC/Michael Yada
Tonight's Bachelorette episode contained a shocking accusation: DeMario Jackson, who impressed Rachel when the two met on last season's After The Final Rose segment, had allegedly been in a seven-month relationship with another woman when he joined the cast of Rachel's season. It was definitely stressful to watch DeMario's ex confront him (and him deny having still been with her at the time), but make no mistake: Rachel's decision to eliminate DeMario from The Bachelorette when he couldn't straightforwardly explain himself was the right call — she's not here for the drama, guys.
Obviously, when DeMario's former girlfriend Lexi arrived on the scene at the end of Rachel's group basketball date with some of the guys, what she had to say was upsetting. According to her, DeMario didn't break up with her and still had keys to her apartment when he unexpectedly disappeared, only to show up on The Bachelorette a few days later. Lexi even alleged she had text messages between the two of them that corroborated her accusations, which seemed to spell disaster for DeMario.
Of course, that wasn't the only reason DeMario was removed from the running. As Rachel explained to him and to the camera, she gave him ample opportunity to explain himself (my favorite lawyeresque set-up: when she said to him, in so many words, "If I check her phone, am I going to find messages from you?"). Certainly he would still be in the dog house, but if he'd come right out and said he messed up and that he hadn't broken up with Lexi properly, it's possible Rachel would have appreciated his effort to be honest with her.
Instead, DeMario did the exact opposite: he pretended he didn't know Lexi at first when she appeared, and tried to explain his way through the encounter to save face. This, more than anything else, demonstrated to Rachel that his intentions might not have been so pure — and that he wasn't going to be the upstanding man she's looking for.
Sure, Rachel could have waited for the rose ceremony to get rid of DeMario, but letting him go before that was proof that she's not willing to entertain any drama or give people second chances who don't deserve them. Like she told him, there were plenty of men she already dropped from the show who definitely wanted to be there for the "right reasons" — why should she waste any time on someone who might not not be?
The choice was definitely a smart one; now that he's outside the gate demanding to be let in to see Rachel once again, it's clear that DeMario is anything but the man of her dreams. It's too bad the drama won't conclude until the next episode of The Bachelorette, but at least it's clear that Rachel's not going to let DeMario walk all over her — and the rest of the contestants will certainly have her back.