OK, But Really, How Is "Whaboom" Guy Still On 'The Bachelorette'?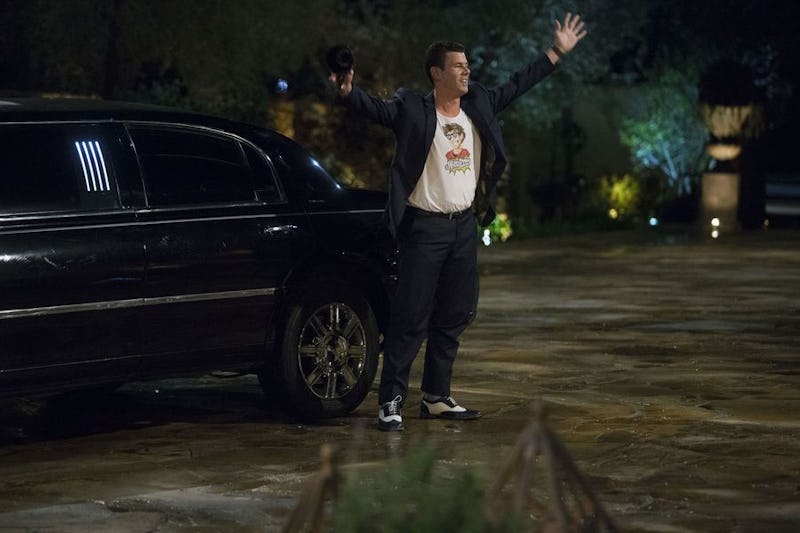 ABC/Paul Hebert
When Rachel Lindsay's season of The Bachelorette kicked off on Monday night, she got to meet some very interesting men during the traditional limo arrivals... and they weren't all interesting in a good way. Although the pool of contestants on night one is usually a bit eclectic, this time around, we were introduced to Lucas, better known as "Whaboom," and when the rose ceremony rolled around, I was shocked to find out he was staying. In fact, Rachel keeping "Whaboom" seemed like the most blatant instance of a Bachelorette following producer's orders ever. And it was really kind of disturbing.
Well, it turns out that Rachel says she kept Lucas by her own choosing. She told E! News, "I said I wanted to be entertained the first night, and that he did!" Asked if the producers played a role in him staying, she responded, "I think people are going to think that. I am so opinionated and direct, they couldn't make me do anything."
She's right that it's not a surprise if people thought she had help from the producers. Among the Bachelor fandom, the idea that producers might sometimes encourage the Bachelor or Bachelorette to keep certain contestants around for entertainment value or drama is widely talked about, and even though that theory hasn't been confirmed, multiple former contestants have spoken out about producer involvement.
Former Bachelorette Ali Fedotowsky wrote for E! News that producers didn't tell her who to keep, but helped her along with her decisions. She said, "I think I chose the majority of the guys who stayed the first night, but after that I couldn't really distinguish the last couple so I had the producer 'help' me pick, and I'm sure they would suggest I can't get rid of the 'interesting' ones. Ha."
ABC had no comment for Bustle regarding whether producers play a role in which contestants the Bachelorette keeps around.
Even if Lucas stayed because of Rachel's decision alone, the whole thing was awkward. First of all, from Lucas' intro alone, it was clear that this guy is a lot, and it went beyond him just trying to stand out amongst the 30 other guys Rachel met that night. He had one gimmick, and it was what I can only describe as a full body process that ends in him making the sound, "whaboom." He was obviously just trying to be funny, and at first, during his limo entrance, it did make Rachel laugh. But it was all downhill from there.
Once Lucas made his way inside the mansion, he didn't make many friends — especially not after he introduced them to his obnoxious catchphrase. They almost instantly dubbed him "the crazy guy" and the expressions on their faces when he Whaboomed so hard he fell off his chair were priceless.
But, of course, Rachel was a good sport, admiring his #Whaboom shirt during their cocktail party conversation. If she was annoyed by him, she didn't show it, unlike the guys inside. And then when it came time for him to receive his rose, she gave it to him just as graciously as she did everyone else, but the mood of the room significantly changed.
The confusion among the other men was palpable; they couldn't understand how Lucas got a rose and honestly, neither could I. Judging by Nick Viall and Rachel's first impression rose winner, Bryan, it seems she's more into subtle humor and someone who's rather low-key, and neither of those traits apply to Lucas. It had to be the producers behind that choice, right?
Well, I guess not, but I wouldn't surprised if some of the guys in the room thought that, too. Going off of what Ali said, maybe there were only a few men who really caught Rachel's eye, so she didn't mind taking Whaboom along for the ride.
Maybe one day, Rachel will release a tell-all book explaining exactly what happened that night, but until then, I'll just be waiting to see how far Lucas actually makes it. There do seem to be much better matches for our girl among the rest of the men. If he's not the guy for her, it's better to let him go early, even if he is fun to watch.