Rachel's 'Bachelorette' Finale Dress Will Make Your Jaw Drop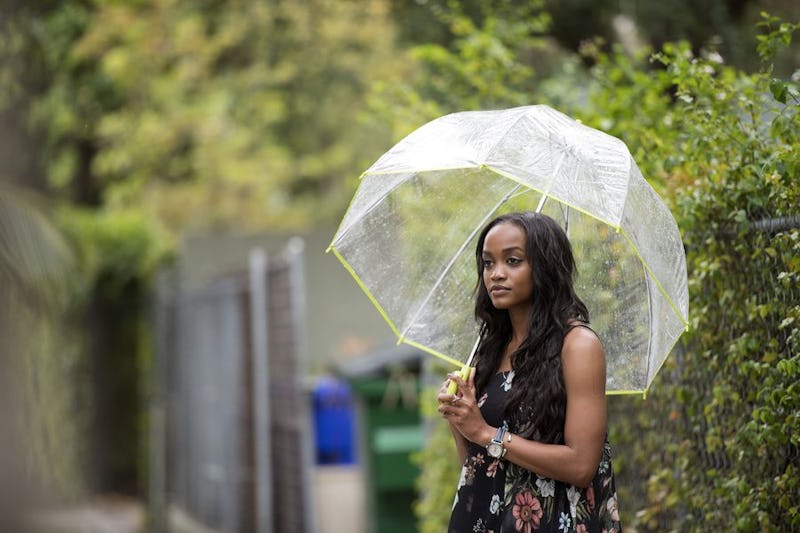 ABC/Rodrigo Varela
If you've been following the latest season of The Bachelorette, it should come as no surprise that Rachel Lindsay's finale dress is absolutely gorgeous. The gown perfectly mixes timeless fashion with current trends, making it everything a memorable finale dress should be — classic and simple, but boosted to the next level by shimmery silver beaded detail. And that's not even mentioning that daring thigh-high slit.
The beading gives the gown something of an Art Deco vibe, which is appropriate given the garment is pretty much a work of art. It's the ideal gown for the tense final rose ceremony everyone's been waiting for.
Of course, it's only fitting that Rachel should dress so fabulously for her final episode. After all, she's had quite the season of great looks. Her low-key casual ensembles have kept things simple and stylish, while her formal looks have been downright stellar — especially the absolutely gorgeous embroidered lace Marchesa mini dress she donned for the season's penultimate "Men Tell All" episode.
We all knew that her finale dress had to somehow upstage Rachel's "Men Tell All" dress — and it most definitely did. Seriously, it might just be the best finale dress the series has ever seen. At the very least, it gives Jojo's gorgeous Badgley Mischka gown a run for its money.
Isn't the beading beautiful? Plus, the look is so simply styled, allowing only bold eyelashes and statement earrings to artfully accessorize the look. Her undone chignon also works wonders here.
And come on — that slit adds major drama to the gown.
Seriously, you know it's a special dress if it's competing with the Spanish countryside!