Rachel & Bryan Are Bonding Fast On 'Bachelorette'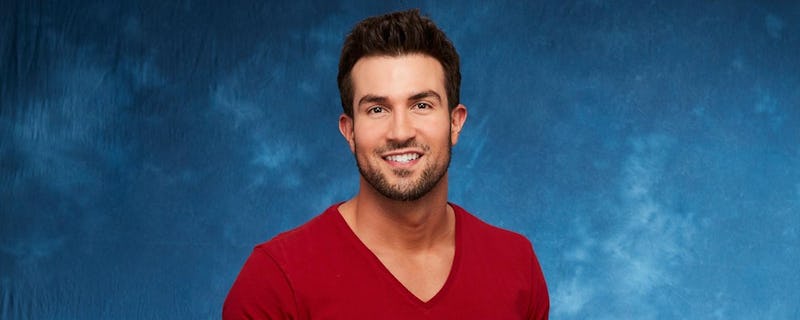 Craig Sjodin/ABC
After she broke the news herself last week, we're going into Rachel Lindsay's Bachelorette season premiere knowing that this whole journey does actually end with Rachel being happily engaged. It's too early to tell who her fiancé might be, but it's already pretty clear there's an obvious front runner. In fact, Rachel's first Bachelorette kiss of the season with Bryan was solid proof that there's already some serious chemistry between her and Bryan, and it looks like their connection can only get stronger from here.
From their first meeting during limo arrivals, it was easy to see a spark between them. He warned her that he was trouble, and Rachel seemed happy to get in trouble with him. Pretty good start, right? It got even better when they had the chance to talk privately during the cocktail party... including a pretty steamy make out session, serving as the first official kiss of the season. And then, when she gave him the first impression rose later on, they had another one that got even more intense.
As far as first kisses go, Rachel and Bryan's was really serious. Could he be the guy she's engaged to right now? There are so many weeks standing between the rest of us and the answer to that question.
It's still the beginning of the season, but things are certainly looking good for Bryan. Obviously, Rachel seemed to get along well with a lot of the other guys so far, but none of them elicited the kind of reaction that Bryan got out of her. Maybe it's fate?!
It'll be interesting to see if this first night is an accurate predictor for how the rest of the season will go for Bryan. Fingers crossed he doesn't do anything to mess this up. It looks like the next rose is his to lose.