Rag & Bone Will Now Give You 20 Percent Off For Recycling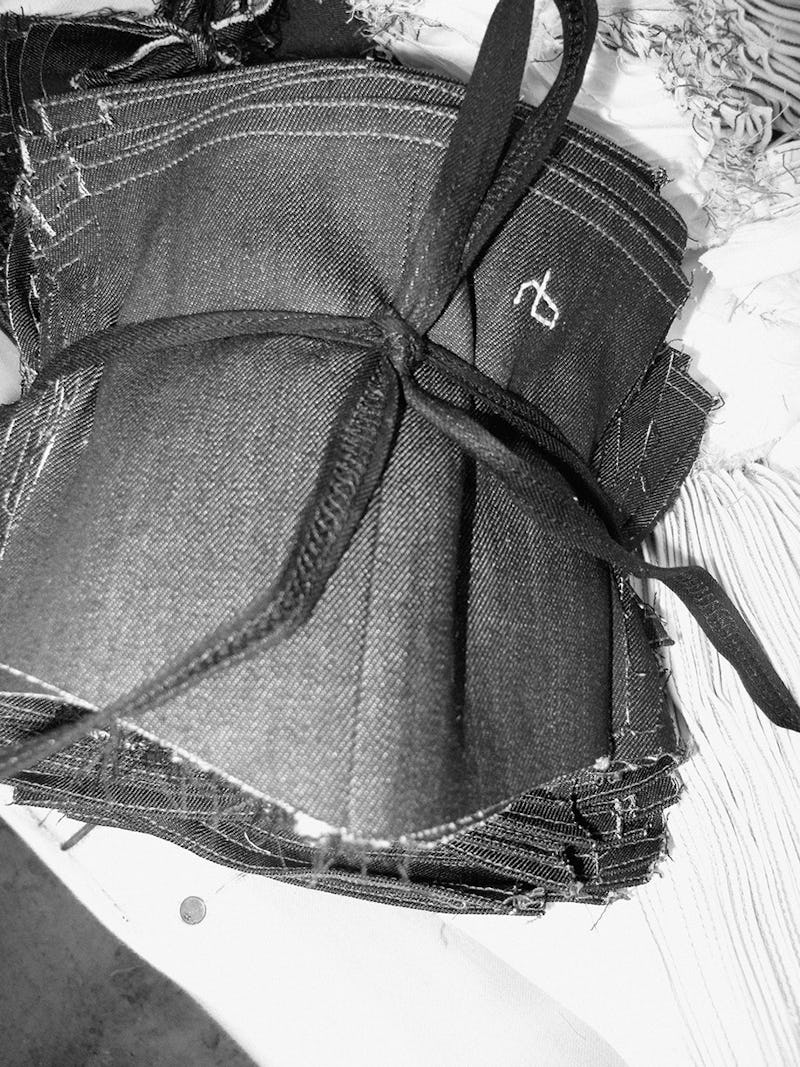 Courtesy of Rag & Bone
Despite how much you may love the pair of jeans you've had for the past three years, there's always a point at which you need to replace your one true denim love. Thankfully, Rag & Bone's denim recycling program will help your repurpose your unwanted pairs and save money in the process. Genius, right? Plus, it's eco-friendly to boot!
What exactly is the recycling program, though, and how can it save you money? Rag & Bone has teamed up with Cotton Incorporated to convert customers old denim into UltraTouch Denim Insulation. The denim-created insulation is then used to help build homes with organizations such as Habitat for Humanity. Basically, that old pair of jeans in your closet don't have to go to waste. They can be transformed into housing insulation thanks to Cotton Incorporated's Blue Jeans Go Green program.
If you're thinking that the brand will only take their own denim back, you'd be wrong. According to the Rag & Bone, they'll be accepting any brand's old denim to be recycled into insulation. There's really no way to lose with the program.
What kind of savings can you score? Here's where the brand comes in. When you donate your worn jeans to Rag & Bone, you'll automatically get a bad ass 20 percent discount to the brand. That's pretty sweet savings for a pricey brand.
If you want to take advantage, you'll also need to do so fairly quickly. The 20 percent off is only good on full-priced Rag & Bone merchandise the day of your donation. But hey, you needed new jeans anyway, right? Isn't that the whole point?
CEO, creative director, and founder of Rag & Bone Marcus Wainwright says that the program was created to foster environmental responsibility and protection.
"Every one of us has a responsibility to do our part to protect our environment," he said in a press release. "The Blue Jeans Go Green Initiative is making great strides in helping brands make a difference and we are honored to be launching this Denim Recycling Program."
While Rag & Bone isn't the first brand to participate in Blue Jeans Go Green, it is a major get for the philanthropic effort. Andrea Samber, co-director of strategic alliances for Cotton Incorporated, says the company is excited to expand the program in a major way.
"We love that retailers and brands see a win-win situation for the customers, the business, the community, and the lifecycle of denim," she says.
Rag & Bone isn't alone in their efforts to prevent waste and help the world. H&M is also part of efforts to make fashion more sustainable through donations.
The H&M Foundation launched a collection initiative back in 2013 that collects used clothes of any type, size, and condition. Those clothes are then repurposed or donated. For clothes that can't directly be reused, H&M donates them to social project. The brand explains on their site, "The social projects are focused on equality and inclusion of marginalized groups. In addition, for each kilogram of textiles that H&M collects, 0.02 euros will be donated to a local charity organization..."
No matter where you choose to donate your used denim or used clothing, the important thing is that your clothing doesn't have to do to waste. Be it rewearable goods or denim that can be converted into insulation for homes, there's always a way to repurpose the styles you plan to trash.
If you want a discount and to do a good deed, head to your nearest Rag & Bone. Let them turn your blue jeans green.