Rand Paul Has An Obamacare Message For The GOP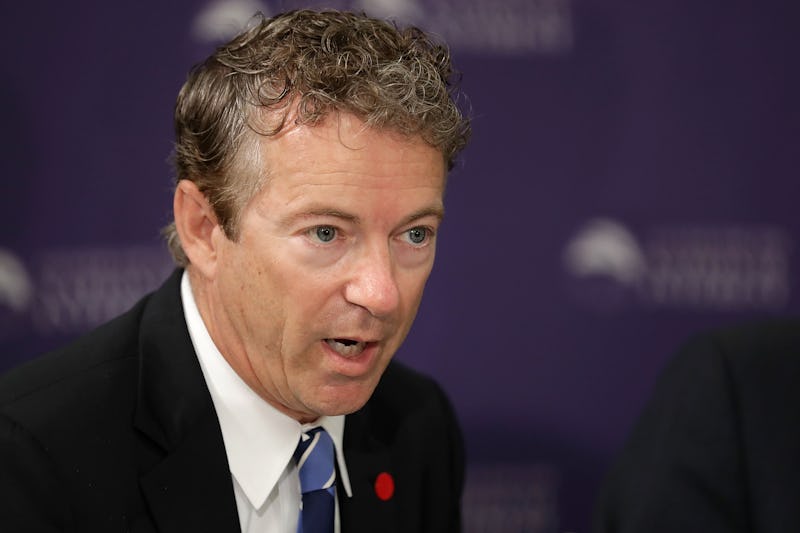 Chip Somodevilla/Getty Images News/Getty Images
The battle over the future of Obamacare is likely far from over, but with President Obama's term winding down, Republicans are capitalizing on an opportunity. Last week, Republicans in the House and Senate both voted on measures that could lead to the quick repeal of Obama's Affordable Care Act. It's the start of a mission that Republican lawmakers have long promised to each other and to constituents, but GOP Sen. Rand Paul's Obamacare approach offers a clear message to others in his party: Repealing is only half the battle.
Paul has reportedly drafted a bill to repeal and replace the Affordable Care Act. From a photo he posted on Twitter, it looks like Paul will be calling the bill the "Obamacare Replacement Act." Last week, Paul was the only GOP senator to vote against a proposed budget, which would pave the way for repealing Obamacare. But his "no" vote doesn't mean that Paul is in favor of Obamacare. On the contrary, Paul seems concerned that when Obamacare is repealed, it is replaced with something that offers coverage and balances the budget.
Paul emphasized the need for a replacement bill on CNN on Sunday. According to CNN State of the Union, Paul hopes to remove mandates and "legalize the sale of inexpensive insurance" through his replacement bill.
It's not just about the specifics of the plan, though. In reality, a perfect plan that pleases everyone in this country probably doesn't exist. It's highly unlikely that Paul's plan — or any others that may be proposed in the coming months — will please everyone. But by calling for his fellow Republicans to replace Obamacare on the same day as repealing it, the issue that Paul is highlighting is still important because there will need to be a plan that at least covers everyone. If Obamacare is repealed without a replacement, then millions of people could be left wondering if their health insurance is valid.
Amidst all the talk of repealing Obamacare, it's the replacement talk that has lagged behind. House Speaker Paul Ryan seems aware of the lag. "We're not holding hard deadlines, only because we want to get it right," he reportedly told the media. Once upon a time, Ryan himself proposed a replacement for the Affordable Care Act. Known as the Patients' Choice Act, Ryan's plan from 2009 would emphasize health savings accounts, a tactic Republican lawmakers have often touted for replacing Obamacare.
Last week, Ryan also declared that Republicans do plan to repeal and replace Obamacare at the same time. The repeal process seems to have already begun, but the replacement part may not seem as clear to Americans. For his part, Paul vowed on Twitter to discuss his replacement bill all week, but there's really no telling how long the entire process could take.