Randall's 'This Is Us' Prom Scene Had Real-Life Inspiration From A Co-Star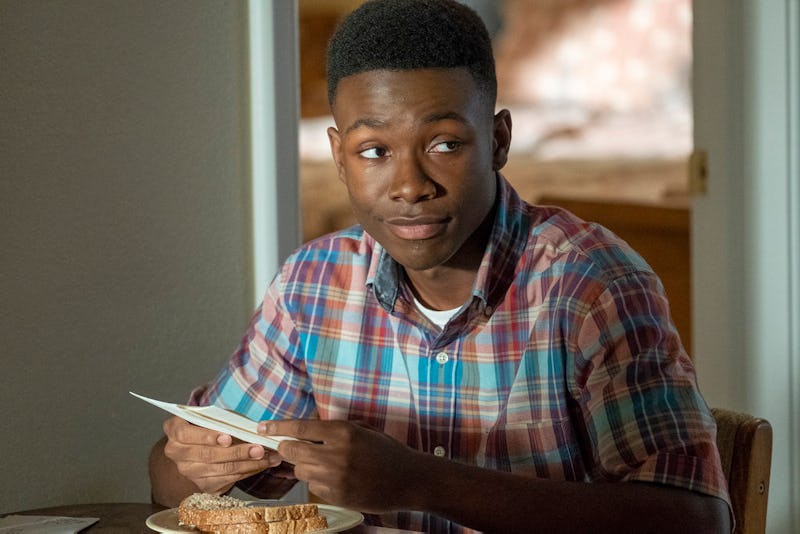 Ron Batzdorff/NBC
Since its inception, This Is Us has made it its mission to discuss storylines that deal with important real-world topics such as death, miscarriage, adoption, PTSD, alcoholism, obesity and racism. While every episode and scene of the beloved drama brings forth a new story for fans to digest, a recent moment, which showcased Randall's prom rejection on This Is Us, drew real-life inspiration from another key-player on the critically-acclaimed series. During a recent interview with Bustle at an NBC Press Brunch in Los Angeles, Jon Huertas, the actor who portrays Miguel on the series, revealed that the scenario where Randall is rejected by his prom date's father was actually taken from a situation that he experienced as a youth.
While less than half of Season 3's episodes have aired, one of the most touching moments from this year's installment comes when Randall returns from a disastrous prom night and runs into Miguel outside of the house. When Randall shares what happened with Alison's dad, Miguel tries to provide comfort by revealing the racism he experienced after moving to the U.S. from Puerto Rico as a youngster. Although Randall is far too upset to participate in the conversation with Miguel, the scene helps to give the audience a better understanding of Miguel and his unexplored background.
In his discussion with Bustle, Huertas shared his decision to approach the show's writers about adding details about Miguel's background into an episode. He explains to Bustle, "At the beginning of the season I went in and I talked to them and I said, 'Look we haven't really delved into Miguel's heritage and I want to.' And they were very respectful and very welcoming of that idea."
He went on to share that while the storyline wasn't an exact replication, Randall's prom night ordeal was, in fact, based on his own past experience. Giving some more insight into the scene, in which both his character and teenage Randall are forced to address the issue of racism, Huertas went on to say, "And then we talked about my background and so Randall's story when the father turns away from him in that prom scene that's story comes from my life. That happened to me with a girl that I was dating. Her father, it wasn't prom, but it was their family had a hilly piece of property and every year for the first snow the family got together and rode sleds on their hills and I was invited to meet her family and do that."
Huertas continued his story, explaining: "When I showed up he didn't want to do that with me. I left so that they could have their family event... and I took off and I never saw her again."
While the TV moment between Miguel and Randall proved to be extremely touching due to Jack's recent death, Huertas points out that the talk didn't go quite as Miguel expected it to. He tells Bustle, "But that was a story from childhood that they incorporated and let me as a character deal with, try to deal with and it didn't go as well as Miguel had planned. He wanted Randall to be accepting of his advice but of course it's not the same, his father just died. He wanted advice from his father. And then Miguel had to, in the end, understand that."
Miguel has remained an important part of the This Is Us storyline for many reasons. Over the past three season, fans have often found it hard to come to terms with the fact that the character ends up marrying his best friend's wife, Rebecca, years after his death. While he's often been pegged as an outsider, Miguel's role in Season 3 makes it apparent that he eventually became an integral part of the Pearson collective in the months following the loss of Jack. Making good on his promise to Jack to look after his family, Miguel has stepped-up in many ways including; repairing their broken refrigerator, delivering them a new piano, and taking care of Kevin after he gets drunk at the prom.
The former Castle actor goes onto to delve into the issue of interracial relationships and race on television — something which This Is Us tackled early on with Miguel's relationship with Rebecca and later with Kevin's relationship with Beth's cousin Zoe. He says that, "it was nice to see them" use his real life story for the scene and shared that it was great to see his "ethnicity" brought into the fold. The entertainer also revealed that it's something that the show plans to continue to do moving forward.
Huertas tells Bustle, "Because on television you don't often see biracial relationships. I know that Hollywood is still profiling. And so when they have an Hispanic character they usually look for a latino woman. But on our show they put me with a Caucasian."
He went on to reference the Kevin and Zoe storyline and gushed about the show's willingness to showcase real-world diversity. He explains, "So it's great that our show is like, 'Hey these relationships are out there. Let's show them. Let's promote them. Let's show it's accessible.' And so I'm glad they're doing that because it's important to show a slice of life, a slice of the country."
In an October interview with Esquire, Huertas discussed the positivity that Miguel has brought to Latinx characters on television. He shared,
"When Miguel gets married to Rebecca, he is actually very wealthy, and very successful. That's what I love about Miguel. Latinos and Latinas play four archetypes: We play low-wage workers like a cop or fireman, Latinas play overly sexualized characters, and we also play crime bosses or low-level gangsters. Miguel is a really successful, strong character that is loyal to his best friend, so to me he is a strong, positive character."
As This Is Us continues to break ground with it diverse and inclusive narrative, Miguel's storyline should prove to be a great addition to the Pearson family dynamics.
Additional reporting by Associate Entertainment News Editor Mallory Carra.