Raven Slipped Up On 'The Bachelor'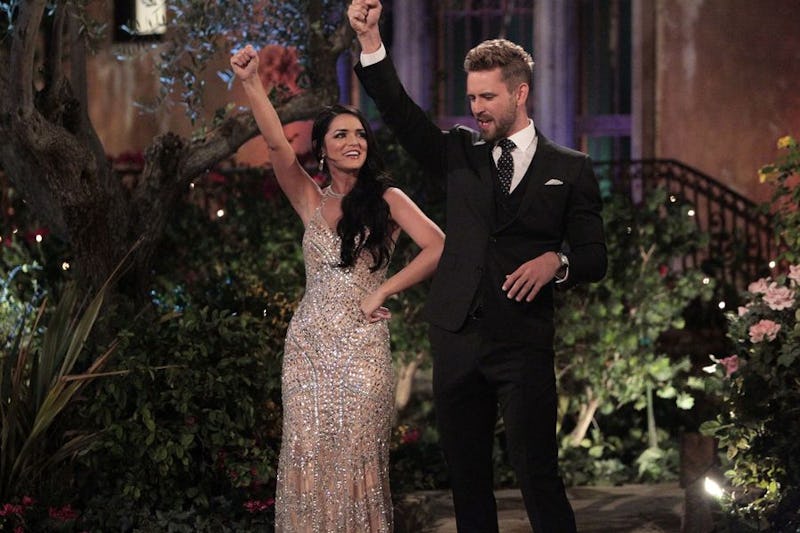 Rick Rowell/ABC
Now that we've had the chance to get to know the women of Nick Viall's Bachelor season, I'm starting to really like Raven. She's adorable and funny, and who doesn't love that accent?! But when she didn't get the group date rose, she showed a little sadness for the first time ever, and it was hard not to feel for her. And being bummed out led to her getting a little more real... and it's pretty obvious her feelings for Nick are developing fast. Raven admitted she fell in love with Nick during their Bachelor one-on-one date last week, and it's obvious she's worried about getting hurt now that she laid it all on the line.
And not only did she accidentally let it slip to Nick that she is in love with him, but she also talked about it later in the date. After Nick gave Danielle the rose, Raven was visibly crushed. In her interview, she confessed, "I am falling for Nick. I definitely don't feel like going home right now. I have so much more to say to Nick. I needed the rose for reassurance that he feels the same way."
Then, she went on to explain that what she's worried about most at this point is whether or not Nick returns her feelings, and after seeing the dates he's had with other women, it seems like that fear is valid. He has a lot of blossoming relationships at this point, including with Raven.
I can't imagine what it must be like for her to stress out about a situation like this, especially so far from the finish line. Hopefully, she'll get one-on-one time with Nick soon so she doesn't have to keep wondering if they're on the same page. She seems like a good fit for him, but only if he'll return her feelings the way she deserves.
Even if Nick doesn't choose Raven in the end, I'm hoping she sticks around. Bachelorette or Bachelor in Paradise, anyone? My fingers are crossed!