Read The Weinstein Company's Statement On Ousting Its Founder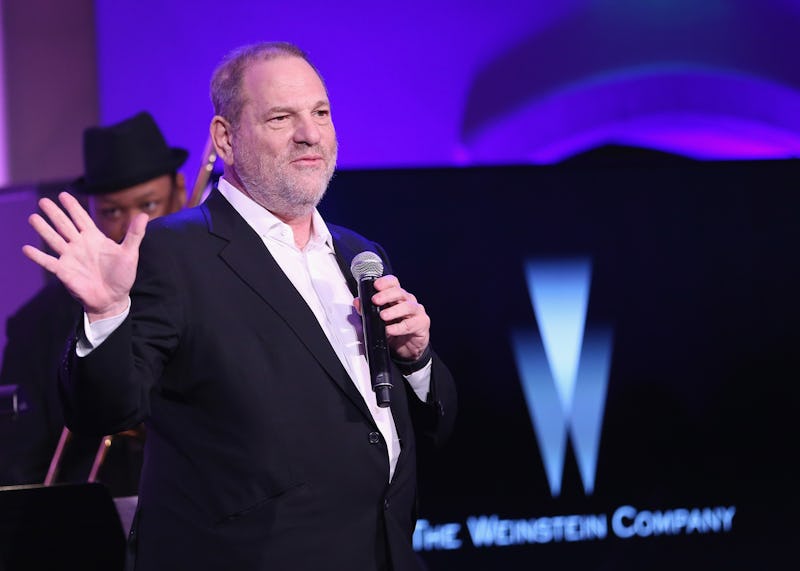 Rich Polk/Getty Images Entertainment/Getty Images
Harvey Weinstein was fired on Sunday, with the Weinstein Company saying in a statement that "new information about misconduct" on the producer's behalf convinced the company's directors to terminate Weinstein's employment.
The announcement came days after a bombshell New York Times article accused the Hollywood power player of serial sexual harassment during his decades in Hollywood. Weinstein apologized in a statement to the Times that "the way I've behaved with colleagues has caused a lot of pain, and I sincerely apologize for it," although in a separate statement, his lawyer pledged to sue the newspaper for publishing "false and defamatory statements" about the Pulp Fiction producer.
Here's what Weinstein Company said when it announced that it had fired its co-founder:
In light of new information about misconduct by Harvey Weinstein that has emerged in the past few days, the directors of The Weinstein Company — Robert Weinstein, Lance Maerov, Richard Koenigsberg and Tarak Ben Ammar — have determined, and have informed Harvey Weinstein, that his employment with The Weinstein Company is terminated, effective immediately.
The Times reported Thursday that Weinstein, who produced Scream, The English Patient, and many other hit films, had been accused of sexual harassment by several women during his decades in Hollywood, and had reached legal settlements with at least eight of his accusers.
When the Times article was published, Weinstein released a lengthy apology letter. Although he did not address or admit to any of the allegations specifically, he said that he "so respect[s] all women and regret[s] what happened," and announced that he'd be taking a leave of absence from the Company.
"I came of age in the 60's and 70's, when all the rules about behavior and workplaces were different," explained Weinstein, who was born in 1952. "I have since learned that it's not an excuse, in the office — or out of it. To anyone."
However, Weinstein's letter was somewhat undercut by a separate statement released the same day by his lawyer, Charles J. Harder, who said he'd be suing the Times over the article.
"The New York Times published today a story that is saturated with false and defamatory statements about Harvey Weinstein," Harder wrote. "It relies on mostly hearsay accounts and a faulty report, apparently stolen from an employee personnel file, which has been debunked by nine different eyewitnesses. We sent the Times the facts and evidence, but they ignored it and rushed to publish. We are preparing the lawsuit now. All proceeds will be donated to women's organizations."
When the Times story broke, attorney Lisa Bloom was "advising" (but not actually representing) Weinstein on how to deal with the allegations. Bloom told the Times that she "saw advising Mr. Weinstein as an opportunity" to help him change his ways; however, she drew criticism for this, as she'd spent much of her career advocating for victims of sexual harassment and assault. On Saturday, Bloom announced that she was no longer advising Weinstein.
Weinstein rose to prominence in the 1990s after producing several blockbuster independent films, and went on to become one of the most powerful figures in Hollywood. He donates frequently to Democratic politicians; since the Times report was published, however, 12 Democratic Senators and one governor have announced that they'll redirect the donations they received from Weinstein to charity.
President Trump, who's also been accused of sexual assault by multiple women, said Saturday that he's "not at all surprised" at the allegations against Weinstein. Although the president (who denies the allegations against him) once boasted that he can grope women without their permission because he's "a star," dismissed comparisons between that and the Weinstein claims, telling reporters that his own comments were just "locker room."
If you or someone you know has been sexually assaulted, call the National Sexual Assault Telephone Hotline at 800-656-HOPE (4673) or visit online.rainn.org.