'RHOA' Star Cynthia Bailey Says She Would've Done One Thing Differently This Season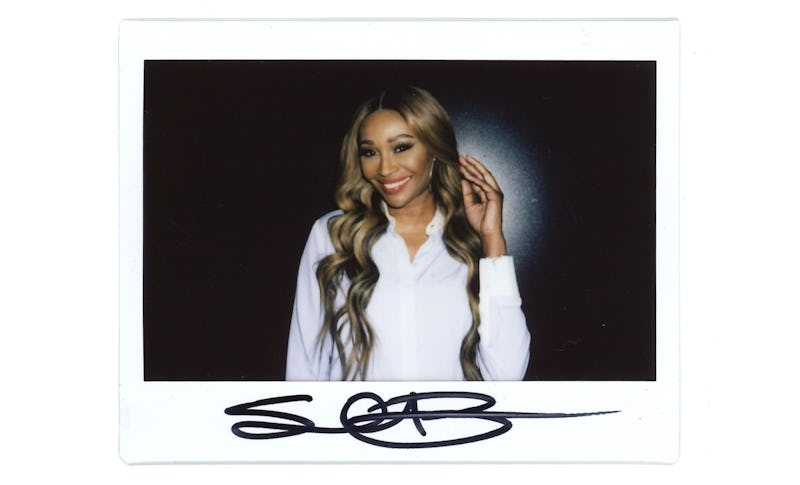 Shanelle Infante/Bustle
When celebrities hang out with Bustle editors, we want to give them the chance to leave their mark. Literally. So we hand them a pen, a piece of paper, a few questions, and ask them to get creative. The rest is up to them. This time, Real Housewives Of Atlanta star Cynthia Bailey is leaving her mark in the Bustle Booth.
When Cynthia Bailey sits down with me at Bustle's New York City office, she commands the room with silliness, kindness, and what she calls "light shade." It's a whole different vibe than what fans might be used to, especially after the tumultuous RHOA Season 11 finale.
You can tell that Cynthia is still reeling from the fallout of the finale — in which she invited former cast member Kenya Moore to the launch party of her Seagrams Escapes partnership, much to the chagrin of NeNe Leakes, who isn't about to let the perceived slight slide anytime soon. "Looking back I wish I said 'Hey, I invited Kenya,'" Cynthia tells me. She adds, "It's unfortunate that there ended up being a little bit of drama, but I think it didn't have to be that way. That event was put together with nothing but the best of intentions. I would never put anybody in a position to intentionally hurt their feelings, betray them, or cause any sort of drama."
Still, there was a lot of drama this season and judging from the reunion, it might be hard for some of the women to mend their relationships. To make matters worse, the drama is all playing out on social media, too, which means fans are also chiming in with their theories, allegiances, and unsolicited opinions. Even as a reality television pro, it's not something Cynthia is used to. Having been on the show since Season 3, Cynthia explains, "The show has changed. [Fans] don't just want to know what we're doing when we're filming. They want to know what we are doing in between."
Even with all of the drama spilling over into social media, Cynthia keeps it positive and understands the bigger picture. She says she's not picking sides, which is a testament to her forgiving nature. "I've always said Kenya was good for the show. I also think NeNe is good for the show. They're both reality TV gold, especially when they're on the same season," she says.
Hopefully the dust settles on Season 11 soon and the ladies, along with Cynthia, can go back to being their fun, slightly shady selves. In the meantime, you can check out Cynthia's Bustle Booth answers below.