Rebel Wilson Apologized For Blocking People Who Called Out Her Plus-Size Movie Comments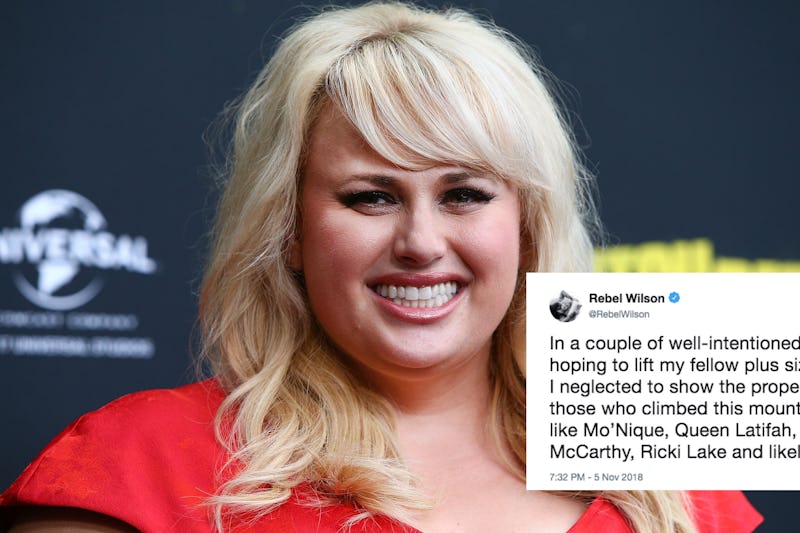 Lisa Maree Williams/Getty Images Entertainment/Getty Images; Rebel Wilson/Twitter
Last week, Rebel Wilson sparked backlash over comments about plus-sized leads in romantic comedies. She then received further backlash over the weekend for subsequently blocking people on Twitter who tried to shed light on the subject. Now, Rebel Wilson has issued an apology in multiple tweets posted on Monday, Nov. 5.
In her tweets, not only did the Bridesmaids actor apologize for both her comments and blocking her critics on Twitter, but she also turned the focus to the women who helped pave the way in the film industry. Wilson wrote:
"In a couple of well-intentioned moments, hoping to lift my fellow plus sized women up, I neglected to show the proper respect to those who climbed this mountain before me like Mo'Nique, Queen Latifah, Melissa McCarthy, Ricki Lake and likely many others. With the help of some very compassionate and well-thought out responses from others on social media, I now realize what I said was not only wrong but also incredibly hurtful. To be part of a problem I was hoping I was helping makes it that much more embarrassing & hard to- acknowledge. I blocked people on Twitter because I was hurting from the criticism, but those are the people I actually need to hear from more, not less. Again, I am deeply sorry."
Following the original controversy, Yahoo reported that Wilson was largely blocking women of color on Twitter after seeing some of their criticism over the matter. (Bustle previously reached out to Wilson about the blocking, but did not receive an immediate response.) In addition to offering this recent apology, it also appears as though the actor has unblocked some of those critics, including journalist ReBecca Theodore-Vachon who tweeted on Nov. 5 that she was unblocked by Wilson.
Wilson's apology comes shortly after she received criticism for her comments about her upcoming film Isn't It Romantic. During an appearance on The Ellen DeGeneres Show on Oct. 31, Wilson made waves when she said how excited she was to be "the first ever plus-size girl to be the star of a romantic comedy." Of course, as many critics pointed out on social media, that was not the case, as actors such as Queen Latifah have starred in their own romantic comedy films long before Wilson's role in Isn't It Romantic.
Prior to her new series of tweets, Wilson addressed this controversy in a Nov. 1 reply to one Twitter user, who related that both Latifah and Mo'Nique have starred in their own rom-coms before. However, she had not acknowledged many of the concerns around her comment. Wilson wrote at the time:
"Hey girl! Yeah I of course know of these movies but it was questionable as to whether: 1. Technically those actresses were plus size when filming those movies or 2. Technically those films are catorgorized/billed as a studio rom-com with a sole lead. So there's a slight grey area."
She also responded to a tweet from Mo'Nique herself on Nov. 3. The comedian wrote to Wilson and said, "Hey my sweet sister. Let's please not allow this business to erase our talent with giving grey areas and technicalities."
The Pitch Perfect star responded by saying that it was never her intention to "erase anyone else's achievements."
While it may never have been Wilson's intention to erase anyone else with her claims, it's clear that many rightfully pointed out how hurtful her statement was. At least now the actor is choosing to apologize and truly listen to those who were giving her some important criticism, instead of shutting them out.