Rebel Wilson's New Rom Com Is A Pivotal Parody Of The Genre, According To The Actor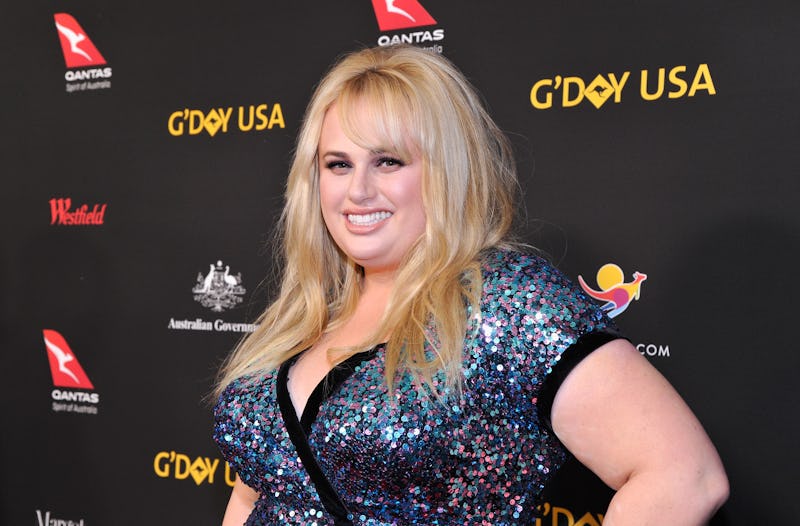 John Sciulli/Getty Images Entertainment/Getty Images
The romantic comedy genre has experienced a creative resurgence in 2018, thanks in large part to Netflix. Still, rom-coms have a long way to go before they become truly progressive and inclusive. In a new interview with Entertainment Weekly, Rebel Wilson reveals her new rom-com, Isn't It Romantic, could be a step in the right direction. The comedy is a parody of the genre that will both play up its tropes, while also challenging the idea that female rom-com leads can't be plus size women.
Set to hit theaters on Valentine's Day, Isn't It Romantic stars Wilson as Natalie, an architect (a classic rom-com profession), who hates rom-coms and everything they stand for. Natalie has to confront the over-the-top romances that come along with the genre when she finds herself trapped in a PG-13 romantic comedy after she hits her head during an encounter with a thief.
The movie also stars Liam Hemsworth, Adam DeVine, and Priyanka Chopra. Hemsworth plays a handsome stranger who comes into Natalie's life, while DeVine plays her best friend, who she's in love with, and Chopra stars as the yoga ambassador he has a crush on. A love triangle ensues, and it sounds like Wilson's character will have no choice but to play along with the movie-style drama if she has any hopes of returning to a world that isn't a brightly colored dream version of New York.
Isn't It Romantic is directed by Todd Strauss-Schulson, who revealed to EW that the movie has a deeper message. He explained, "It's a romantic comedy about falling in love with yourself. And it's a romantic comedy about romantic comedies and the romantic stories we tell ourselves."
For Wilson, the film marks a chance to step into the spotlight as the lead, rather than play the quirky, comedic relief best friend character. In films like the Pitch Perfect franchise and How to Be Single, the actor has been tasked with over-the-top comedic roles. And while there's no doubt that she's terrific at making people laugh, she can do that as a leading character too.
Wilson told EW,
"I don't think there's been a rom-com where there's a plus-size girl as the lead. They're normally cast as the sassy friend or the sidekick."
Isn't It Romantic may not be the first rom-com to feature a plus-size lead, but it's definitely among only a handful of titles to do so. And its premise also makes it sound like the rare film that will openly skewer the genre's penchant for relegating plus-size women to the best friend role. Natalie is the star of her own story, and that alone is reason enough to be excited for this film.
Fans of Wilson will remember that this isn't actually the first time she's tackled the limits of rom-coms. Her short-lived ABC comedy, Super Fun Night, not only focused on a body positive romantic lead, it also got real about the unique struggles that plus size women face in the dating world. The series struggled to find an audience, but those who did watch were treated to a sitcom that balanced romance, laughs, and a body acceptance journey that wasn't focused on weight loss.
Super Fun Night was a special series that allowed Wilson to shine as the star of her own story, and it seems like Isn't It Romantic is poised to allow her thoughts on rom-coms to reach a wider audience this Valentine's Day.