Everything You Need To Know About 'HTGAWM' Before Season 4 Starts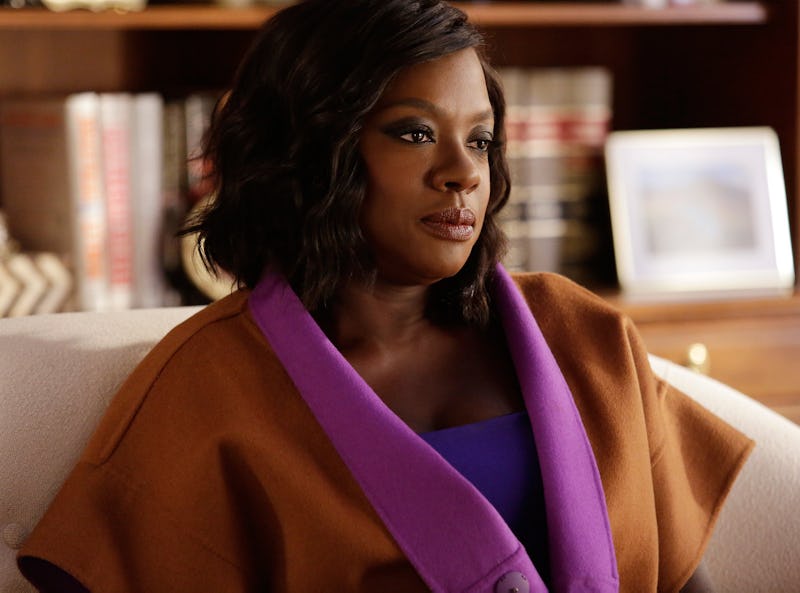 Nicole WIlder/ABC
Thursday nights just haven't been the same for fans since their favorite Shondaland shows went on hiatus. But after a slow summer, the dark and twisty How To Get Away With Murder returns Thursday, Sept. 29. But, what happened in How To Get Away With Murder Season 3? When we last saw sharp-witted Annalise Keating and her loyal band of scheming students, also known as the Keating 5 (well, now 4) we learned that Laurel's father killed Wes — in cahoots with D.A. Denver and Castillo family goon Dominic.
According to what the show's creator, Pete Nowalk, told The Hollywood Reporter, the idea to make Laurel's dad Wes' killer didn't come from out of the blue. Apparently he was always an option. "That's why I really wanted to introduce him [in Season 3] — not that I even was sure that Wes was dead at this time," Nowalk told the outlet. "But since the beginning of the show we've been talking so much about Laurel's father and we've always dropped hints that he was a big and powerful man."
So powerful, in fact, that he'd kill his own daughter's boyfriend for no apparent reason. Or so we may think. Clearly, nothing is ever what it seems on this show and Season 4 will likely be no different. But, before Philadelphia's most murderous crew returns, let's take a look back on everything that went down in Season 3.
Annalise Was Cleared In Wes' Murder
Once again Annalise found herself on the wrong side of the law defending her innocence. Her rival A.D.A Atwood was determined to put her away for Wes' murder, but thanks to Nate, her students, and Bonnie — Annalise walked away free, and D.A. Denver was pissed. Still, Annalise's professional reputation was officially in the garbage. Only so many people can die around someone before others start to wonder what's really going on, and unfortunately Annalise hit her quota. But, aside from her career misfortune, one huge question still remains: Was Wes Annalise's real son? She repeatedly referred to him as "my son" during her Alcoholics Anonymous meeting breakdown, and all those flashbacks about Rose gave fans a feeling that there's more to her connection with Wes than she's telling.
Charles Mahoney Was Actually Wes' Father
Nothing that happens on HTGAWM should shock viewers, but alas something always does. Last season, it was the moment when Annalise decided to meet with Sylvia Mahoney and call a truce. Things got heated at the restaurant table and it was revealed that Wes was Charles' son, not Wallace's son.
Laurel Was Pregnant With Wes' Baby
Speaking of mothers... besides who killed Wes, the question on everyone's mind at the beginning of Season 3 was about who exactly Laurel was pregnant by. Was it the sweet and sometimes naive Wes, or charming, but highly dangerous Frank? Luckily, fans got the answer by the finale — Wes was the father. Though, one can only imagine what's going to happen to Laurel's baby, if she decides to keep it, once her father gets his hands on the grandchild. I mean, he did kill the baby's father.
Despite a fling with Frank, Laurel made it clear that Wes was the love of her life. She frequently reminded everyone that Wes was dead and even told Connor to kill himself when she learned that he may have played a role in his death. Once she discovered that Charles Mahoney was actually Wes' father, and became convinced that he was the murderer, she dragged Michaela to a bar. Laurel convinced Michaela to to seduce Charles so that Laurel could confront and eventually shoot him in the face. Lucky for Charles, Michaela had a change of heart about going through with the plan because of her love for Asher. Laurel stormed out of the bar still hell bent on getting revenge when she bumped into and hugged (!) Dominic. Yeah, that guy who killed Wes and almost killed her — of course she didn't know that at the time.
Connor Did The Absolute Most
Connor spent the entire season freaking out and struggling with the fact that he and the rest of Keating crew have been involved in multiple murders. He repeatedly questioned whether or not he should continue to be involved with Annalise and her sketchy legal practice. And, while initially it seemed as if he was just whining, fans then learned just why he was taking Wes' death so hard: He saw him on the night he died. Before the fire he got Annalise's voice-mail, went over to the house, and found Wes' body lying on the floor in the basement. He tried to do CPR on Wes, pressed a little too hard and apparently snapped Wes' bones. He freaked out and then just left him there. Face palm.
On another note, the D.A. showed Wes' phone to Connor and threatened to prove that he was responsible for Wes' death if he didn't agree to turn on Annalise. After some hesitation, an arrest, and a creepy chat with the D.A. in a basement, he decided to tell the cops that he knew Oliver had a copy of Annalise's phone, which contained a voicemail of Wes confessing to Sam's murder. Once he was released he headed home where Oliver, with the worst possible timing ever, proposed to him.
Frank Proved His Loyalty Still Lies With Annalise
The new and semi-improved Frank, with no facial hair and a buzz cut, spent the entire season behind bars. But, he still managed to help his old team up with Bonnie. The D.A. offered Frank a deal where he'd say Annalise ordered him to kill Wes or face murder charges on his own. But, Bonnie, who Frank is now "involved" with, told him not to take this deal — so he didn't. Problem solved. If only everyone else listened to Bonnie like this...
Nate Still Hasn't Let Annalise Go
No matter how much of a mess Annalise gets Nate into or how many jobs she gets him fired from, he still can't seem to let her go. Season 3 was no different. For a second, viewers thought Nate had switched teams because of his on-and-off "relationship" with A.D.A. Atwood, but it turns out that he was just using her. After he got her wifi password, he got Oliver to hack into her computer and discovered that Wes' body had been moved illegally, which in turn helped Annalise get released from jail. Now, here's to hoping that Annalise finally stops treating Nate so badly this season.
Michaela & Asher Finally Admitted That They Love Each Other
This mismatched couple provides about the only sweet spot in the entire dark and twisty show. Asher, fed up with their friends with benefits situation, decided to finally confess his true feelings: He loves her. Michaela, taken aback, didn't respond right away. Not because she didn't love him too, but because she was afraid that she didn't know how to love someone. Although, when Laurel dragged her to a bar and asked her to seduce and confront Charles Mahoney, Michaela finally decided to tell Asher how she felt. Unfortunately, once again, such bad timing for love. And, the last time two of the Keating 5 started getting serious (cough cough, Laurel and Wes), someone turned up dead. Just saying.
Is Wes Annalise's son? Will Frank ever get out of jail? What will happen to Laurel's baby? Most importantly, why did Laurel's father want Frank dead? Find out when How To Get Away With Murder Season 4 premieres.
Editor's note: After publication, we discovered this article did not meet our editorial standards: There were portions that did not correctly attribute another source. It has been updated to meet our standards.