You Can Now Buy CBD-Infused Seltzer That's The Perfect Chill Afternoon Drink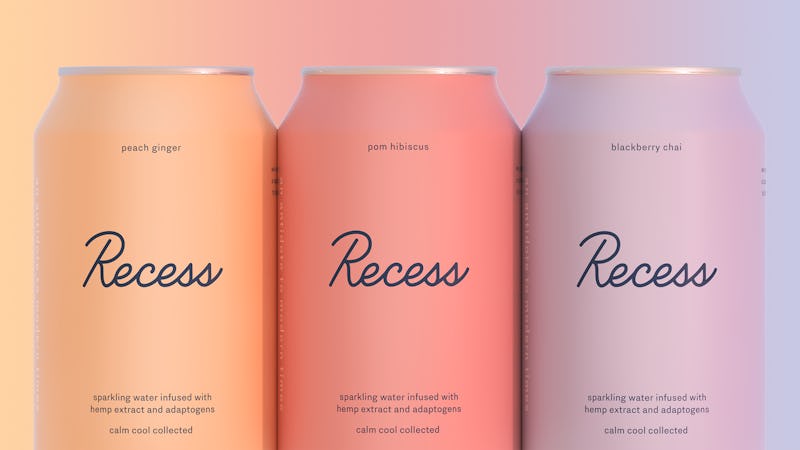 Courtesy of Recess
In case you missed it, CBD is having a moment and a half. The non-psychoactive cannabis compound, full name cannabidiol, is showing up everywhere from baked goods, to bath bombs, to gummies you take like a vitamin. Now, you can try CBD in millennials' favorite form: flavored sparkling water. Recess CBD & adaptogen-infused seltzer comes in three different (delicious) flavors that all pack an extremely chill punch.
Priced at $39.99 for an eight-can pack of one flavor, and $30 for a six-can variety pack, these (extremely Instagrammable) sparkling water cans are great to keep around for a non-alcoholic option at a party, or just a chill afternoon pick-me-up you can reach for if you don't exactly want a soda. The flavors are Peach Ginger, Pom Hibiscus, and Blackberry Chai, and each pastel-colored can is infused with 10mg of Colorado-sourced full spectrum hemp extract (aka, the CBD). You can purchase them online at Recess' website.
Beyond CBD, though, these sparkling waters are also infused with adaptogens (herbs that help your body, well, adapt to stress). Ginseng is thought to help with stress, and to boost energy and immunity; L-Theanine is an amino acid found in green tea that promotes relaxation; and schisandra is an herb traditionally used in Chinese medicine that Recess claims can help with concentration. While many people swear by their benefits, herbs and adaptogens may have different effects depending on who's taking them, and it's important to check in with your doctor if you take medication that might interact with any of these ingredients.
But, back to the most pressing question you probably have: What does CBD sparkling water actually taste like? I'm so glad you asked. Recess sent the Bustle office a sampler pack ahead of their launch, and people had feelings. Personally, I don't love super-sweet drinks, and so I was a fan of each of the three flavors. Peach Ginger tastes kind of like your favorite peach tea, only bubbly, while Blackberry Chai tasted "like Christmas," and that's a direct quote from basically everyone who tried it. Pom Hibiscus tastes like pomegranate and citrus, which Bustle editors were divided on. If you're craving a soda, this probably isn't going to hit the mark for you, but if you're into kombucha, you might be a fan of Recess. (The bubbliness is also probably most similar to a kombucha, and less fizzy than some other sparkling waters that you may be used to.)
If this is your first intro to the world of CBD, you should know that 1) yes, the compound is legal in most states (double check your local laws before purchasing or consuming), and 2) no, it will not get you high. As far as the effects of the CBD go, it's important to note that, as with CBD's psychoactive cousin THC, not everyone will react in the same way. One editor described feeling "sluggish" after drinking a glass, while I personally felt relaxed at the end of a more-hectic-than-usual Friday.
While the line certainly isn't for everyone, if you like low-key bev options that bill themselves as "an antidote to modern times," as the can currently on my desk reads, you probably will enjoy staying hydrated with a can of these. Chill responsibly.
Readers should note that the regulations and data surrounding marijuana, CBD, and other related products are still developing. As such, the information contained in this post should not be construed as medical or legal advice. Always consult with your doctor before trying any substance or supplement.