Red Bull Just Launched A Coconut Berry Flavor & The Cans Are Sleek As Heck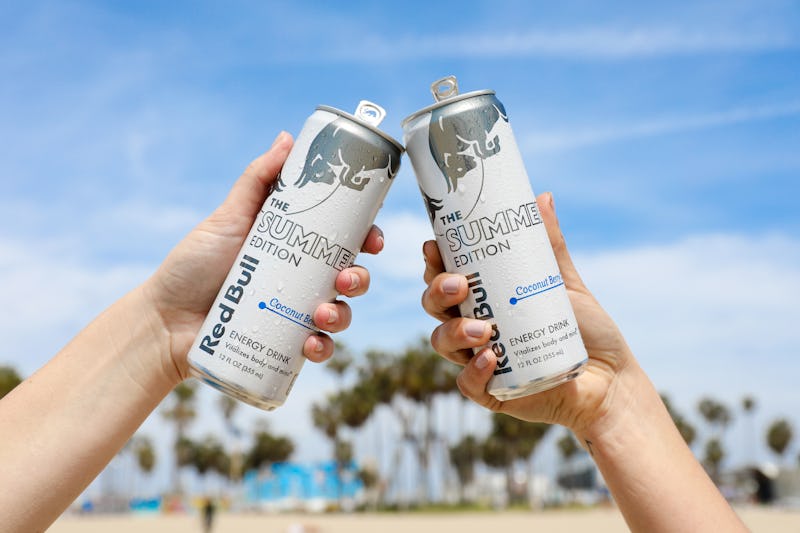 Red Bull
We might only (finally!) be entering spring, but our eyes are always set on summer. We all know that this lovely season is really just a gateway to the months of June, July, and August. However, it's important to live in the present. So in this case, spring. And now we can enjoy spring with a little summer in hand. Red Bull's new Coconut Berry flavor is here — just in time to enjoy the spoils of an early summer. Because, really, what shouts summer like a blast of coconut and berries?
Energy boosts with the arrival of summer. Suddenly, once we've successfully lugged ourselves through winter, we find the motivation to prance out of the house. Where all but two months ago you couldn't fathom reaching an inch further for the TV remote, you're hopping from beach to beach with a renewed sense of movement. But if you still find yourself slugging along and in desperate need to energize yourself, there's always Red Bull.
You might not sprout ~actual~ wings but, one sip of the new summer inspired Coconut Berry flavor and you'll be ready to take off. Or, at least get in touch with your inner Phelps and swim laps in an Olympic size pool. There's so much to do once the weather forecast becomes all rays of sunshine. You won't want to waste a minute of the rising temperatures inside still working up the strength to reach for that TV remote.
The 2018 summer edition of Red Bull is available nationwide starting on Apr. 30, according to a press release from Red Bull. Though its debut is also announced as a limited run, you'll have all of summer to enjoy the flavor. Store shelves will see the Coconut Berry Red Bull through Labor Day. I know there's a lot to accomplish on a summer bucket list — amusement parks to conquer, beaches to sprawl out on, potlucks to cook for, bikes to ride, scenic hikes to engage in and hot dog eating contests to either enter or cheer on. But now there's no reason to not have the most energetic summer ever. You can bounce around and check off all the summer activities.
The refreshing flavor comes in Red Bull's first white can. Needless to say, it will look as fresh as it tastes in all your Instagrams representing your ~summer vibe~. What you'll get a load of is a single can — 12 fluid ounces or 355 milliliters — of the beverage. When it comes to the caffeination content (you know, what's getting you amped to go play many games of basketball outside), a Red Bull press release says that there are "114 mg [of caffeine] in a 12 fl. oz. (355 mL) can – about the same as a similarly sized cup of home-brewed coffee." No offense to coffee, but, sometimes I'd rather sip on something a little more obviously fruit forward.
We still have a lot of the spring season to enjoy (budding flowers!) but summer always comes in hot. With all the bouncing around you're bound to do as the seasons change, it's best to be prepared with a stock of Red Bull. The summer editions joins a popular line up of Red Bull editions. According to a press release, these flavors include, "Red (cranberry), blue (blueberry), Yellow (tropical fruits), Orange (tangerine) and Green (kiwi apple)."
No matter what your palate desires, there's a flavor to keep everyone energized through all the happenings you're being invited to. If you can't get your hands wrapped around an actual coconut — one with a straw poking out of it — Red Bull's Coconut Berry summer edition energy drink will be the perfect placeholder.