Reese Witherspoon's Guest Role On 'The Mindy Project' Could Be Very... Festive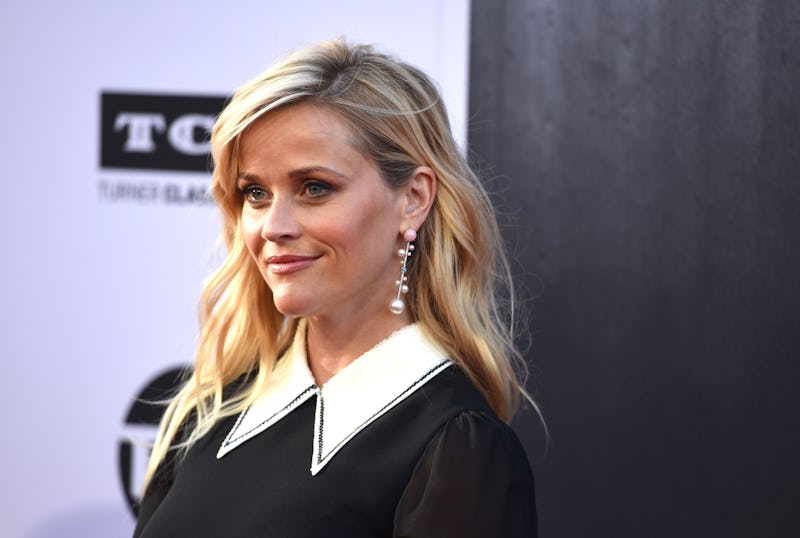 ROBYN BECK/AFP/Getty Images
Mindy Lahiri's pop culture obsessiveness will bring her face-to-face with Reese Witherspoon soon enough. Witherspoon will guest star in The Mindy Project against Mindy Kaling's titular alter ego in the sixth season of the show. Though the details of her character haven't been revealed yet, one can only hope there's a throwback to a certain Christmas joke.
After all, this isn't the first time Witherspoon has made an appearance on The Mindy Project. In the "Christmas" episode of Season 3, there was a joke centered around a holiday wreath Mindy made, covered in pictures of the Legally Blonde actress that she nicknamed "Wreath Witherspoon." The bit led to Kaling calling for fan-submitted wreaths dedicated to the star and the response was unexpectedly huge. Perhaps the actress' appearance is a callback to that episode and that joke.
Based on a photo Kaling posted to Instagram, Witherspoon will be sharing screen time with her specifically on the show. The image shows a side by side look at Kaling and Witherspoon on the set of the upcoming season with the caption, "Our latest #themindyproject guest star is the only woman i would want to be trapped in a cave with. (This is weirdly the second cave we have acted in together!) 💃👩🏾❤️ @reesewitherspoon."
The first cave mentioned is probably a reference to Kaling and Witherspoon's co-starring roles of Mrs. Who and Mrs. Whatsit in the 2018 film adaptation of Madeline L'Engle's novel A Wrinkle in Time.
From the look of things, Mindy is dressed more appropriately for the outdoors than Witherspoon's character. Could this mean that the actress is actually just a fever dream that Mindy has from the cave? Or does Witherspoon just happen to go cave diving in between public appearances? Fans will have to wait until the sixth and final season of The Mindy Project is released on Hulu for the answer.
Meanwhile, casting news already has everyone buzzing with anticipation over the reveal that Mindy's previous love interest Danny Castellano (Chris Messina) will return to the cast for the sixth season. It remains to be seen whether Danny's return will provide answers to the burning questions that audiences have over that final The Graduate inspired moment of the Season 5 finale.
What's for sure is that Witherspoon will be gracing Mindy's life once again, and this time she will be real rather than an inanimate piece of ornate decorative shrubbery.