Reese Witherspoon's Book Club Is Coming To Audible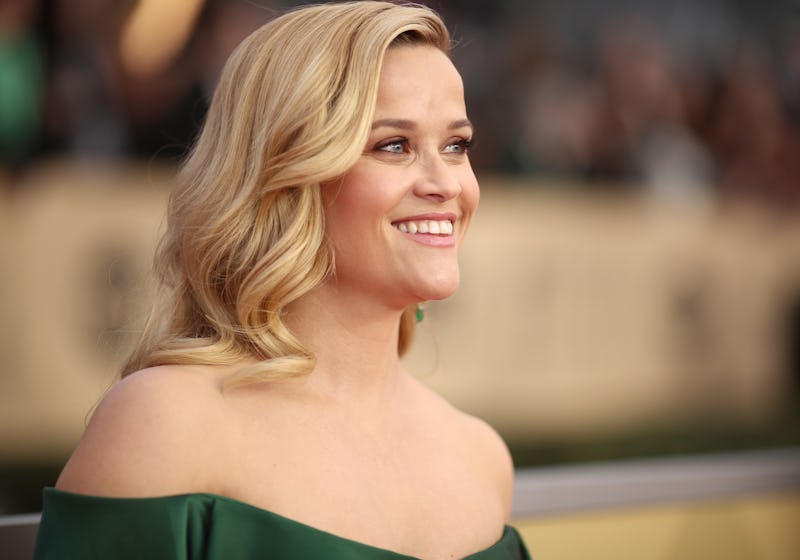 Christopher Polk/Getty Images Entertainment/Getty Images
She's brought everything from Wild and A Wrinkle in Time to Big Little Lies and Gone Girl to the big screen, launched an incredibly successful online book club with over 489,000 followers on Instagram, and she has even written her own nonfiction lifestyle book, which is slated to hit shelves this fall. Is there anything in the book world actress, producer, and entrepreneur Reese Witherspoon can't do? Apparently not, because on Tuesday, Reese's Book Club, Hello Sunshine, and Audible announced an exciting new partnership that will expand her popular book club into the audio world.
The new project, which is called Reese's Book Club x Hello Sunshine on Audible, has the same goal of Witherspoon's original online book club: celebrating women's stories. Each month, it will feature dynamic, female-driven audio performances, as well as new and original audio productions from Hello Sunshine and Audible. The first project is expected to be announced by the end of the year.
"When I started Reese's book club, I wanted to highlight stories with women at the center and I'm so excited to deliver on that mission," Witherspoon said in a press release about the new project. "With our busy lives, it can be hard to find the time to read. That's why I am excited to work with Audible to provide a fun way to listen to beautiful stories in your free time, whether it's enjoying a book in the car or on a morning walk."
From Oprah and Bill Gates to Emma Roberts and Emma Watson, there are more celebrities recommending books these days to count, but few do it as well as Witherspoon. Since launching her online book club, the Academy Award-winning actress and mega-producer has recommended an incredible range of powerful, inspiring, and diverse titles to her hundreds of thousands of fellow bookworm followers. This year alone, through her book club and her personal social media accounts, Witherspoon has praised Brené Brown's Braving the Wilderness, an empowering nonfiction book about community, identity, compassion, and belonging; Rupi Kaur's bestselling poetry collection, The Sun and Her Flowers; and the Jesmyn Ward-edited book of essays, The Fire This Time, to name just a few.
This May, Reese Witherspoon's book club is reading Curtis Sittenfeld's new and critically acclaimed collection, You Think It, I'll Say It, in honor of National Short Story Month. "I really loved all the characters in this book," Witherspoon said on Instagram. "They're so complex and interesting, and in every story, you'll find them going through these pivotal moments in their lives." According to the same book club announcement, Witherspoon's company Hello Sunshine is also developing a TV series based on the book.
If you're already a member, keep an eye out for Reese's Book Club x Hello Sunshine on Audible. New users can listen to one audiobook of their choice, including Reese's Book Club x Hello Sunshine on Audible selections, absolutely free.