Reese Witherspoon's Newest Book Club Pick Is All About The Crooked Road To Happiness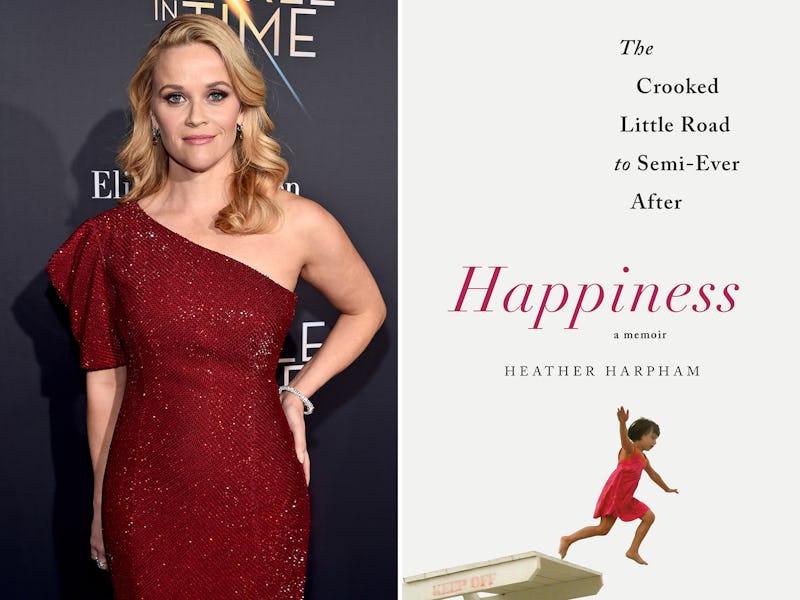 Alberto E. Rodriguez/Getty Images Entertainment/Getty Images; William Morrow
Does "happily ever after" exist? And if it does, how do you even get there? Where is it hiding? Is there a map, maybe? This month, Reese Witherspoon's book club, Reese's Book Club x Hello Sunshine, will explore those questions by reading Happiness, a memoir by Heather Harpham about love, family, mortality, and the twists and turns life takes on the road to "happiness."
In a video announcement about the pick, Witherspoon told followers that she chose memoir this month because members had been asking for more nonfiction selections. (Last month, the book club read Erotic Stories for Punjabi Widows, a novel by Balli Kaur Jaswal.)
"The things I loved about this book are it's about the truth of motherhood, the truth of parenting, the truth of relationships, and that the road to happiness looks different for everyone," Witherspoon said in the video. "Heather's story begins in the hospital as she's giving birth to her daughter, but there is a complication and it takes you back in time to how she met the daughter's father."
She added: "I know this sounds sad, you guys, and there are parts of it that are very harrowing and very realistic, but it has a happy ending, I promise, and you have to stick around for it, because it's amazing."
Happiness opens, as Witherspoon said, with Harpham in the hospital, but immediately transports readers back in time to her courtship with Brian, a New York City writer. Heather, a free-spirited California girl, and Brian aren't exactly a perfect match, but their romance seems too magical to be anything other than fate — that is, until she gets pregnant, and the relationship ends when Brian decides that he loves Heather, but he doesn't want kids. Heather returns to California, alone, and ready to face her future as a single mom. But when she delivers her baby — Gracie — she's faced with another major life hurdle: her baby is seriously ill. Brian shows up again when Gracie's situation becomes dire, and he and Heather are forced decide how far they're willing to go to save their young daughter — and maybe, save their relationship.
Happiness: A Memoir: The Crooked Little Road to Semi-Ever After by Heather Harpham, $17, Amazon
The subtitle of the book — The Crooked Little Road To Semi-Ever After — perfectly describes the crux of this book: that happiness is an elusive creature, and that everyone's path comes with its own twists and turns. You can follow along at Hello Sunshine all month to participate in Reese's Book Club.