Regina King's Golden Globes Acceptance Speech Included A Powerful Pledge For Inclusivity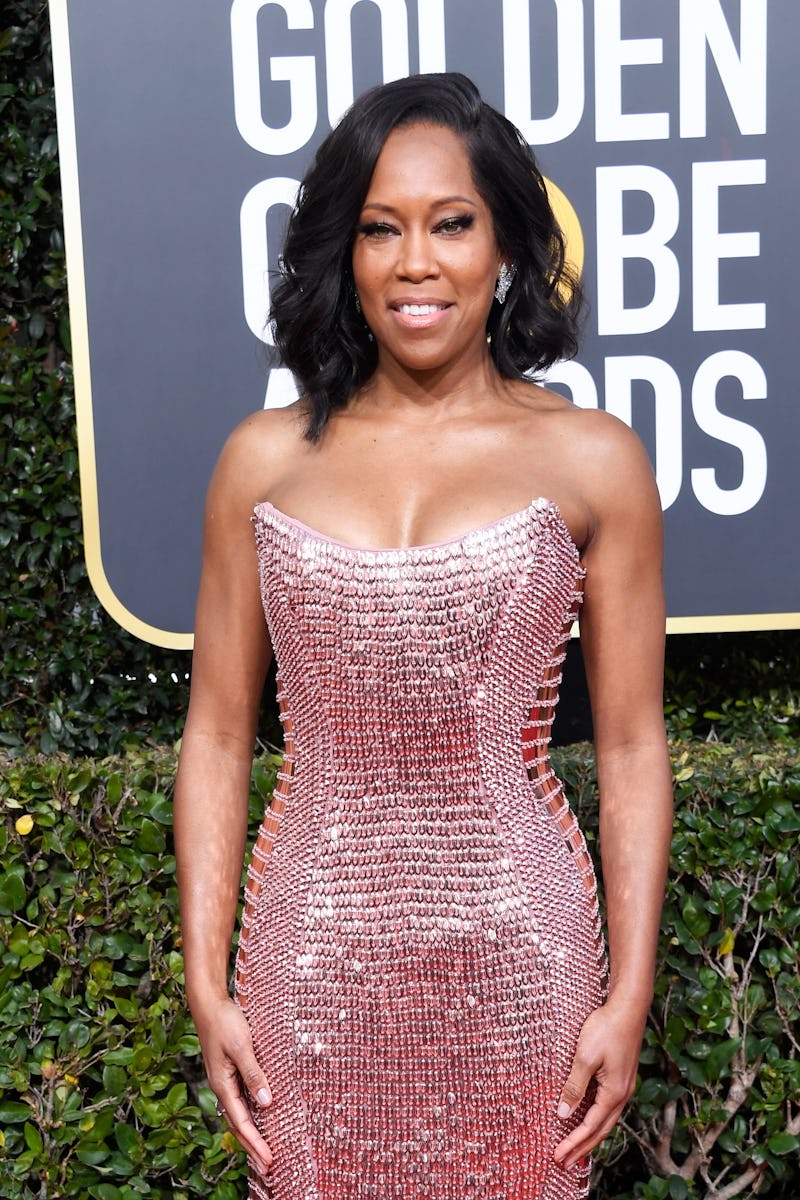 Frazer Harrison/Getty Images Entertainment/Getty Images
When Regina King stepped onstage to accept her Golden Globe for her performance in If Beale Street Could Talk, she had a lot to say. She didn't just dole out thank yous — though there were plenty of those to go around — she also used the moment to make a pledge for the coming years, and ask others to join in with her. Regina King's 2019 Golden Globes speech was essentially a call to action, asking anyone watching to step up and work toward gender equality in the workplace.
"The reason why we do this is because we understand that our microphones are big and we're speaking for everyone," King said toward the end of her speech. "I just wanna say that I'm going to use my platform right now to say that in the next two years, everything I produce — I am making a vow, and it's going to be tough — to make sure that everything I produce is going to be 50 percent women. I just challenge anyone out there who is in a position of power — not just in our industry, in all industries — I challenge you to challenge yourself and stand with us in solidarity and do the same."
King received huge applause for the moment, and everyone was all ears. The music traditionally used to hint people should wrap up their speeches was actually stopped when it became clear she wasn't about to stop talking until her message got across.
This also isn't the first time King has spoken up about making sure everyone, regardless of their identity, has the opportunity to do the work they want to do. She's currently helping Gillette Venus to spearhead the Her Shot campaign, which gives 10 female directors the opportunity to create content spotlighting women's points of view, according to a press release.
"Whether it's stronger female characters or a more realistic portrayal of the female experience, there's so much potential for women to shape the world with the stories they tell. I'm looking forward to seeing the unique perspectives from these 10 women," King said in the release. "Right now with the majority of content coming from male directors, we're too often seeing the world through a male lens."
She also told InStyle earlier this year that she isn't going to stop fighting for women's equality any time soon. "The more we are linking up from country to country — singing it out loud, and saying it out loud, and not feeling any type of guilt or concern when someone says, 'Oh, here they go with this women stuff again.' Yep, here we go again with it!" King said. "We're going to keep going with it! I feel like the more we continue to create space and to talk about the spaces when we're creating them, the shift will move faster and the groundswell will be bigger."
Her pledge at the Golden Globes is just one part of how King has been working to change the system from the inside, and if others follow suit, it could mean so much for the opportunities women in Hollywood receive.