The Play-by-Play Of Reince Priebus' Last Moments With Trump Is Savage AF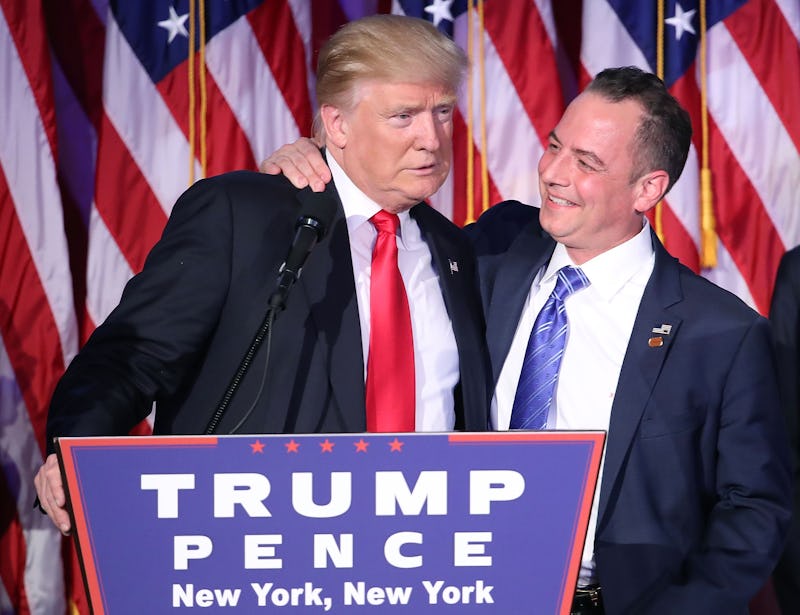 Mark Wilson/Getty Images News/Getty Images
Just as you thought things would wind down on Friday evening, President Trump tweeted that his current Homeland Security Secretary John F. Kelly would be his new chief of staff. And according to POLITICO reporter Josh Gerstein's account of the minutes following Reince Priebus' firing, the embattled former White House employee was pretty much kicked out of the presidential motorcade after deplaning Air Force One.
Update: According to a CNN report that cited "a source close to the chief of staff," Priebus resigned privately on Thursday. Throughout Friday, however, the network was informed by "sources close to Priebus" that he was not resigning.
Trump announced the huge staffing change on Twitter, leading with the news that Kelly would be his new chief of staff. "I am pleased to inform you that I have just named General/Secretary John F Kelly as White House Chief of Staff. He is a Great American," Trump tweeted, "and a Great Leader. John has also done a spectacular job at Homeland Security. He has been a true star of my Administration."
Gerstein's pool report of the incident noted that the Air Force One flight from New York to Joint Base Andrews in Maryland touched down behind schedule. Most staff, he reported, exited the plane, but Priebus, White House political advisor Steven Miller, and Trump's social media director Dan Scavino entered a car together.
"Moments later Miller and Scavino got out and loaded another van," the report read, adding that some reporters approached the car to take pictures on their phones once word of his ousting spread.
"Priebus' car then pulled aside, out of the POTUS motorcade. Priebus car and a follow up departed at 458PM." During that time, Trump reportedly remained on Air Force One.
After he deplaned, Trump spoke to reporters as he stood under an umbrella in the rain. His brief comments on the staff shakeup were cutting:
John Kelly will do a fantastic job. Gen. Kelly has been a star. Done an incredible job thus far, respected by everybody. A great, great American. Reince Priebus, a good man.
Priebus' departure was a long time coming; reports that the president was unhappy with him have been rife for months, but Anthony Scaramucci's appointment as communications director — which reportedly prompted press secretary Sean Spicer's resignation — appeared to be the final nail in the former RNC chairman's coffin.
It is unclear where Priebus will move on to after his brief White House stint. (Spicer is reportedly exploring, among other things, joining Dancing With The Stars.) But whatever his next step is, Priebus will likely remain at arms length from the president — at least for the foreseeable future.