The Way To Get 2x More Matches On Your Dating App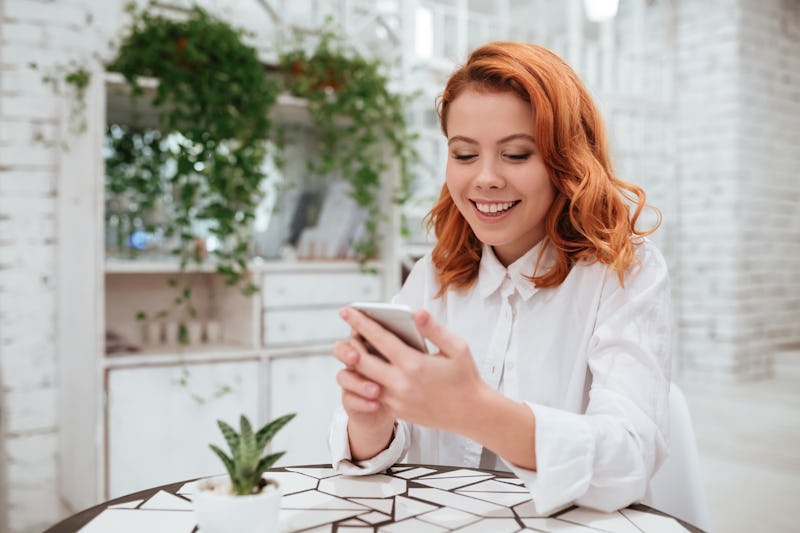 Drobot Dean/Fotolia
We've all been there: you're swiping through someone's pictures on a dating app, when suddenly you're hit with a very couple-y shot of two people and you wonder, "OK, who the eff is that?" Although we should probably cool it with the immediate judgment, wouldn't it be nice if we could just caption all our dating app pics to avoid any confusion in the first place? Aside from the slightly concerning, possibly-an-ex photo, I've seen some truly wacky pictures on dating apps, and I'm often left burning to know more. I'm sure I'm not alone in feeling frustrated that some apps don't let you just caption the damn picture.
Fortunately, relationship app Hinge is launching a feature that will let users add both a caption and a location to their photos, so users can get more context even before connecting. Photo captions aren't a totally new feature — I've used OkCupid for years, and they've always had an option to add captions — but swiping-based apps don't give you that choice, probably because it would compromise the 'simplicity' of the app. Sure, you don't need to know the story behind every photo, but it's never a negative to get to know someone a little bit better. Plus, a funny caption can be an extra helping hand in getting someone who's a bit shy to strike up a convo. And according to Hinge's beta testing, pictures with captions receive 2x more likes than those without captions.
"We found that written content performs 48 percent better at getting a conversation started than photos alone," Hinge spokesperson Jean-Marie McGrath tells Bustle. "Our goal at Hinge is to help our members find someone great. We're constantly working on new features that will help our members meaningfully connect."
In a caption-less world, you can obviously, ya know, ask someone what's up with a certain photo, but the capability to add a caption is actually pretty nifty. It's a simple feature that gives you more space to express your personality, which means more chances to gain someone's interest. Users will be able to add captions and locations to all photos and existing captions will automatically be pulled in from Instagram or Facebook. "Captions let users share more of their story, making it easier to start a conversation," McGrath says.
Sometimes the best photos are the weirdest ones, and you shouldn't have to be ashamed to upload something just because you can't explain it via caption — but if you can, then that's even better. Here are six examples of how to amp up your dating profile with witty photo captions — and hopefully increase your chances of meeting someone great by doing so.