Trump Has Lambasted Others For Mishandling Classified Info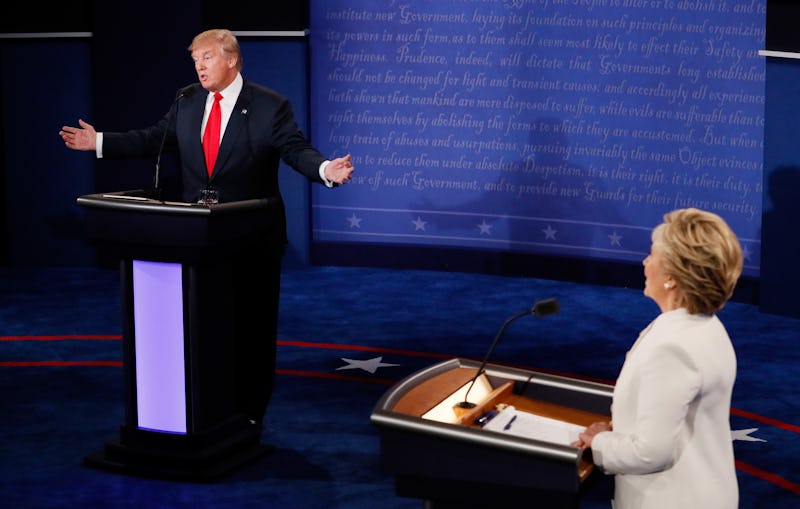 Pool/Getty Images News/Getty Images
On Monday evening, news emerged that Donald Trump allegedly shared highly classified information with the Russian ambassador and foreign minister during a meeting last week. Interestingly, Trump once bashed Hillary Clinton for allegedly mishandling classified information, in a tweet that seems pointedly ironic right now.
The Washington Post was the first to report that Trump allegedly revealed classified information during a meeting last week with Sergei V. Lavrov, the Russian foreign minister, and Sergey I. Kislyak, the Russian ambassador to the United States. The information supposedly came from an ally in the Middle East and was considered highly sensitive. It reportedly involved Islamic State plans and tactics to use laptops as explosive devices on aircraft. For its part, the White House has denied claims made in the Post story, with Dina Powell, deputy national security adviser for strategy, saying, "This story is false. The president only discussed the common threats that both countries faced."
But Trump has received a significant amount of criticism from the press, the public, and members of Congress for allegedly revealing the classified information. Indeed, Senator Mark Warner, the vice chairman of the Intelligence Committee, said via a tweet on Tuesday, "If true, this is a slap in the face to the intel community. Risking sources [and] methods is inexcusable, particularly with the Russians." Furthermore, in a statement, Senator Jack Reed, the ranking Democrat on the Armed Services Committee, stated:
President Trump's recklessness with sensitive information is deeply disturbing and clearly problematic. ... The president of the United States has the power to share classified information with whomever they wish, but the American people expect the president to use that power wisely.
Ironically, Trump himself once admonished Hillary Clinton on Twitter for allegedly mishandling classified information by using a private server and personal email account. During campaign season, Trump tweeted that, "Crooked Hillary Clinton and her team 'were extremely careless in their handling of very sensitive, highly classified information. Not fit!'" Also interestingly, in this tweet Trump was quoting former FBI Director James Comey, who led the Clinton email investigation and who Trump recently controversially fired. Clinton has denied mishandling sensitive information.
Trump's tweet about the "carelessness" of mishandling classified information is exceedingly ironic in light of these new allegations. As evidenced by his past tweet, the president clearly finds the concept of inappropriately handling classified information troubling and deems it something that makes one unfit to be president. Indeed, in addition to his tweet about Clinton, Politico has also identified eight other instances in which Trump criticized others for mishandling classified information, further solidifying his stance that he believes doing so is inherently wrong and inappropriate. If the allegations against Trump are true, his former words could certainly come back to haunt him.
For her part, Clinton has not commented on the recent allegations against Trump, but you can be sure that she certainly recognizes the irony in the situation — and is perhaps letting Trump's own words speak for themselves.