A Rap Beef Is Just What The Black Community Needs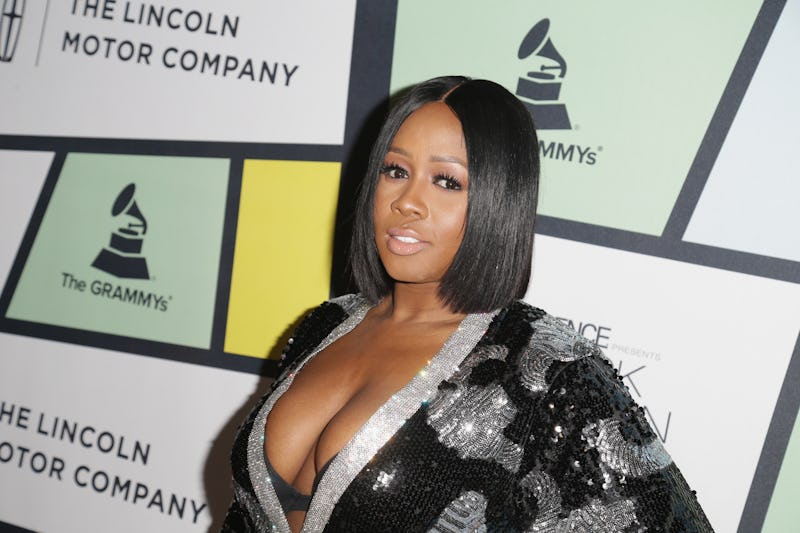 Leon Bennett/Getty Images Entertainment/Getty Images
Every hip-hop fan loves a good beef. And much to our pleasure, the weekend brought the beginnings of an all-out rap feud between Nicki Minaj and reemerging, longtime favorite Remy Ma. The beef between the women goes back about 10 years — the public feud began in 2007 — but what had long been rumored jabs and sly remarks have since turned in to blatant shots.
Minaj, 34, spoke viciously on Gucci Mane's "Make Love," rapping, "Oh you the queen, the queen of this here?/One platinum plaque, album flopped, bitch where?" Although many assumed the verse took aim at the Terror Squad rapper, rumors swirled that Minaj could have been talking about someone else.
Remy, however, was not so subtle. Over the weekend, she released "ShEther," a nearly seven-minute track calling Minaj out by name, attacking the "Moment 4 Life" rapper from all sides. Remy, a descendant of Big Pun, targeted Minaj's career, her business acumen, her fan base, her brother's alleged misdeeds, her body, and even made claims about Minaj's sexual history — though I am not one for body- or sex-shaming. Minaj responded with a few now-deleted Instagram posts and tweets — but no music.
Shortly after Remy posted the fierce, no-nonsense track, the Twittersphere — particularly Black Twitter — took notice. The track has been the talk of the town since. Many tweets have praised Remy, giving the rapper kudos and critiquing her style. Meanwhile, others have come to Minaj's defense, patiently waiting for the self-proclaimed "Queen of Rap" to defend her title.
Throughout all of this, I've noticed one thing among these hip hop-loving, Twitter-using, rap enthusiasts: joy.
For the Black community, this beef has provided a source of happiness. Whether a die-hard Nicki fan or longtime Remy devotee, members of Black Twitter have sent thousands of tweets, conversing, debating and laughing as a result of the feud. And that's so wonderful to see.
These past few months have been difficult for the Black community. Along with facing the forceful bigotry of an increasingly racist political climate and ever-present police brutality, we've endured disappointments like Beyoncé not receiving her due at the Grammys and the Atlanta Falcons losing the Super Bowl to a team led by a Donald Trump supporter. This moment of levity is very welcome.
And in addition to all the excitement the drama and side-taking is spurring, there's also a collective glee over watching these two women showcase their lyrical prowess while engaging in one of hip hop's great traditions. While Remy and Nicki — along with their talents — do not exist for our consumption, they are bringing us joy.
Not only did Remy's track provide the Twittersphere with fodder for memes and witty tweets for months to come, it prompted a trip down memory lane. The Love & Hip Hop New York star enlisted the help of Nas's "Ether" beat to declare war on Minaj, who has compared herself to Jay Z. Use of the beat is an obvious allusion to Nas and Jay Z's early 2000s rap feud — which Nas totally won, by the way.
Remy's track prompted a full-on discussion about the years-old rap feud, and even that of past women MC's like Queen Latifah vs. Foxy Brown, Trina vs. Khia, Lil Kim vs. Foxy Brown and more.
The artistic expression that comes along with hip-hop battles and the nostalgia of feuds past is just what the Black community needs right now. This hip-hop battle between Minaj and Remy is for the culture. I know that may seem like a lot of pressure to put on two people, and I am in no way encouraging their labor. I am grateful for them both, and how their contributions to Black culture have brought and are bringing us joy.
Day after day, I speak with friends about how we are going to fight for equality and civil rights in the Trump era. Each day, I anticipate Trump's next move to undermine humanity. Each day, I see social media posts expressing fear and hopelessness. Thanks to this feud, that has been different lately. Of course, we are still maintaining our resistance to inequality and civil rights abuses — we can multi-task, of course. But it's nice to see Black people smile again. It's nice to see the Black community speak passionately about something we created: rap and hip-hop.
Black culture is so rich and expressive, and rap beefs are part of that culture. It is great to look at this battle, this beautiful form of expression and think, "Wow, we created this." We created the art of the clever, rhyme-filled, turn of phrase. This is hip-hop in one of its purest forms.
Now, as the Black community reels from Remy's powerful diss track, we wait for Minaj's response. If there's one thing I know about the fierce rapper, it's that she can deliver a punchline like no other. And when that happens, the Black community will be there. We'll be there with our praise, our critique, our jokes and our memes. We'll take joy in the culture we created, and we'll come together to do so.
After all, every hip-hop fan loves a good rap beef.