Renee Ahdieh's 'Flame In the Mist' Cements Her As A YA Star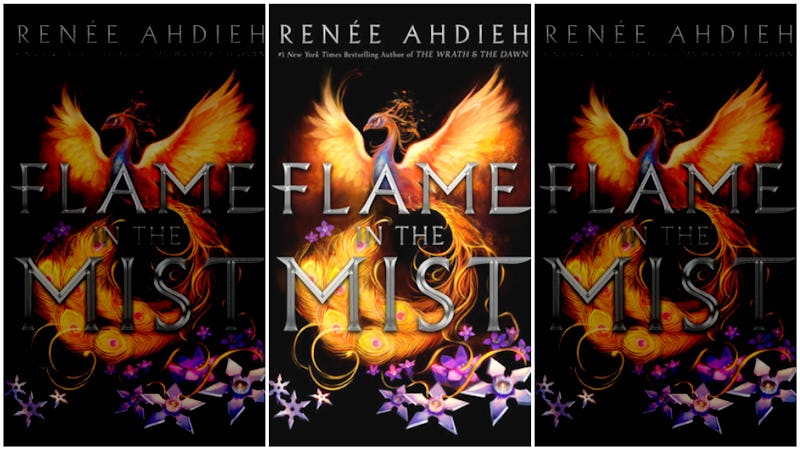 In just two short years, Renee Ahdieh, who made her debut with 2015's 1001 Nights update The Wrath and the Dawn, has established herself as a force to be reckoned with in YA fantasy.
And with her latest, the gender-bending samarai saga Flame In the Mist, she'll no doubt cement her spot on the bestseller list.
Flame is the story of Mariko, a girl who becomes a political pawn via a strategically arranged marriage, only to face an assassination attempt. She barely escapes with her life, then disguises herself as a boy to determine who would try to kill her and why they would try to do it.
Inspiration for the tale came from sources both far and near.
"I'd say it was a combination of many things: my East Asian heritage, my love for Akira Kurosawa, all the many anime series I watched as a kid, and my obsession with the girl-pretending-to-be-a-boy trope!" Ahdieh says.
As for the gender-bending protagonist, she "was inspired by Hermione Granger and [her] younger sister, who is a brilliant scientist."
Ahdieh's known for her spirited, smart and spunky female characters, and it's no wonder.
"The first thing I ever wrote was Nancy Drew fan fiction!" she says with a laugh. "Then when I was in high school, I wrote a lot of emo poetry. It was heinous."
Flame In The Mist, $13, Amazon
She studied English and political science at the University of North Carolina and found her fiction footing posting short stories online before she started writing novels. Writing has always been her passion.
"If I weren't a writer now, I would be trying to be a writer!" she says. "I just can't imagine being anything else."
It's important to me to show that cross-cultural representation is not only possible, but also necessary.
Ahdieh, who is Korean and white, says her work is deeply inspired by the diversity of modern day America — a diversity that is still very much lacking on bookshelves.
"The things I choose to write and the cultures I choose to highlight are very intentional," she says. "It's important to me to show that cross-cultural representation is not only possible, but also necessary. It truly comes down to responsibility in terms of your story, in terms of your characters, and in terms of your world-building."
And if there's one thing she's known for, it's doing the work when it comes to world-building — whether it's the Persian palette of Wrath or the Japanese-inspired landscape of Flame. Blending modern day feminism and the ancient world has quickly become Ahdieh's signature.
"As a child of mixed race, I knew I always wanted to bring different worlds to life in my writing," Ahdieh says. "It's mostly about writing for my younger self."
As a child of mixed race, I knew I always wanted to bring different worlds to life in my writing.
Wrath is a sophisticated and sexy YA spin on the Shahrazad story, twisting fun and familiar tropes like the love-hate story, the tense triangle, and of course, the bad boy with a heart of gold. It was also one of the first YA fantasies in recent history to center on an entirely brown cast of characters.
The Wrath & The Dawn, $7, Amazon
For the book, Ahdieh dug deep into researching Persian myth and legend, and also drew on her Persian-American husband's family stories for cultural nuance and flavor, learning to cook some of the amazing dishes mentioned in the book from her mother-in-law.
"For Wrath and Rose, I was absolutely inspired by my husband's family," Ahdieh says. "I really enjoy immersing myself in my worlds and experiencing everything I can about a culture. One thing I always try to do is read poetry and philosophy from that specific period of time. I find it easier to adapt to the cadence of a language in that way."
"And food is extremely important to me, as anyone who knows me will quickly attest! I love learning to make everything I highlight in my writing," she adds.
So will we get to see any more of the beloved Shazi and Khalid? "Never say never!" Ahdieh says.
The Rose & The Dagger, $7, Amazon
In the meantime, though, she's hard at work on the sequel to Flame — and eating her way cross country (making stops in her fave foodie cities like New York, New Orleans, and San Francisco) while on tour.
"One of my favorite things to do is meet readers from all over the world," Ahdieh says. "And the interactions that are the most fun are the ones in which a fan says she introduced a mother, sister, brother, or best friend to my books."