This GOP Congresswoman Clapped Back At Her Own Party Over Congress' Gender Gap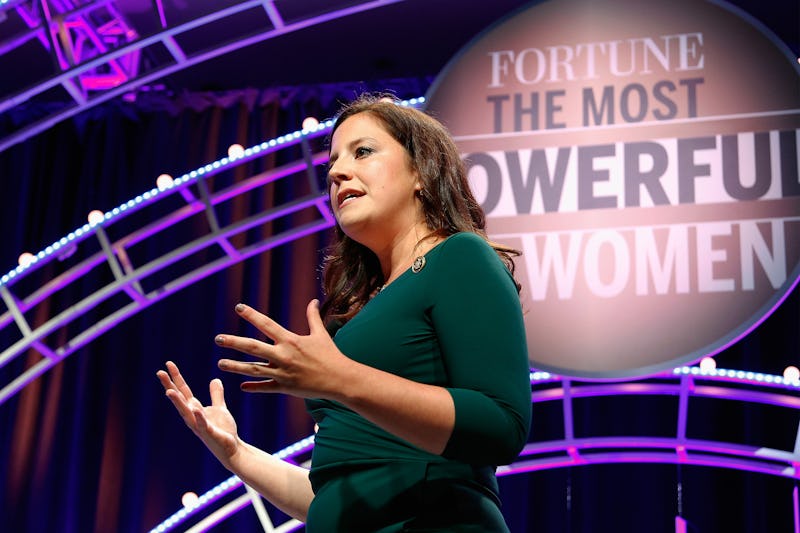 Paul Morigi/Getty Images Entertainment/Getty Images
While a record number of Democratic women were elected to the U.S. House in the midterm election, the GOP's gender gap actually worsened. The Republican congresswoman from New York who was previously the youngest woman ever elected to Congress has vowed to help more Republican women make it to Capitol Hill — and Rep. Elise Stefanik clapped back at the GOP on Tuesday for criticizing her plans.
"I will continue speaking out abt the crisis level of GOP women in Congress & will try to lead and change that by supporting strong GOP women candidates through my leadership PAC," she tweeted on Tuesday.
Stefanik stepped down from her position as head of recruitment for the National Republican Congressional Committee (NRCC) to work on expanding her leadership PAC, Roll Call reports. In doing so, she plans to get more involved in primary elections in order to support women candidates from the earliest stages of their campaigns. As the NRCC doesn't publicly help candidates that early, its chairman told Roll Call that Stefanik's primary plans are a "mistake."
"If that's what Elise wants to do, then that's her call, her right," NRCC Chairman Tom Emmer said. The congresswoman quickly responded on Twitter, "NEWSFLASH I wasn't asking for permission."
Stefanik's decision to put more energy into primary races comes after the news that Democrats elected 27 more women to the House in the midterms, while Republicans will have nine fewer women in the House come 2019, according to public affairs site Quorum. Currently, Democratic women hold 64 seats in the House, and Republican women hold 23, per the Center for American Women and Politics.
Photos of each party's new members, tweeted by Washington Post reporter Erica Werner last month, highlight the huge gap gender gap in the GOP's incoming freshman class. While the Democrats' freshman class looks incredibly diverse in terms of gender and race, the GOP's is overwhelmingly white and male. In fact, there are more Republican freshmen named Mark than Republican women.
Stefanik believes the key to addressing her party's dearth of congresswomen is embracing the primaries, citing the success of Democratic political action committee EMILY's List that's dedicated to electing pro-choice women. As EMILY stands for "Early Money Is Like Yeast," the organization frequently endorses candidates ahead of general elections.
Before Stefanik was elected as the youngest congresswoman in 2014 at the age of 30, she had to face a serious challenger in the Republican primary for the open congressional seat in New York's 21st Congressional District. Though she ultimately won, her own experience has helped shape how she views the systemic problems that often keep women from reaching elected office.
"I think it's really important as a woman who faced a very competitive primary in 2014, we need to support those women earlier and learn the lessons of how effective the other side was in getting women through these competitive primaries," she told Roll Call.
After all, women can't win general elections if they don't make it past the primaries — a fact Stefanik clearly thinks her GOP colleagues need to realize.