These Photos Show Republicans Elected More Men Named Mark Than Women To The House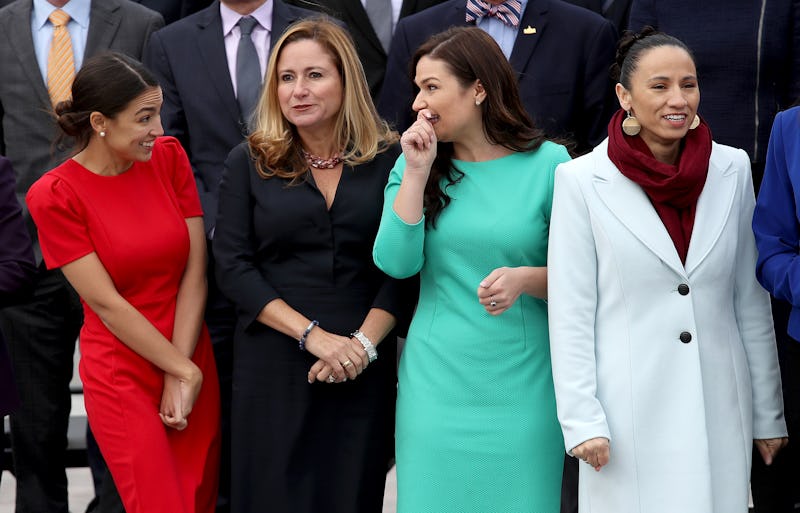 Win McNamee/Getty Images News/Getty Images
After Democratic women and people of color swept congressional races in the midterms, the Republican Party's new class of representatives still looks about as white and male as it has for the past two centuries. Photos of each party's new members of Congress that Washington Post reporter Erica Werner tweeted on Wednesday highlight the fact that the next class of Democrats more closely resembles the American population, while the next class of Republicans resembles the yearbook of an all-boys school. In fact, there are more Republican men named Mark than women.
Republicans' gender gap in Congress actually widened in the 2018 election, with nine Republican congresswomen losing their House seats. They were already far outnumbered by Democratic women, who currently hold 78 seats in both the House and Senate; Republican women hold 29. But while Republican congresswomen lost a handful of House seats last week, Democratic congresswomen gained at least 26, by Quorum's count.
Class photos for the House's incoming class also make it clear that the major gains people of color running for office made this year were mostly racked up on the Democratic side. Democrats elected the first Muslim congresswomen, the first Native American congresswomen, and the first black and Latina congresswomen to represent their states.
The average age of Congress will drop by a decade come 2019, too, due to a slew of millennials joining the ranks. Alexandria Ocasio-Cortez (D-N.Y.) and Abby Finkenauer (D-Iowa) are both 29; Lauren Underwood (D-Ill.) is 32; Xochitl Torres Small (D-N.M.) is 33; Ilhan Omar (D-Minn.) is 36. Elise Stefanik (R-N.Y.), who previously became the youngest woman ever elected to Congress at the age of 30, won her bid for reelection.
While the Republican Party welcomed in two new Marks and only one new congresswoman, Democratic women celebrated their growing ranks this week. Rep. Debbie Dingell (D-Mich.) even joked on Twitter that there's now a "Deb caucus" within the Democratic Party.
Newly elected congresswomen grabbed the internet's attention on Tuesday by posting multiple photos of them together at the Congressional Progressive Caucus orientation in Washington D.C. "We out here," Ocasio-Cortez said in an Instagram story on Monday while filming herself walking with her new colleagues. She later posted a photo with the caption, "Squad."
Omar similarly posted a photo with some of her new colleagues on Capitol Hill, writing on Twitter, "Started from the bottom, now we're here."
Despite a record number of women headed to Congress in January, women will still make up less than one-fourth of all lawmakers on Capitol Hill — in part because only one side of the aisle made strides toward gender equality. It's too soon to know what will happen in 2020, but the Republican Party will need to spearhead some major changes in order to make its next freshman class more co-ed.
Regardless, Democratic women candidates paved the way for more young, diverse, working class women to run and win. After all, Ruth Bader Ginsburg once said, "There will be enough women on the Supreme Court when there are nine."