How Egyptian Women Are Risking Their Freedom To Speak Out About #MeToo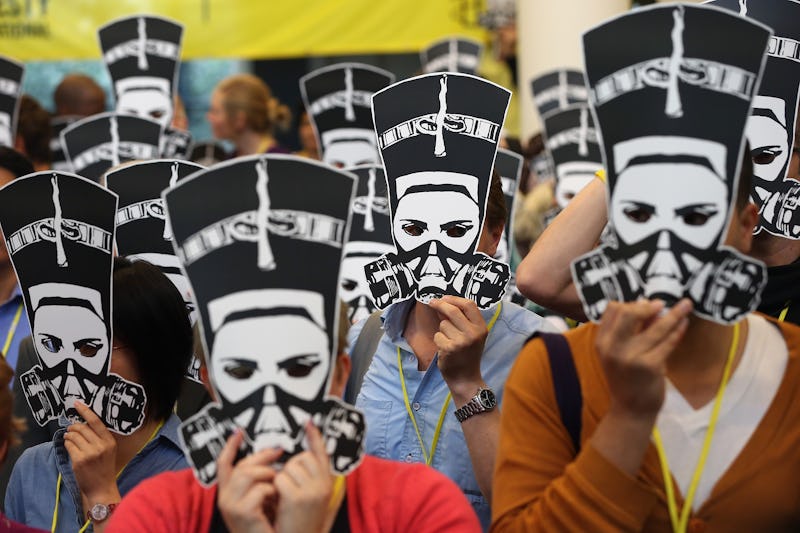 Sean Gallup/Getty Images News/Getty Images
In 2013, research by UN Women found that 99 percent of women in Egypt had reported either verbal or physical sexual harassment. But recently, as movements like #MeToo and Time's Up garner increasing public attention, more and more survivors of sexual violence are speaking out about their experiences. As they do so, they face what The Washington Post describes as a unique obstacle — reporting sexual harassment in Egypt can prompt jail time for women, because government authorities may think such reports constitute inappropriate criticism.
Earlier this year, Egyptian actor Amal Fathy posted a video to Facebook in which she described being sexually harassed while at her bank. Fathy also criticized the government for not sufficiently protecting women. Two days later, The Guardian reported that Fathy was arrested and accused of spreading false news designed to incriminate the Egyptian government. Then, just last month, Fathy was sentenced to two years in jail and fined for making "public insults."
Fathy's story made international headlines, but it is one of many examples of Egyptian women facing repression after reporting sexual violence. Also this year, a Cairo court sentenced a Lebanese tourist to eight years in prison after she posted a Facebook video describing the sexual harassment she had faced in Egypt. It was only after widespread backlash that Mona el-Mazboh was released and permitted to leave the country, Reuters reported.
After Fathy was imprisoned, Amnesty International slammed the Egyptian government for punishing survivors who are brave enough to speak out.
"It is currently more dangerous to criticize the government in Egypt than at any time in the country's recent history," Amnesty International said in a statement last month. "Egyptians living under [President Abdel Fattah al-Sissi] are treated as criminals simply for peacefully expressing their opinions."
As The Washington Post pointed out, the legal consequences often faced by survivors are part of a greater attempt to restrict free speech in Egypt. In July, al-Sissi ratified a law authorizing government officials to monitor certain social media users, on the premise of combating terrorism and halting the spread of "fake news." But activists and critics have accused the government of attempting to suppress dissent and — in the case of #MeToo — of silencing survivors. It was this internet control law that led to Fathy's imprisonment, for example, even though al-Sissi himself promised to combat sexual violence.
Jail time is not the only possible consequence survivors may face if they come forward to expose sexual violence in Egypt. Survivors must often confront attacks on social media, which attempt to undermine their credibility or falsely characterize them as terrorists or extremists.
In an op-ed penned for Time in May, Azza Soliman — who participated in Amnesty International's Brave Campaign — wrote that she was placed under a travel ban and "defamed by the media" for criticizing the Egyptian government and defending survivors of abuse. Some of her critics even attempted to attack her marital status, Soliman wrote.
According to The Washington Post, activists are worried that the possibility of jail time may convince survivors not to report sexual violence. But despite facing potentially severe consequences, survivors in Egypt have continued to come forward and share their stories in the hopes that they can generate increased awareness.