The Parents Of A Republican Candidate Donated A Ton — To The Woman He's Running Against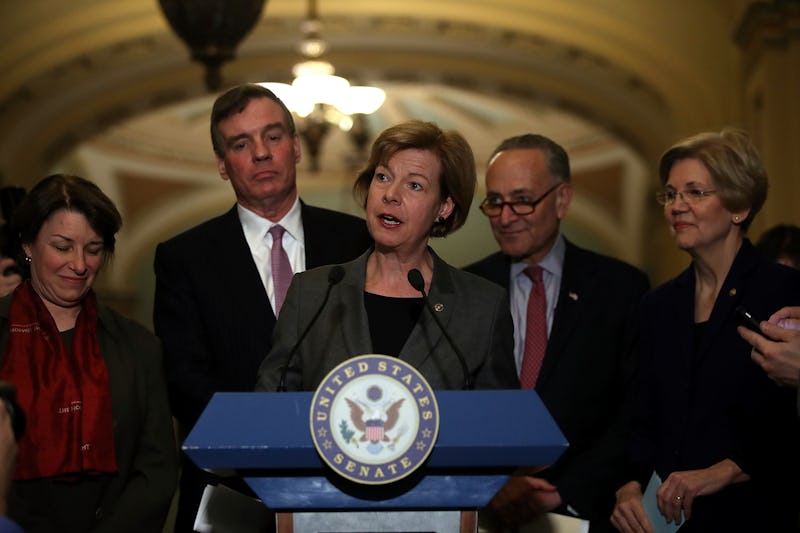 Justin Sullivan/Getty Images News/Getty Images
Parents spend much of their children's lives teaching them right from wrong and left from right. One Wisconsin family has taken that to another level with some tough love for their fully grown son: Republican Kevin Nicholson's parents donated to Democrat Tammy Baldwin's primary campaign instead of his, CNN reported Monday. Nicholson hopes to face off against Baldwin in November.
Nicholson threw his name into the race in the GOP primary for the U.S. Senate seat currently held by Sen. Baldwin back in July. His parents, Donna and Michael, each donated the maximum legal amount they could to Baldwin's primary campaign in December: $2,700. They are legally prohibited from donating more until the general election. (Another Nicholson, Scott, is on record of also donating the maximum, but there's no way of knowing if there's any relation in this case.)
From the looks of it, it's nothing personal — Nicholson even explained to CNN that he's not surprised.
My parents have a different worldview than I do, and it is not surprising that they would support a candidate like Tammy Baldwin who shares their perspective.
His parents have donated to Democrats in the past; his mom donated to Baldwin during her last race in 2012 too (albeit significantly less money, $330.71). His parents have given to various other liberal causes too.
Nicholson has had a history of needing to explain his political affiliation. In 2000 he was president of College Democrats of America, and even spoke at that year's Democratic National Convention. He said at the convention that his parents were afraid of him running for office in Wisconsin — "they're afraid of being found out as the only Democrats in Mequon," Nicholson said at the time.
Alexandra Acker-Lyons, the vice president of College Democrats of America from that time, has accused Nicholson of being the "worst kind of politician, being just ambitious and flip, willing to change his mind on key moral issues for political expediency."
"In short, Kevin is politically expedient and will say anything it takes to get elected," Acker-Lyons told reporters on a telephone news conference organized by Wisconsin Democrats.
POLITICO ran a feature story on Nicholson last year, in which the candidate explained his change of heart and party affiliation had to do with the Iraq War, where he served (as is detailed on his campaign website). He disagreed with Democrats calling for an end to the war.
"I knew what we were doing there," Nicholson told POLITICO. "We were stabilizing that country. We made incredible amounts of progress. And what I was hearing back home was a complete and absolute lie, as politicians were running around calling it a failure."
Nicholson revisited his evolution to Republicanism speaking to CNN on Monday:
I'm a conservative today not because I was born one, but because of the experience I earned as a Marine in combat, my experience as a husband and father, my choice to be a Christian, the schools I chose to attend and the decision to pursue the career that I have. Regardless of who may disagree with my life decisions, I would not trade these experiences for anything, and they will always guide my views as Wisconsin's next U.S. Senator.
But it's not just Democrats who are attacking him on this evolution — it's fellow Republicans too. Nicholson's primary opponent, state Sen. Leah Vukmir, accused him of having the same view on House Speaker Paul Ryan as his mother. Nicholson was caught on tape criticizing Ryan and his standing in the state.
Nicholson campaign spokesman Michael Antonopoulos defended Nicholson's GOP views.
Kevin is a conservative who supports Speaker Ryan and has stated repeatedly that he comes from a family of Democrats.
The attacks from both parties can't be fun, but having your mom donate to the opponent must really sting.