A Group Of Republican Women Just Came Out Forcefully To Oppose His Nomination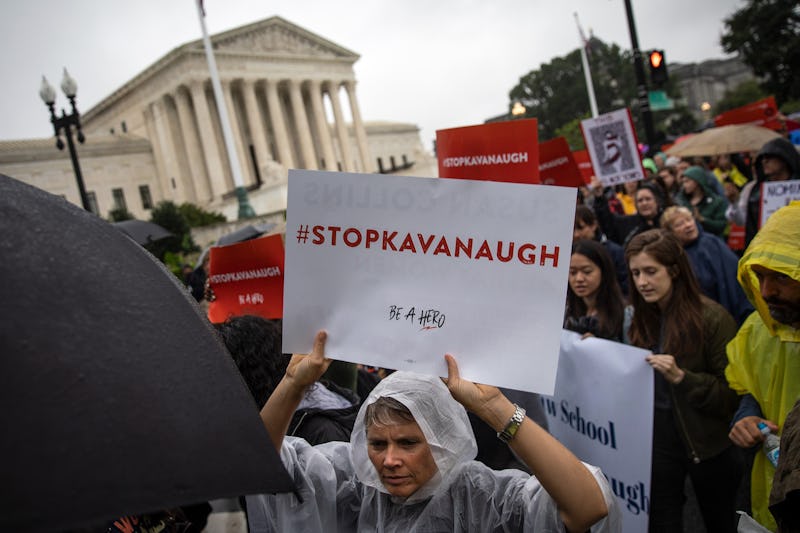 Drew Angerer/Getty Images News/Getty Images
Another group of women has asked senators to vote down Brett Kavanaugh for the Supreme Court. In a statement issued on Monday, the Republican Women for Progress came out against Kavanaugh's nomination, arguing that he "no longer meets the high standard expected of Supreme Court justices."
"Anyone nominated for a position as critical as a lifetime seat on the Supreme Court can only assume that position possessing the public's confidence that they are not only eminently qualified professionally, but that they are of unimpeachable character as well," the group said in a statement. "The process for evaluating any nominee, therefore, must be thorough and thoughtful."
Just as important as the nominee's integrity, the group wrote, is the court's. "In light of these recent allegations of sexual misconduct, our view is that Judge Kavanaugh's credibility has been diminished enough that his confirmation threatens to tarnish the integrity of the court itself," the statement read. "Since Judge Kavanaugh no longer meets the high standard expected of Supreme Court justices, we call on senators to oppose his nomination."
Republican Women For Progress is a group that formed in 2016, and, per its website, it aims to amplify Republican women's voices. In its description, the group says that Republicans "must ditch antiquated social ideals and separatism, develop a space for progressive dialogue, and work towards creating constructive policies instead of pushing political agendas."
In a press release, the group pointed to the ongoing sexual assault allegations against Kavanaugh, which he has repeatedly and consistently denied, to explain their stance. The first allegation against the Supreme Court nominee came by way of a woman named Christine Blasey Ford, who alleged via The Washington Post that Kavanaugh had sexually assaulted her at a party when the pair were in high school. According to Ford, she was 15 years old at the time and Kavanaugh was 17.
"This is a completely false allegation. I have never done anything like what the accuser describes — to her or to anyone," Kavanaugh said in a statement regarding Ford's accusations.
The Senate Judiciary Committee was still grappling with how to handle Kavanaugh's confirmation process when a second allegation was reported on on Sunday by The New Yorker. In that report, a woman named Deborah Ramirez alleged that Kavanaugh sexually assaulted her while they were students at Yale University.
Ramirez claimed that, during a group drinking game, while other people were in the room, Kavanaugh exposed himself and put his penis in her face. She says she touched it when she went to push him away, and recounted feeling shame over the experience, particularly because she said she was devoutly Catholic.
"I wasn't going to touch a penis until I was married," she told the magazine. "I was embarrassed and ashamed and humiliated."
In a statement provided to the New Yorker, Kavanaugh denied the accusation wholesale:
This alleged event from 35 years ago did not happen. The people who knew me then know that this did not happen, and have said so. This is a smear, plain and simple. I look forward to testifying on Thursday about the truth, and defending my good name—and the reputation for character and integrity I have spent a lifetime building—against these last-minute allegations.
That a group of Republican women would come out against Kavanaugh's nomination is significant because, by and large, Senate Republicans have said they intend to continue pushing for their nominee to be confirmed.
And Senate Republicans aren't alone. In a statement, the White House described the allegations as "a coordinated smear campaign by the Democrats designed to tear down a good man" and "wholly inconsistent with what many women and men who knew Judge Kavanaugh at the time in college say."
In a political moment where controversy is frequently divided among party lines, Republican women speaking out against their own party's views represents a break from the norm. By speaking up from the inside, they may well have a better chance of making themselves heard.