Republicans Have The Power To Save 800,000 Young People's Futures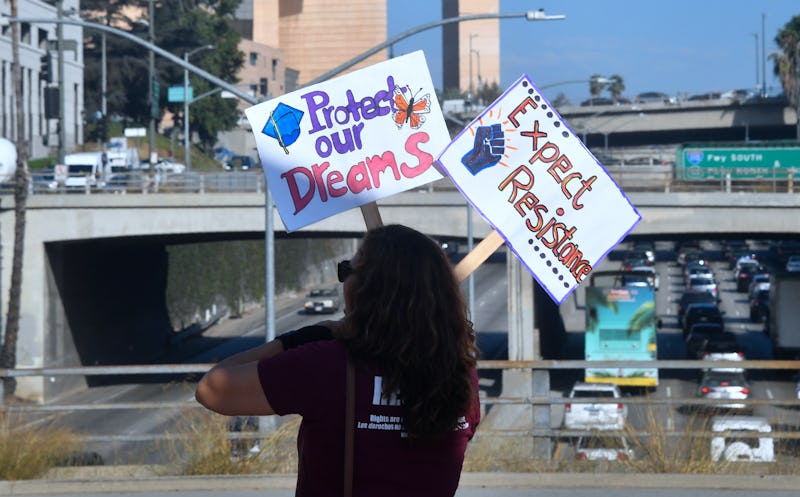 FREDERIC J. BROWN/AFP/Getty Images
President Donald Trump's rumored decision to end an Obama-era program designed to offer Dreamers temporary protection from deportation following a six-month delay appears to have given Congressional Republicans the power to save some 800,000 young people from deportation. And while Trump could still change his mind, there are signs many Congressional Republicans might break with the president and act to save Dreamers should he move to formally end the Deferred Action for Childhood Arrivals (DACA) program.
Although no official announcement has been made, President Trump is strongly considering bringing an end to DACA, Politico was among the first to report. However, Trump is expected to pair his decision to end the popular program with a six month delay in order to give Congress the opportunity to create new legislation aimed at protecting DACA recipients. Currently, DACA enables nearly 800,000 young people who entered the United States illegally as children to stay and seek work permits or attend institutes of higher education for renewable two-year periods.
Early rumors Trump was leaning toward ending DACA spurred multiple Republican legislators to express support for the deferred deportations program and publicly urge the president to rethink his position. Republican Rep. Mike Coffman has vowed to file what is known as a "discharge petition" in order to force a floor vote on his BRIDGE Act, legislation that would extend deportation protections for Dreamers.
"DACA participants grew up here, went to school here, and should be allowed to stay here," Coffman said in an Aug. 31 tweet. "The time has come to take action. When I return to D.C. I will file a discharge petition to force a floor vote on the #BRIDGEAct." According to Politico, Coffman will need the support of 218 members in order to force the House to vote on the measure later this month.
In a statement issued Monday, Republican Sen. Lindsey Graham said he would support a decision by the president to give Congress six months to find a legislative solution to DACA. "I have always believed DACA was a presidential overreach," Graham said. "However I equally understand the plight of the Dream Act kids who — for all practical purposes — know no country other than America. If President Trump makes this decision we will work to find a legislative solution to [DREAMers'] dilemma." Graham said he and Democratic Sen. Richard Durbin had already introduced a bipartisan bill that aims at providing Dreamers a path to citizenship.
Other Republican members of Congress to criticize Trump for potentially ending DACA include Republican Sen. Jeff Flake, who has urged Congress to take "immediate action to protect DACA kids." Republican Rep. Ileana Ros-Lehtinen claimed the president had teased DREAMers with talk of his "great heart" only to slam the door on them. In separate tweets she said "Congress must work immediately to pass law protecting #Dreamers who only know the U.S." and that six months was "ample time for us to act."
But while multiple Republican lawmakers have spoken out against Trump's expected decision to formally end the DACA program, including House Speaker Paul Ryan, it remains to be seen whether a compromise can be struck between those looking to protect dreamers and immigration hardliners. Trump is expected to announce his decision regarding the future of DACA on Tuesday.