Why Republicans Should Impeach Trump Now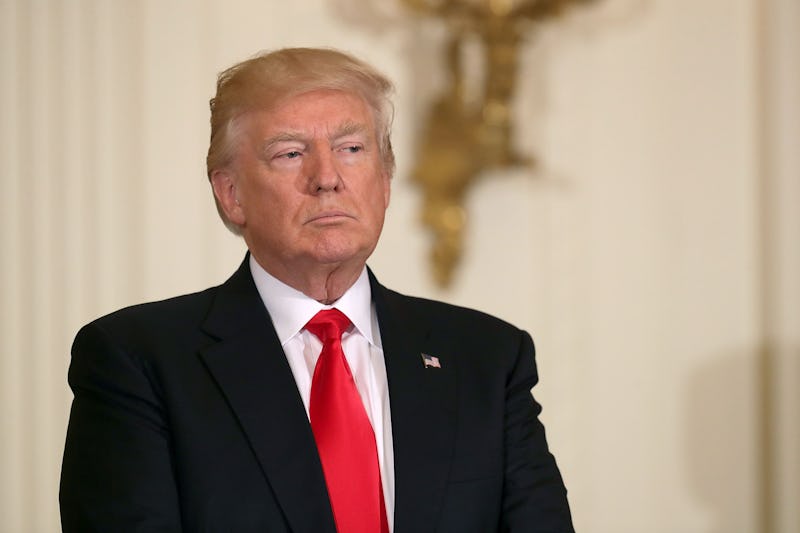 Chip Somodevilla/Getty Images News/Getty Images
President Donald Trump is currently in the midst of the worst seven-day stretch of his presidency. It began with the abrupt firing of former FBI Director James Comey last week, followed by his admission that the Trump-Russia investigation factored into the decision, and then reports of a memo by James Comey stating that Trump asked him to end the Mike Flynn investigation. Basically, the president is not doing well. In fact, he's doing terribly, and the GOP should take note: Republicans should impeach Trump now, rather than risk going down with the ship.
There are both moral and pragmatic reasons the GOP should be making moves on this now, rather than waiting around. As it stands, Trump's approval ratings continue to languish in record-low territory for such a young presidency, and have been underwater every day since Jan. 25 — five days after his inauguration, in other words. According to a new poll from Public Policy Polling, more voters now favor impeachment by seven points.
While there's more than one argument in favor of impeachment ― for example, his ongoing ownership and profiting off of his business empire, considered by some to be a violation of the emoluments clause of the U.S. Constitution ― the clearest, cleanest case for impeachment is obviously the Comey firing. That's even true regardless of whether the FBI's Trump-Russia investigation ultimately finds any trace of collusion.
In the immediate aftermath of the Comey firing, Trump sat down for an interview with NBC News' Lester Holt, and offered up some of his reasons. He derided Comey, who reportedly continues to be very respected within the FBI, as a "grandstander" and a "showboat."
He also contradicted the core explanation of the firing that many of his top aides and surrogates, the vice president of the United States included, had just spent a day pushing: that the firing was prompted by a highly critical memo about Comey authored by Deputy Attorney General Rod Rosenstein, and had nothing to do with the FBI's Trump-Russia investigation. Under questioning from Holt, Trump basically gave up the game, noting he'd thought about the investigation while making the decision:
When I decided to just do it, I said to myself, I said, "You know, this Russia thing with Trump and Russia is a made up story, it's an excuse by the Democrats for having lost an election that they should have won."
It's not a reach to interpret that as obstruction of justice, and that would be true regardless of whether the investigation ultimately reveals any serious wrongdoing. And on Tuesday, another hyper-explosive report by The New York Times says Comey wrote in a memo that Trump asked him to scuttle the investigation of former National Security Adviser Mike Flynn. In simple terms, Trump's printed up some tailor-made articles of impeachment against himself, if and when the Republican Party has the courage or conviction to act.
It's hard to imagine that some Republicans haven't at least had private thoughts about the possibility of impeachment. Trump's already botched his immigration and refugee travel ban, providing a ready-made legal argument against it that wouldn't have existed if he hadn't made so many demagogic comments about Islam, and called for a "total and complete shutdown of Muslims entering the United States." Until this month, that statement was still on his campaign website. His loose lips also scuttled his efforts to punish so-called "sanctuary cities" by withholding federal funds, and has now reportedly exposed confidential intelligence provided by Israel, a key U.S. ally, to Russia.
The Trump campaign is under an FBI investigation for potential collusion with a hostile foreign power, an investigation that was still taking place when he fired the bureau's director. Trump himself continues to express fondness and admiration for violent strongman leaders the world over, including Rodrigo Duterte of the Philippines, who he recently invited to visit the White House.
And although he held a big party for the House GOP upon passing the American Health Care Act, the Obamacare replacement bill hasn't yet been signed into law. As of now, it's languishing in the Senate, and although it may still pass, its future as written is deeply unclear. It's also massively unpopular, polling at just 21 percent approval, thanks in no small part to the fact it's projected to cost more than 20 million Americans their health insurance. Tax reform, the next big Republican dream, is barely being discussed.
Trump has also gone completely off the rails on more than one occasion. Falsely accusing former President Barack Obama of wiretapping him, for example, and angrily railing against the "fake news" media while airing out scores of false and misleading statements. It's all contributed to one of the leakiest White House environments in modern history.
With the 2018 midterm elections looming next year, and Mike Pence, a stable-by-comparison establishment Republican waiting in the wings, the GOP should be thinking seriously about Trump's removal, and coming up with a thorough explanation of what went wrong and how. While nothing is truly guaranteed in a hyper-polarized partisan atmosphere, first-term presidents historically lose House seats in their first midterm election. And when you look at the current state of the Trump administration, it's trivially easy to imagine an electoral bloodbath for the Republicans next year.
Since 1934, the first midterm election for each new president has cost the president's party an average of 24 seats in the House. The Republican majority sits at 33 seats, meaning a below-average performance in 2018 could spell the end of their vice-like grip on the House majority. And in the Senate, where the GOP currently holds the majority by a mere two seats, a flip is even easier to imagine — almost as easy as imagining what four solid years of this kind of behavior could do to the party long-term.
In short, even if elected Republicans don't find themselves horrified or disgusted by the slew of controversies, scandals, and collapsed norms of the early Trump presidency, there are entirely practical reasons for them to get out ahead of this and pull the trigger on impeachment.
That's not to say it will happen, to be clear, no matter how easy it is to imagine what they'd be saying if this were on President Hillary Clinton's record. But amid what looks like a full-scale implosion just four months in, and with Pence on-deck, Republicans would be ill-advised not to consider contingency plans.