Yup, Research Says Women Are Interrupted Way More Than Men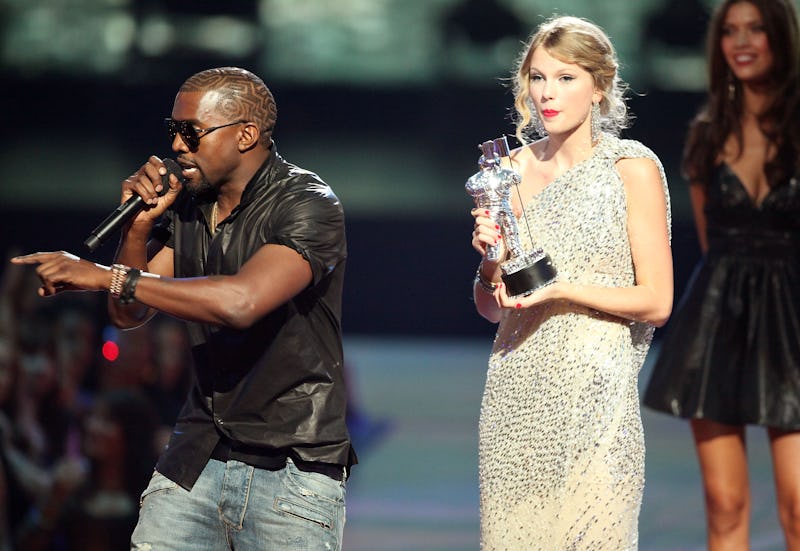 Christopher Polk/Getty Images Entertainment/Getty Images
On Tuesday, Sen. Kamala Harris was interrupted by male colleagues while posing questions to a witness at a Senate Intelligence Committee hearing for the second time in just one week. Yet men interrupting women isn't a new phenomenon, but rather a tale as old as time.
In 2009, for instance, Kanye West took the mic from Taylor Swift mid-speech. In 2016, Donald Trump interrupted Hillary Clinton a number of times during the first presidential debate. In January, Virginia Sen. Tim Kaine interrupted Education Secretary Betsy DeVos during her confirmation hearing before the Senate. And in February, Senate Majority Leader Mitch McConnell interrupted Sen. Elizabeth Warren during debate over Jeff Sessions' nomination to attorney general on the Senate floor.
From corporate boardrooms to government chambers, research continues to show that women are interrupted more often than men. A pioneering 1975 study carried out by sociologists Don Zimmerman and Candace West examined overheard 31 conversations between various combinations of people and found that in the 11 conversations between men and women studied, men were behind all but one interruption recorded.
Similarly, a more recent study conducted in 2014 found that a woman was more likely to be interrupted (by both men and women) than a man was. In a separate but more informal study conducted that same year, Kieran Snyder observed 900 minutes of conversations between men and women working in the tech industry. The study found that men interrupted others twice as often as women did and were nearly three times as likely to interrupt a woman as they were a man.
Even powerful and highly respected women like Supreme Court Justice Ruth Bader Ginsburg can't escape the phenomenon. According to a study released earlier this year, male Supreme Court justices have, over the years, reacted to the increase in women serving on the bench by upping their interruptions of them. Northwestern Pritzker School of Law professor Tonja Jacobi and J.D. candidate Dylan Shweers studied Supreme Court oral arguments from 1990, 2002, and 2015 to compare how frequently female justices were interrupted by their male colleagues. The study examined periods of time when there were one, two, and three women sitting on the bench, respectively. Predictably, it found that as women's representation on the Supreme Court bench increased, so too did the rate they were interrupted by men.
Given the number of studies which have, over the years, concluded that the "manterrupting" phenomena is very real, it's not altogether surprising The New York Times received an outpouring of response when they recently asked women to share their own experiences with "manterrupting" on Facebook. "Women in a wide range of industries, at all levels, offered hundreds of such examples in response," the Times reported, adding that "being interrupted, talked over or shut down is a nearly universal experience for women outnumbered by men."
While it's impossible to say if or when the "manterrupting" will ever end, it does seem that more and more people are at the very least becoming increasingly aware of the problem.
For example, when a moderator overseeing a panel at the World Science Festival in New York City earlier in June continued to talk not just over but quite often for the sole female on the panel, a frustrated audience member spoke up. "I just can't handle it any longer. With my hands shaking, I finally say from my seat in the 2nd row of the audience, as clearly, directly and loudly as possible; 'Let. Her. Speak. Please!'" Marilee Talkington wrote of her reason for speaking up on Facebook.
But finding ways to combat so-called "manterruptions" is important, aside from the fact it's aggravating and just plain rude. Ultimately, "manterrupting" enables men to dominate conversations and decision-making, meaning that while women have a seat at the table, they may not have a voice.