Resistbot Will Help You Fax Your Member Of Congress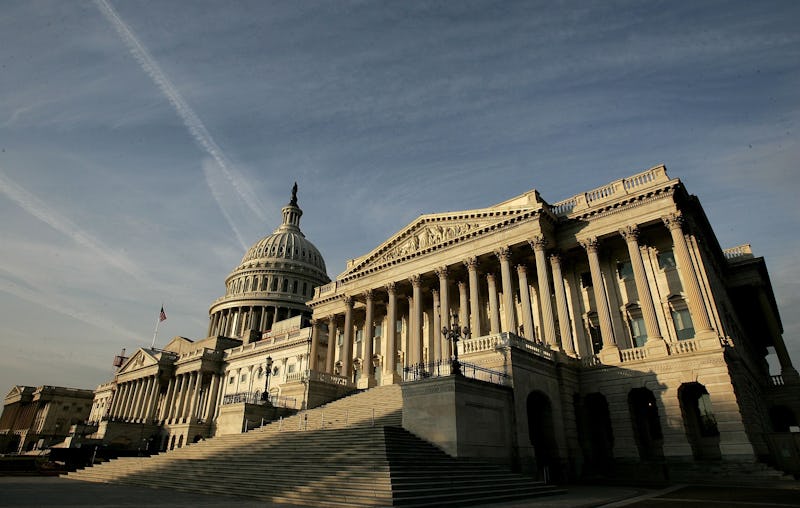 Win McNamee/Getty Images News/Getty Images
If you're a Democrat or a progressive, there's a pretty good chance you're spending more time thinking about activism and political organizing than you were this time last year. That's thanks to the Trump administration, of course, and the spirit of "resistance" that's emerged since the president (who's become more unpopular more quickly than any other) took office in January. And now there's a new tool to help you contact your member of Congress, although it's far from the only way. Resistbot lets you fax your member of Congress quickly and easily.
The concept is extremely simple: Anytime you want to fire off a quick message to your member of Congress, imploring them to take one stand or another, you can send a text to 50409 with the word "resist." You'll then be prompted to enter your zip code, at which point you'll be given the names of some of your elected representatives. You can compose a text explaining what you'd like them to focus on, and then the bot does the rest.
Of course, when you're sending a text out into the ether like this, it's only natural to wonder if anyone's really seeing them. According to its official website, Resistbot is "working hard behind the scenes to make sure they are delivered and that your representatives take them seriously."
The way it works is this: You compose a message, and Resistbot converts it into a fax and sends it to the addressed members of Congress. It's worth noting, however, that actually calling the state or district offices of your elected representatives is widely considered the most effective, impactful means of influencing them. As such, if you're considering being part of a mass movement to contact a congressperson, it's worth going the extra mile and actually calling to leave a polite yet firm message.
If you're interested in actually calling your elected representatives, you can find their information through either the House directory or the U.S. Senate directory. If you click through the links on your member's name, you'll be transported to their individual website, where you can find numbers for their federal and local offices. And local is often preferable!
That said, Resistbot sound like a very useful tool to send off a quick message whenever the idea strikes you, and working in tandem with political organizing, and with the occasion congressional phone call, you should be able to amp up your activism game. There's no app or anything to download, so you don't need to worry about that ― just send the word "resist" to 50409 to get started.