Dorinda Medley's Tips For Celebrating Christmas, So You Can "Make It Nice," Too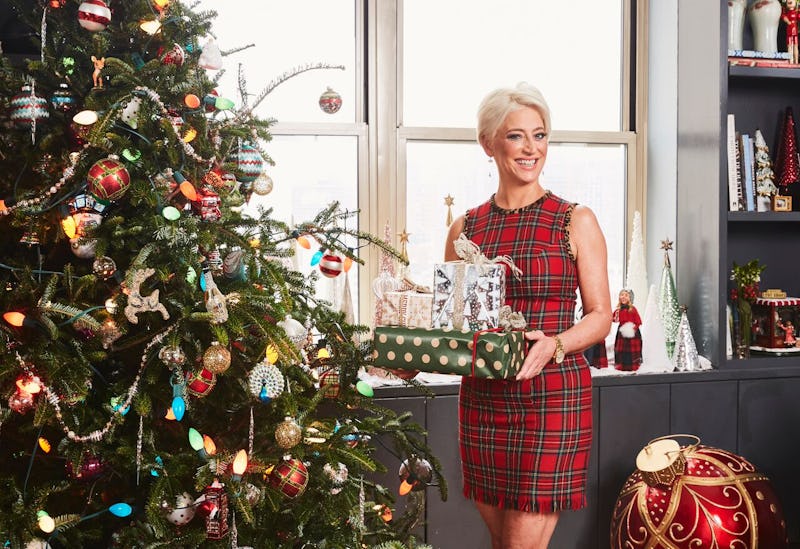 Matt Harrington for HomeGoods
One of the most famous lines in Real Housewives history happened during Real Housewives of New York City's yearly trip to celebrate Christmas at Dorinda Medley's Berkshires house. During an argument with Ramona Singer and Luann de Lesseps about, in Medley's words, "everybody acting very poorly," she got more and more worked up until it happened: "I decorated. I cooked. I made it nice." The quote instantly became a classic. Not only is it the best thing to say when upset at your houseguests, but aside from that, Medley was right. She did make it nice. When it comes to the holiday season, Medley always makes it nice.
While the reality star goes all out when it comes to decorating her Berkshires home — RHONY fans have seen the many Santa Clauses — this year she brought the over the top festivities to her New York City apartment by partnering with HomeGoods. (RHONY fans have also seen Medley shop at the store on the show before.)
To kick off the holiday season, Medley held a party at her NYC home to show off her new decorations, and they did not disappoint. There was a huge tree covered with ornaments, Christmas figurines everywhere, and a snow globe collection that she hinted she would give to the other Housewives during their yearly Berkshires trip. (Well, it seemed like she was hinting at it until she told me I was "naughty naughty" and "getting coal" for inquiring about the new season so early on. Yep, even her comebacks are holiday themed.)
Since Medley is so obsessed with Christmas, she doesn't mind sharing the wealth so everyone can fully enjoy the holiday season. If you want to celebrate like her, here's what to do.
Keep It Positive When Dealing With Unruly Guests
"Kick them out. Call 911," Medley jokes about dealing with unruly guests. But her real advice is to "manage people" and "keep it positive."
"If you see someone's drinking too much, you have to quietly cut them off — it's usually me so that's difficult," she jokes. She adds that "you have to talk about positive things and not put people together that you know aren't going to click." And you should take her word for it. Medley has a lot of experience with difficult guests as anyone who remembers the Ramona Singer Guest Room Incident of 2017 knows.
Get A Tree
"Obviously, the best thing to do is get a tree," Medley says of the one decoration even non-decorators should have. "All of us know we have that tree up and when you take it down in January how depressing your house seems." She also suggests just getting "a couple little things" if you don't want to go as big as she does. "You can buy a couple snow globes. You can string some lights in your window. You can just do little things to make it festive."
Always Have Food
"I can't stand when you go to an event and they have no food. You get three glasses in, you're bombed." No argument there!
Consider Snow Globes
"I said this year when the girls come up to the house I think I want to do a snow globe theme," Medley explains (before immediately scolding me when I ask if the Housewives are definitely headed to the Berkshires once again). She doesn't give anything away about the show, but does say that the snow globes were the highlight of her HomeGoods trip. "Even the most sophisticated person is like, 'I love the snow globes!'"
Include Something Sentimental
For Medley, something sentimental means a three foot tall ceramic Santa Claus. "My mother had four kids and we didn't grow up with any money or anything, and she used to take a ceramics class just to get away from us, I think," Medley says with a laugh. "And she made for me one Christmas a three foot tall Santa ... Every year when I take that Santa out, I swear to God, I cry, because I remember when she gave it to me."
Make It Nice
In the new season, it's probably a safe bet to expect some new catchphrases from Medley, but she's not giving anything away. "I don't even know if I'm going to be asked back on," she says. "Do you think I'm going to be asked back on?" OK, Dorinda. Fine. I guess we'll just have to wait and see. For now, as she says herself, "Dorinda always makes it nice." And, now, you can, too.