'RHONY' Fans Will Breathe A Sigh Of Relief About This Luann Divorce Update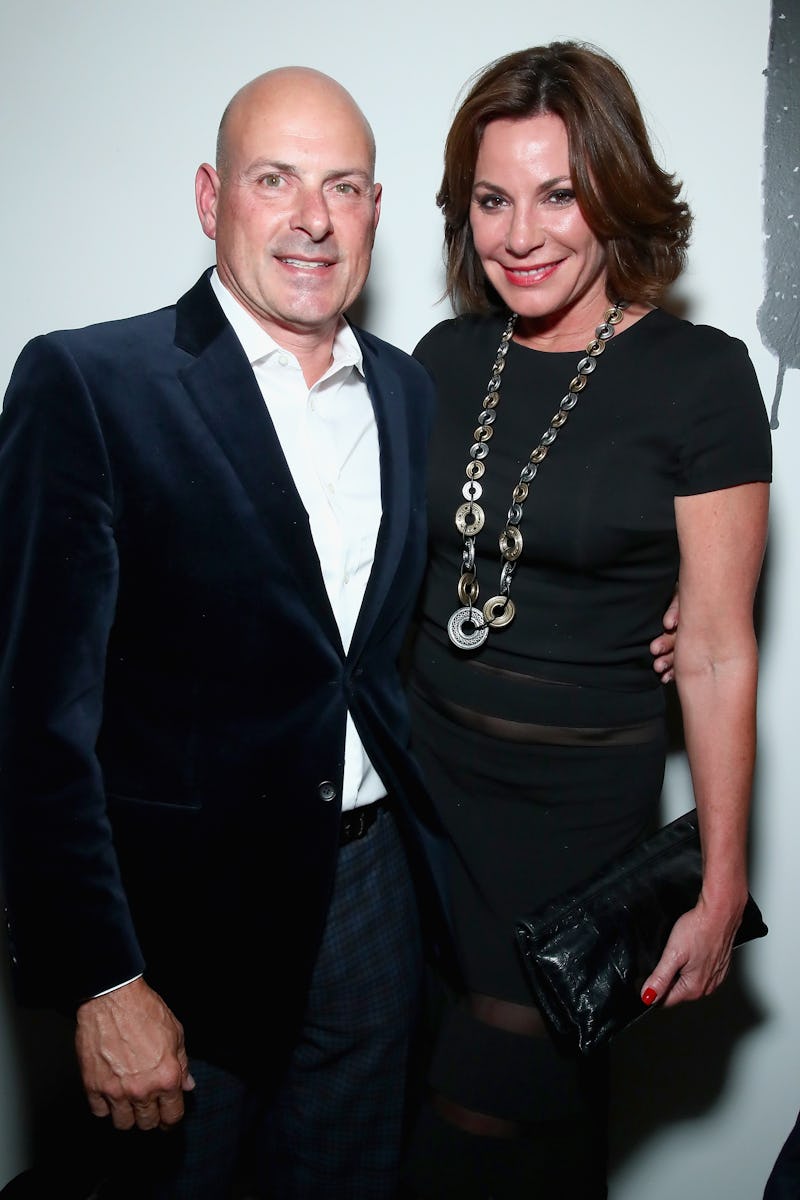 Astrid Stawiarz/Getty Images Entertainment/Getty Images
It's only been only two months since they announced their separation, but it appears that Luann de Lesseps and Tom D'Agostino's divorce has already been settled, according to E! News. The Real Housewives of New York star's rep confirmed to Bustle, "They agreed amicably to the divorce last month and it is close to being finalized." From the sound of it, both parties are well on their way to officially moving forward with their lives.
E! News also spoke with D'Agostino's lawyer about the split. The New York City businessman's attorney explained,
"I can confirm for Tom that the case was amicably settled. Uncontested divorce papers were submitted to the New York City Supreme Court on Sept. 18. Tom filed for divorce in early August."
Fans of the RHONY star can certainly attest to the roller coaster of high and lows during de Lesseps and D'Agostino's highly scrutinized relationship. The pair, who got engaged in February 2016, later wed in a lavish ceremony on New Year's Eve of that same year.
However, their love affair quickly came to an end just seven months later when de Lesseps and D'Agostino revealed their decision to call it quits. The reality star announced the split via social media back in August, telling fans that she and D'Agostino both agreed to the divorce.
D'Agostino broke his silence about the spilt a month later, telling E!,
"I fell in love, got married quickly and am very sad that two people in love are not together. The publicized reasons for the divorce make for a great Reality TV story line. I wish Luann much happiness and love."
Rumors began to swirl about D'Agostino's involvement with other women, as Page Six claimed that their marriage was coming to an end amid reports that the newlyweds had reportedly been involved in a physical altercation in July — just weeks before their divorce announcement.
Meanwhile, the former model later opened up about her split and rumored fight with D'Agostino, while chatting with Housewives executive producer Andy Cohen this past August.
Offering fans a bit of insight into her marital woes during a special one-on-one edition of Bravo's Watch What Happens Live, de Lesseps explained,
"I don't think he could give up his bachelor life to lead a married life the way I wanted to. I think that he really loved me. I really do. He still loves me. At this age, it's really hard to change people … I expected more. I expected him to change."
She also gave details on the reported public spat that occurred right before they decided to end their relationship. Per People, de Lesseps clarified,
"I didn't slap him. What I did was grab his face. It was in the heat of the moment. I was hurt about something. I wanted his attention, so I grabbed his face. It wasn't really a slap."
Less than a year after tying the knot in front of reality cameras, it seems that both de Lesseps and D'Agostino have successfully moved on in life. Much like her fellow Housewives co-star, Bethenny Frankel, de Lesseps has put her own personal issue aside to lend a helping hand to those in need. According to video posts from her personal Instagram account, de Lesseps is currently in Florida assisting in relief efforts in light of the devastation caused by the hurricane.
Meanwhile, it has been reported by Us Weekly that D'Agostino is dating again and has been spotted around town with a few women, "but hasn't rebounded with anyone in particular yet."
It will be interesting to see how de Lesseps' marriage breakdown will play out when Bravo cameras resume filming the next season of Real Housewives of New York. Either way, it's certainly great to see the countess and her former beau remain amicable amidst such a highly publicized divorce.