Richard Madden Definitely Wasn't In 'GoT' For The Money, Judging By This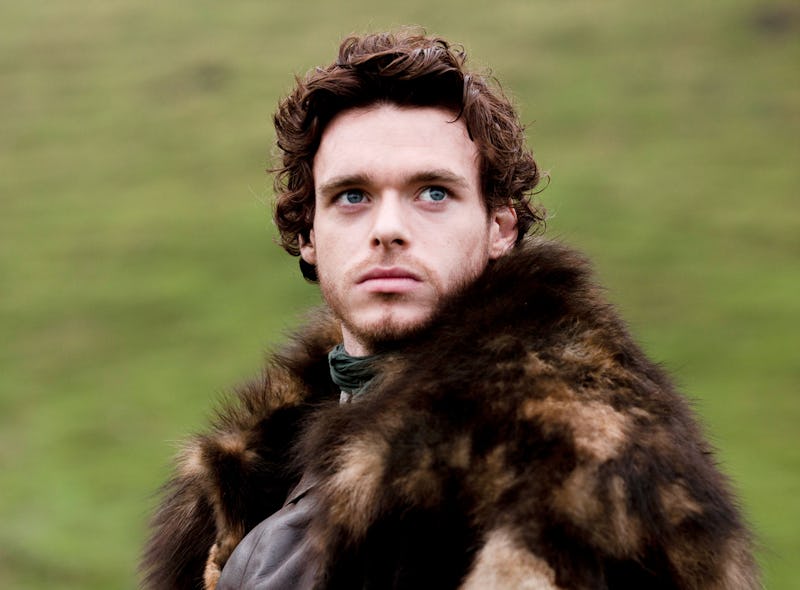 Game of Thrones / HBO / Sky
Richard Madden may now be a household name with HBO's Game of Thrones, Disney's Cinderella and more recently BBC's Bodyguard firmly under his belt, however he's a long way from Scrooge McDucking into a swimming pool full of money. In a recent interview, it was revealed that Richard Madden's Game of Thrones pay cheque probably wasn't as much as you might have thought. In fact, in a recent interview, he opened up about his fee for the hit series — and he certainly didn't hold back.
When questioned by the Sunday Times if he'd lucked out and clinched some killer HBO cash, Madden was brutally candid about how much playing Robb Stark earned him. He said: "People think I am [rich], because of Game Of Thrones, but you know, when I signed up for that I was 22," he said, pointing out his acting resume was pretty minimal, meaning he wasn't paid very much at all.
If you think he sounds salty, I probably would be too TBH. While the show may have started off paying very little, reportedly the cast of Game of Thrones are now earning a pretty penny — including Kit Harington and Emilia Clarke who were relatively unknown actors when they first joined the series. Clarke in particular was just a year out of drama school, according to The Telegraph.
If you're wondering how pay is determined for the hit series, The Hollywood Reporter previously claimed that the Game of Thrones cast are paid according to a tiered system, with the highest earning members belonging to Tier A (which includes Harington and Clarke as well as Peter Dinklage, Lena Headey and Nikolaj Coster-Waldau).
While the exact figure hasn't been revealed and there's been a lot of speculation. The Hollywood Reporter suggested back in 2016 that the show's most paid cast members "earn upward of $500,000 per episode of Season 7," while the Express stated the leading actors could be earning up to "£2 million per episode" due to syndication bonuses. In any case, it all sounds like pack it up and retire now money.
Since these deals were only negotiated for Series 7 onwards, Madden sadly seems to have lost out. He departed (horrifically and brutally) in the show's third season during the infamous Red Wedding sequence. As you can tell, I'm still not over it.
Now that he's starring in BBC's six-part series Bodyguard, he's hopefully had a bump in pay. Madden plays the titular bodyguard and war veteran to Keeley Hawes' steely home secretary in the political thriller, which sees his loyalties and skills being tested as she becomes the target of a terrorist threat.
He and his co-star Hawes are both prominent figures in the series, but their pay packets have become a pretty hot topic of discussion recently. Hawes in particular has been a vocal advocate for gender parity and advised any female actors getting into the field on how to negotiate a salary rise.
The Mirror claimed that she had demanded "equal pay with her male co-star," which I'm assuming is Madden, since he's one of the biggest names on the project. Hawes said to the outlet: "If it's something like Bodyguard and there are two of us and you're discussing your contract, just say 'We want parity.' And more often than not, the actor will also say, 'Yes, we're doing the same amount of work. The same process, pay us the same.'"
Although it seems to be implied that she and Madden were both heavily involved in negotiations for Bodyguard, Madden revealed he honestly didn't know much about it. He even speculated she might be taking home a bigger cheque.
"No idea. I imagine she earned more," he said. "I care less about how much other people are paid, and more what it takes for me to shut up and go and do my job."
I've reached out to Madden's rep for comment. However, as of yet, I am still to hear back.
Madden continued: "There's only so much I can do for myself. Agents and lawyers, they do all that stuff.
"I just kind of deal with what I need to, so I don't look a producer in the eye and hate them when they're talking about their villas, and you're thinking, I'm getting the bus at the weekend, because I don't have the money for a cab, you know?"
Can somebody bring Robb Stark back for even just one episode of Game of Thrones next year? Man's gotta top up his Oyster card.
Bodyguard airs on BBC One on Sundays at 9 p.m. and previous episodes of the show can be watched on BBC iPlayer.