Rihanna May Have Just TOTALLY Switched Up Her Hair In The Most Unexpected Way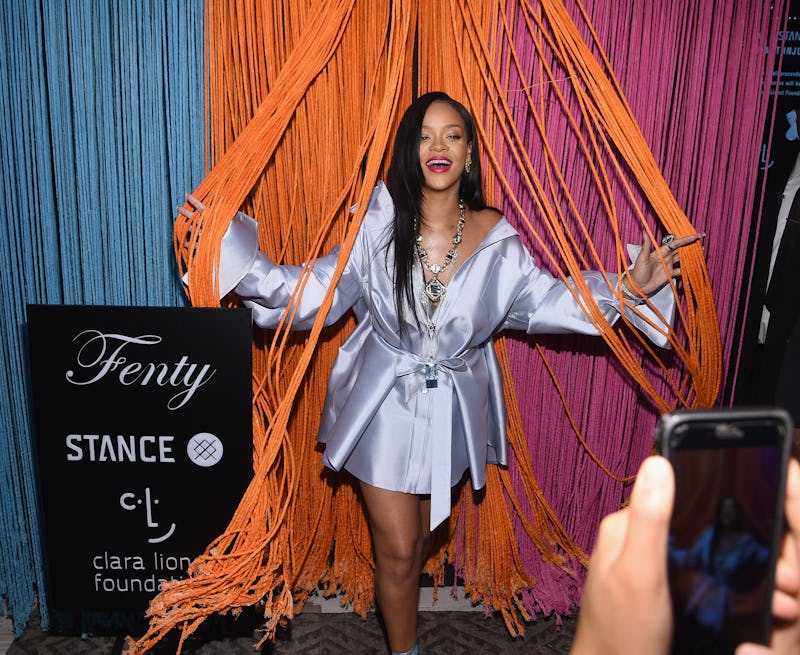 Dimitrios Kambouris/Getty Images Entertainment/Getty Images
If you learned anything in Pop Star Hair History 101, it's that Rihanna sure isn't one to shy away from a hair change. The stunning star has been a go-to source of hair inspo since her "Pon de Replay" days, rocking every look in the book with ease. From fiery red locks to cropped 'dos to natural hair moments, Rihanna has done it all. But her latest look may be slightly new territory for Bad Gal RiRi. Rihanna now has long blonde hair that rivals Rapunzel's tresses — at least for now.
On July 16, Rihanna posted a photo of herself sporting long blonde locks on Instagram. But don't think the look is permanent or anything. The picture, which was posted to Instagram Stories, showed Rihanna in a pretty gorgeous lacefront wig — only with the lace entirely intact and clearly visible on her forehead.
Rihanna cheekily captioned the photo, "What frontal?" Because she's #relatable like that.
The blonde wig appears to be quite lengthy, possibly reaching to her waist or even beyond. Unlike her past rooted, dirty blonde looks, the blonde on this wig climbs to the very top of her crown. It's only a slight change from the blondes of Rihanna's past, but a change nonetheless.
It is still unknown if Rihanna will cut off all that lace and take the wig for a spin IRL. Given the silly caption, it's possible that everyone's favorite bad girl is simply having some fun with a wig she found hanging around. Either way, the long blonde wig is a lewk that any Rihanna fan can stan.
Though Rihanna has been blonde many times before, it appears to have been a long time since she's rocked a light look. Aside from a few blonde highlights here and there, the last time Rihanna was completely blonde was in early 2012. In that year, Rihanna wore blunt bangs and a shaggy hairdo in a similar shade to her recent Insta pic. And, predictably, she slayed the style.
One of Rihanna's hair stylists, Ursula Stephen, told Allure in 2012 that Rihanna actually favors blonde locks, even though it seems she's moved away from the look in recent years.
"This blonde is one of her favorites," Stephen said of the look above. "You have to keep up your conditioning treatments when you go this light—the hair becomes porous from bleaching."
And Stephen isn't stretching the truth in the slightest. It sure is a lot of upkeep — and damage — to go blonde, especially for naturalistas. With a lacefront, however, you get the look with none of the harsh cons. It's a win-win for Rihanna and her follicles, if she wants to bring the blonde back for a while.
Making the switch to blonde — even via a lacefront — would be a big change for the Fenty Beauty creator. RiRi has been going steady with the same hair look for the past several years, with her go-to being long dark brown locks. Whether it's a curly moment or a pin-straight 'do, Rihanna's hair has been somewhat predictable since 2016. Seeing her in a blonde look brings back memories of when you couldn't keep track of Rihanna's hair if you tried. Ah, those were the good ol' days of copious hair inspiration.
Only time can tell if Rihanna will actually take to the town — or the red carpet — with the waist-long blonde locks pictured on her iconic Insta. In the meantime, keep refreshing her page for updates. And have your stylist on speed dial while you're at it.