Rihanna Highlights The Most Unexpected Body Part & It Will Make You A Believer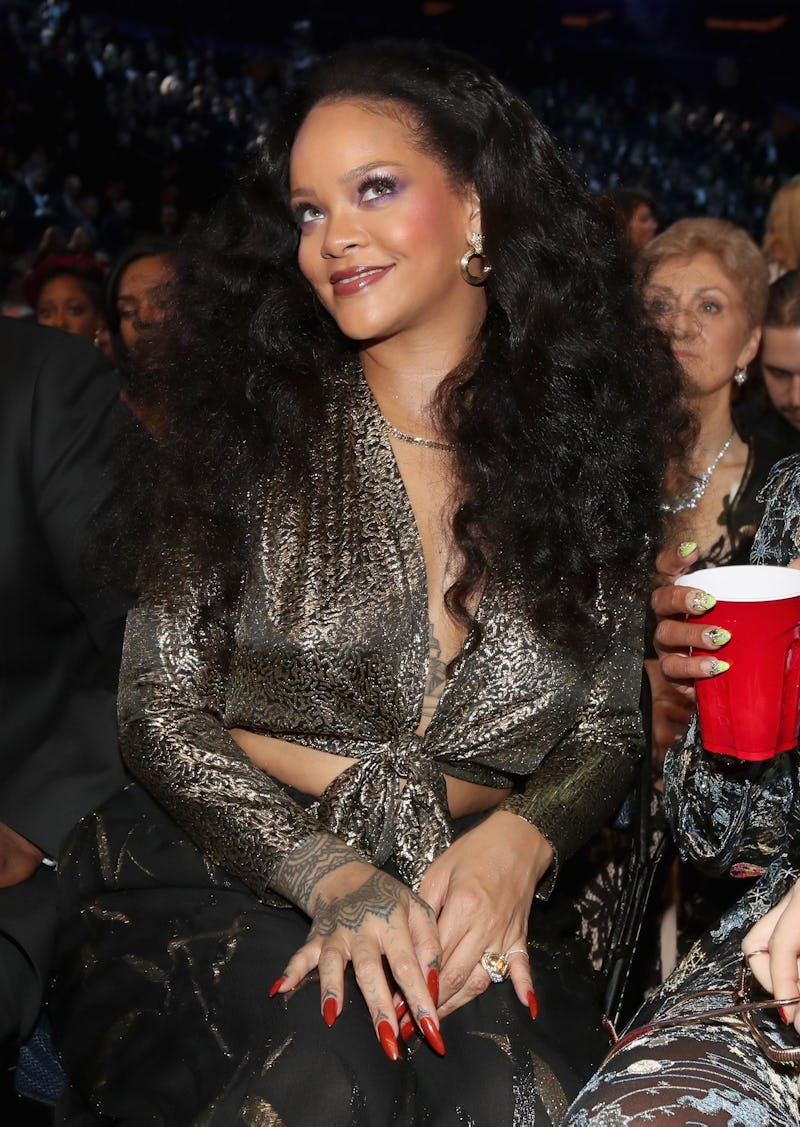 Christopher Polk/Getty Images Entertainment/Getty Images
It has been said plenty of times before, but let it be said again that Rihanna is taking the beauty industry by storm. Every Fenty Beauty release is an instant success, thanks in part to the killer tips Rih Rih dishes out for using her line. Her latest hack reveals Rihanna highlights the most unexpected body part, explaining why the pop star turned makeup maven always has an allover ethereal glow.
It's not just the fact that Fenty Beauty has all-inclusive shade ranges and such quality formulation that makes the brand's products a hit. When a brand is backed by a badass founder that constantly slays the products, it makes it hard to resist not snatching up every single thing Fenty has to offer. From Rihanna's Stunna Lip Paint tutorial to her highlighting tricks video, the makeup mogul is always giving fans the 411 on how to look fab in Fenty.
It's as though the beauty icon was born to be a beauty influencer. That was made even more evident when her makeup artist recently revealed the unconventional way Rih Rih loves to wear her Kilawatt Foil Freestyle Highlighter Duos. Apparently, the secret to a next-level Rihanna-esque glow is to dust shimmer on your ears, a place you've likely never thought to deposit your favorite illuminator.
According to E! News, Rihanna doesn't just confine her highlighter to her cheekbones. During the L.A. reveal of the Kilawatt Foil highlighters, Fenty Beauty's global makeup artists Priscilla Ono and Hector Espinal spilled the beans on Rihanna's go-to technique for getting her glow on. Dusting the cheekbones, nose, cupid's bow, and ears with a Fenty highlighter are all on Rih Rih's to-do list when she's getting glam.
She may not be the first to pay attention to the ears when it comes to applying makeup, but you have to admit that illuminated lobes aren't something you see the average Joe doing on the reg. So, it's really quite the unusual, but handy beauty tip coming from queen Rih.
"Anything that's exposed, we loving putting highlight or shimmer on," said Espinal of the technique. "Anything I do on the face, I do on the ears."
Although it may not be a common spot for highlighter, it's a key location for making an impact. A perfect compliment to hairstyles that leave the ears visible, the technique allows your entire facade to beam.
"If you're flirting and you just want to [slowly tuck your hair behind an ear]," it can make all of the difference, Hector added.
You can opt for subtle luminosity by lightly dusting the ears, but it's totally okay to glow to the moon by getting heavy-handed on your cartilage with a non-traditional highlighter hue.
While you're topping off your ears, why not go highlighter crazy. Rih Rih's daring Kilawatt looks prove you can never use too much, whether it's on your ears, the high points of your face or even your eyes. Her 2017 Met Gala beauty beat featured her cheekbones and eyelids completely covered with a metallic magenta Kilawatt Foil and it was far too dreamy.
If you need further confirmation that the Fenty Beauty highlighters were created to be sprinkled all-over, just look to Rih's own tutorials for the lowdown on a glow up. In a video feature with Vogue, Rihanna took the Mimosa Sunrise Kilawatt Foil Freestyle Highlighter Duo from her lids to her cheekbones for a monochromatic purple glow that looked both effortless and gorgeous.
So, there you have it: a little highlighting 101 courtesy of Fenty Beauty's trendy glow mama. When you're blinding onlookers with your luminous ear lobes from this day forward, just silently thank the number one bad gal.