Rihanna's Secret For Getting Rid Of Blackheads Is Actually A Drugstore Find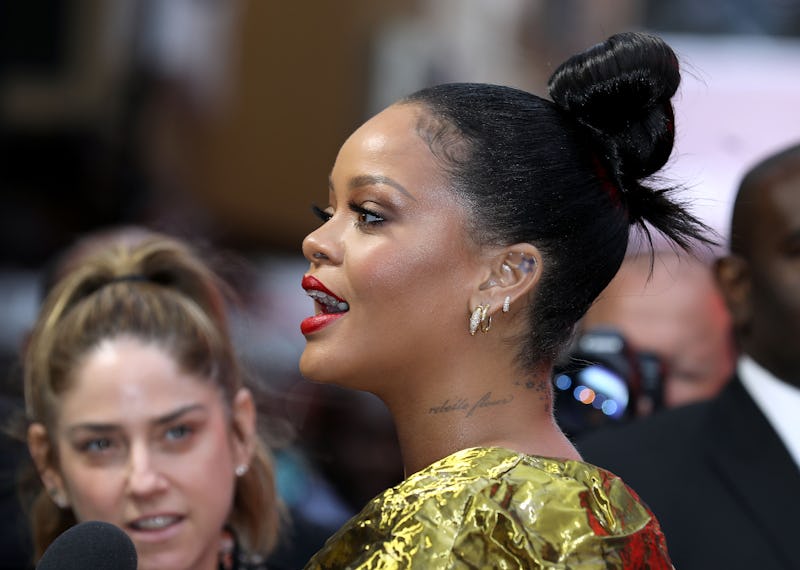 Tim P. Whitby/Getty Images Entertainment/Getty Images
By virtue of their fame and good fortune, celebs like Rihanna have instant and easy access to the best, most expensive skin care treatments. But you know what's as refreshing as, say, exfoliating, cleansing, toning, and moisturizing your face? The fact that Rihanna uses drugstore, cult skin care products, too! One of her faves? Oh, just Bioré Pore Strips.
You know, those tape-like contraptions that you place on your nose and yank out blackheads and other junk and gunk with!
Rihanna's skin is usually glowing and gorj. Her makeup artist and Fenty Beauty global ambassador Priscilla Ono told Refinery29 how she keeps the singer and Puma Creative Director's skin in tip-top, camera-ready, and Instagram-approved shape.
Ono revealed that she likes to keep things as simple as possible and to have a good base on which to build. Having a "good canvas" is essential to looking your best and "your makeup's always going to be bomb."
In order to achieve that "good canvas" so that makeup is, in fact, "bomb," she exfoliates with Bioderma Micellar Water. When swiped across the face with a cotton pad, it removes dirt and oil without stripping away moisture.
Since dead skin and blackheads are "always going to show on camera," it's essential to keep the pores free and clear of build up and other icky stuff.
To get this sorta glow, here's the secret. "I will always carry Bioré Pore Strips," Ono told Refinery29. "Whether it's blackheads or just pore junk, it's glaring and you can always see it under makeup if it's a photo shoot or red carpet."
One can't help but wonder if Rihanna also examines the evidence and stares at the "pore junk" that comes out of her nose upon pulling off the strip.
There's no skin care shaming here! Who hasn't looked at the post-use pore strip with odd fascination? More on that in a sec, actually!
So, yeah, Rihanna and her MUA are fans of Bioré Pore Strips. If you've been using them for a while, you have something in common with Rih! If you've never taken the plunge or purchased a pack, this news could very well sway you to do so. Your pores deserve it.
Bioré Pore Strips are a cheap 'n' easy way to banish blackheads and free your pores. They are also available pretty much everywhere.
If this method is good enough for Rihanna, then it's good enough for you!
Buh-bye blackheads and other assorted icky, funky stuff.
You know who else is a devotee of these blackhead-banishing miracles in a box? Chrissy Teigen! True story. The model and mom revealed her obsession with these tape-like skin care tools on her Instagram. She admitted to looking at them afterward, too.
Clearly, this affordable drugstore product is doing something right. It has amassed some seriously A-list celeb fans and loyalists. Teigen and Rihanna both have beautiful skin, so their endorsement speaks volumes.
Next time you cruise into Target or CVS to stock up on a bunch of stuff, perhaps you might want to stroll down the Bioré aisle and grab a box or two.