This Reaction To Rihanna's Grammys Performance Is Actually Body Shaming & It's So Messed Up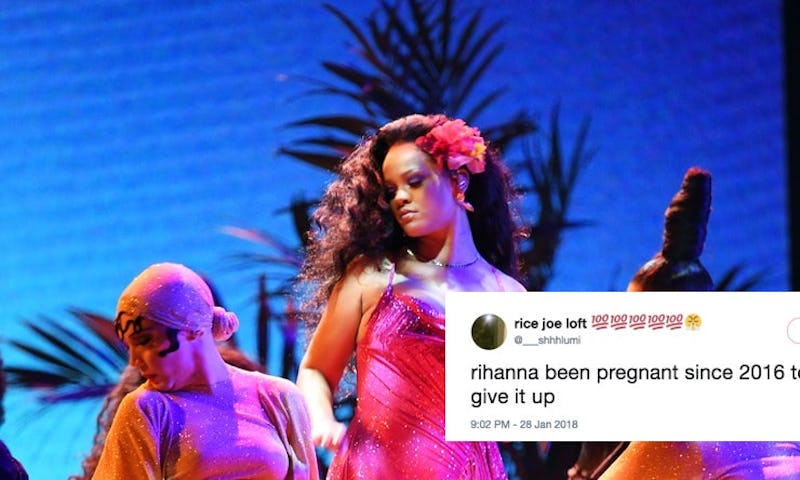 Kevin Winter/Getty Images Entertainment/Getty Images; ___shhhlumi/Twitter
Among the fire performances at the Grammys, from Kendrick Lamar's amazing opening to Childish Gamino's beautiful ballad complete with a live-action Lion King cameo from J.D. McCrary, DJ Khaled, Bryson Tiller, and Rihanna performed "Wild Thoughts." However, while some fans were screaming over how amazing a show it was, other fans were using Rihanna's 2018 Grammys performance to body shame her by claiming that the pop star "looked pregnant" during it. This was far from the first time that fans have assumed that Rihanna was pregnant based solely on how she looked, and it goes without saying that judging a woman's body is always a tone-deaf move. And yet here we are, with many fans doing just that.
The singer has had to slam body shamers and trolls in the past. Reportedly in response to a Barstools Sports article called "Is Rihanna Going To Make Being Fat the Hot New Trend?," which has since been deleted, Rihanna posted a meme to Instagram. It showed Gucci Mane with two different body shapes, along with the caption, "If you can't handle me at my 2007 Gucci Mane, you don't deserve me at my 2017 Gucci Mane." Then, there was the time that Rihanna posted several photos from Barbados' Crop Over festival, and the internet proceeded to take a critical eye to the photos — or, more specifically, to Rihanna's "thick" body in the photos.
It's a gross but true fact that some people don't seem to be able to look at Rihanna without policing what her body could, should, or does look like.
The thing is, assuming that a woman is pregnant based on her body type is a common form of body shaming, and Rihanna has been the recipient of it throughout most of 2017. Since she attended both the Met Gala and the Cannes Festival in oversized dresses, her new bigger is better style has led to people wondering if the pop star is pregnant or just gaining weight. This is despite the fact that, honestly, neither option is any of our business. If Rihanna is pregnant, until she confirms it, it's not for us to guess at and certainly not for us to guess at based on her figure. If Rihanna is gaining weight, that's not for us to speculate on or to judge her for. As Zahra Barnes wrote for Women's Health in August 2015, "Going forward, how about we all agree not to assume a woman's pregnant unless she (a) has told you she's knocked up or (b) is in the actual act of giving birth?"
But despite this being an incredibly obvious fact, not to mention an incredibly easy rule to follow, that has sadly been lost on many people on the internet. Of course, not everyone has fallen into that body shaming trap. Many fans have responded to the body shamers by pointing out that people have been saying that Rihanna "looks pregnant" since at least 2016, and sarcastically saying that she must be having the longest pregnancy ever for that to be true. And others are taking issue with Rihanna's body being the subject of so much conversation at all, when she just delivered such an amazing performance on that stage that we could be talking about instead.
DJ Khaled and Bryson Tiller lit up that stage, but it was Rihanna who was truly the highlight of the night — as evidenced by the fact that she's the one that everyone's still talking about even after the performance is over. Her vocals were on point, her dance moves were as envious as always, and she looked to be having a great time. So, if fans want to focus on anything, then let's focus on that — and leave these gross pregnancy rumors and body policing at the door.