Rihanna's Fenty Beauty Launch Centers On Women Of Color & This Fan DM Proves It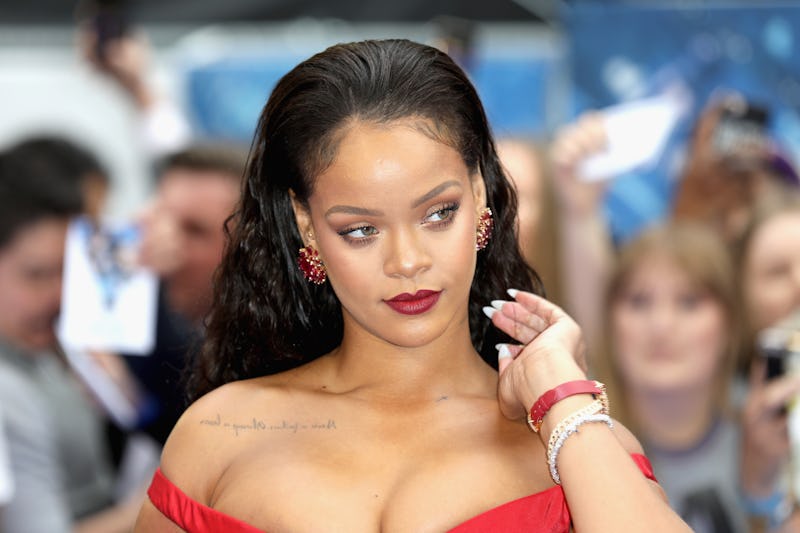 Tim P. Whitby/Getty Images Entertainment/Getty Images
When celebrities launch their own beauty brands, they love to tease fans on social media. Kylie Jenner shares her new products on Instagram, while Kim Kardashian holds Twitter polls. But Rihanna is giving her fans exclusive Fenty Beauty info in a more intimate way. We're talking direct-to-sender Instagram DMs.
On Sept. 1, Rihanna shared a slew of official video for Fenty Beauty. The 60-second Instagram exclusives showed off multiple products and celebrated women of color in an edgy and trendy way. It was clear to see that Rihanna wasn't messing around when she deemed the line the future of beauty.
But the star further solidified her commitment to diversity and women of color with a personal DM to one of her fans.
"40 shades for Pro Filt'r? You're really committed to OUR diversity with this line aren't you?," Twitter user @DaniqueRebelle said in her Instagram conversation with the celebrity.
Rihanna then messaged her back saying, "You knoooowwww it!!!!! Gotta represent for my girls and we come in all shades! Especially my brown sisters... been left out too many times in the makeup world."
If this is the future of makeup, you can count me in. There's no word on what shades the Pro Filt'r Foundation comes in yet, but 40 initial colors is pretty darn impressive.
Foundation isn't the only item about to launch from Fenty. According to the brand's Instagram page, the singer is launching eyeshadow duos, lip glosses, and something called Match Stix — all of which have shade selections that everyone can love.
Get you wallets ready because launch day is right around the corner. According to the exclusive videos, Fenty Beauty will be available on the brand's website and Sephora's website on Sept. 8.
The items will also be available in-store soon after.
There's no word on the price range yet, but there's no doubt that Fenty will sell out regardless. It's not every day that a brand is this inclusive, making Fenty something worth celebrating and supporting.