The First Video For Fenty Beauty Is Here & Fans Are Loving Its Diversity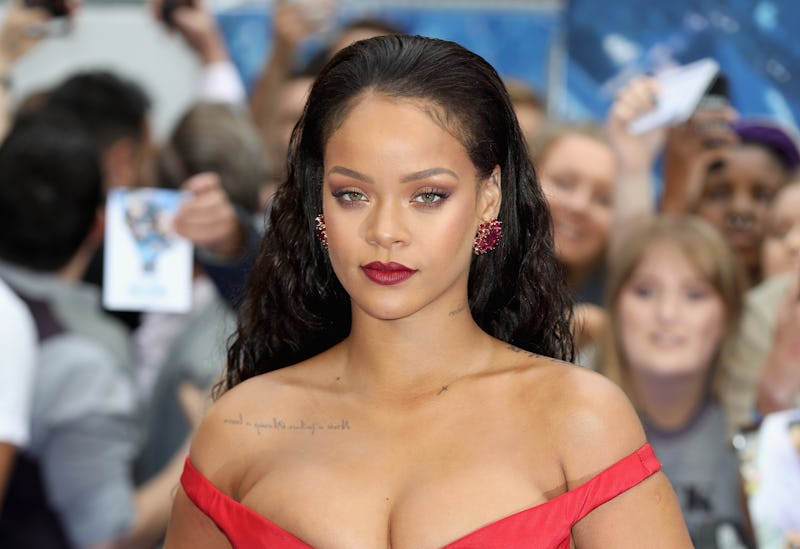 Tim P. Whitby/Getty Images Entertainment/Getty Images
Fenty Beauty has deemed itself "the new generation of beauty," but the Rihanna-owned brand is starting out with a product that you already know about love. Rihanna's first Fenty Beauty product video has arrived, and it looks like glossy lips are on the way. Fans are freaking out over the lip gloss announcement, which will be arriving in stores very soon.
Rihanna took all of her fans by surprise with the announcement of Fenty Beauty lip glosses on Friday, Sept. 1. The singer posted a video that not only celebrated her new launch, but also women of color. Although the video didn't describe the product, it was clear to see that there's a range of neutral-toned glossy lippies on the way.
According to the follow-up video, there are four shades coming — Chili Mango, Trophy Wife, Yacht Life, and Confetti. Each one will be available on Sept. 8 on the Fenty Beauty website. The post says that the brand will be shipping globally and will be available in-stores at Sephora at a later date.
This certainly is starting out with a bang. Glossy lips might not be anything new, but the approach is. If the new generation of beauty means a neutral gloss for everyone, then you can count me in.
People are pretty excited about the initial news. Overall, the first look at the glosses has people reaching for their wallets already. They're also trying to guess which product will be next.
Gloss and glow? Heck ya.
Same.
Shout out to the fierce women in the video, too!
Thanks, Riri.
Dead.
The new generation of beauty is here.
Already a hit.
All caps are needed.
Now that's a true fan.
Needless to say, people are pretty excited.