This Is When Rihanna's Beauty Products Drop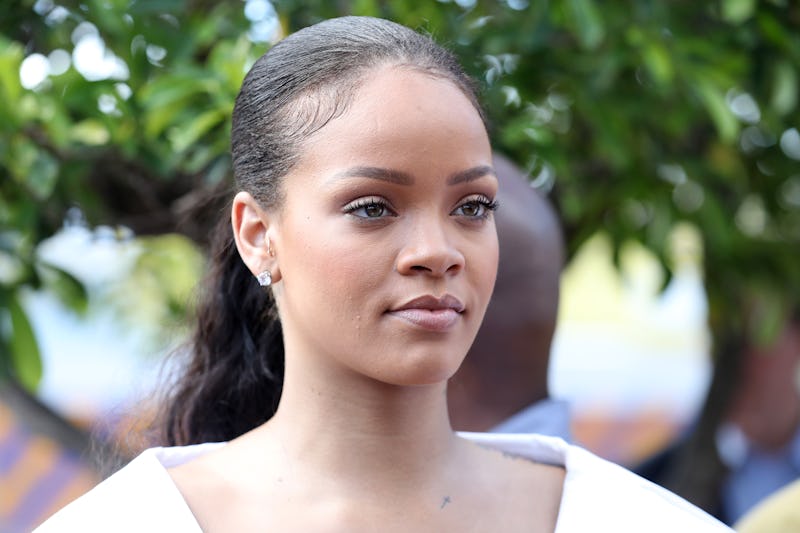 Chris Jackson/Getty Images Entertainment/Getty Images
Ever since Rihanna confirmed that she is working on a cosmetics line, beauty junkies and fans of RiRi's ever-unpredictable style have been waiting for some further information about her makeup brand. Well, the Fenty Beauty Cosmetics Instagram, which isn't a verified account as of press time, teased the first Fenty Beauty product. It's said to be a holographic lipstick. When will Fenty Beauty by Rihanna, namely this holographic lipstick, be available to shop?
According the post, the lipstick will be sold at Sephora and it will be available in the fall, which was previously speculated. Fall certainly isn't around the corner, but it's soon enough!
Neither of those details are shocking, and not just because you would expect RiRi-backed cosmetics to be available on a grand scale. Rather, the Fenty Beauty Cosmetics Insta account posted about the brand's search for a global makeup artist.
The same post was made by Eric Soto, who handles Global Artistry and Education for Kendo-incubated brands, such as Kat Von D Beauty, Marc Jacobs Beauty, BITE Beauty, and of course Fenty Beauty by Rihanna. Since KVD, MJ, and BITE are available Sephora, it makes sense that the same would hold true for Fenty Beauty.
Bustle reached out to Sephora PR reps via email to further inquire about details of the Fenty Beauty launch.
UPDATE: Bustle heard back from Fenty Beauty PR, who wrote: "Fenty Beauty has officially partnered with James Vincent, who is leading the charge on their search for a Global Makeup Artist for Fenty Beauty. This is the only official information posted from the brand since the announcement of the launch in Spring of 2016. Any other post and/or chatter are from fan pages that are enthusiastically awaiting the launch and are unofficial and conjecture about the launch. We are just as excited as the fans and promise the launch will be worth the wait. Stay tuned for Fall 2017."
According to Glamour, this image of the model with the matching pink lips and hood is from the Rihanna x Fenty Puma 2017 spring show.
This was the very first post to appear on the Fenty Beauty Cosmetics Insta feed.
This is the post seeking a MUA for the Fenty Beauty team. The post also referenced Soto. Could it be a fan account or the real thing? Either scenario is possible, but the Fenty Beauty holographic lipstick has everyone in the beauty realm talking.
Rihanna has yet to make a new post on her personal Instagram feed about her beauty line. But frankly, she has been Insta quiet for several days.
All I know is that I would expect RiRi to step out of the box with her first beauty products and a holographic lipstick fits that notion.
Images: Fenty Beauty Cosmetics/Instagram (3)