Rihanna Met With France's President & It Sounds Like They're Teaming Up On Education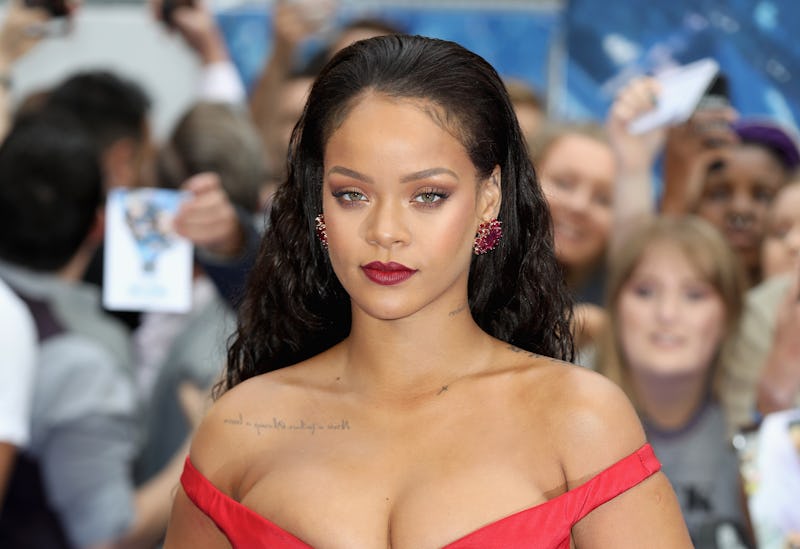 Tim P. Whitby/Getty Images Entertainment/Getty Images
Pop star, actress, and activist Rihanna met with France's President Emmanuel Macron and First Lady Brigitte Macron to show she not only talks the talk, but walks the walk when it comes to educating girls across the globe. A month ago Rihanna began tweeting at Macron and other world leaders, including Canadian Prime Minister Justin Trudeau and Argentina's President Maruicio Macri, about their commitment to fund education.
Her calls did not go unheard. On Wednesday the Macron couple met with the Barbadian artist to discuss education issues. "We're going to make a very big announcement this coming September," Rihanna said at a news conference afterward, hinting at a project in Africa this October.
Rihanna, who shared the #girlpower meeting on Instagram Stories to her 55 million followers, also showed us what a pleasant handshake with a world leader looks like. In spring, after Macron endured a tense and prolonged "push-and-pull" handshake with President Trump in Brussels, the French President told the Journal du Dimanche that it was "not the alpha and the omega of politics, but a moment of truth." In contrast, his first encounter with Rihanna resulted in big smiles and light laughter all around.
Bad girl RiRi is better known for her chart-topping hits, eclectic fashion and recent foray into acting — she will appear in the upcoming Ocean's Eight as one of the thieves on an all-female team. But the ambitious star has also been using her platform for humanitarian causes, such as advocating for education for girls around the world.
‌
In 2012, Rihanna founded the nonprofit Clara Lionel Foundation, which targets education and healthcare issues in impoverished communities. Last year, she also launched a needs-based scholarship program through the foundation that would award students $5,000 to $50,000 for their undergraduate college tuition. Students had to be a resident of Barbados, Brazil, Cuba, Haiti, Guyana, Jamaica or the United States. The same year, her foundation partnered with Global Citizen and Global Partnership for Education in a multi-year campaign to support education initiatives globally — especially in crisis and conflict zones.
And it doesn't stop there. Global Partnership for Education filmed a short documentary about its work that also shows Rihanna teaching kids in Malawi classrooms. The singer's overall efforts even led Harvard University to name Rihanna the 2017 Humanitarian of the Year. It will be exciting come September when we find out what a Rihanna-Macron duo could try to achieve.