Rihanna Looks Completely Different With Her New Hair & Fans Are In Love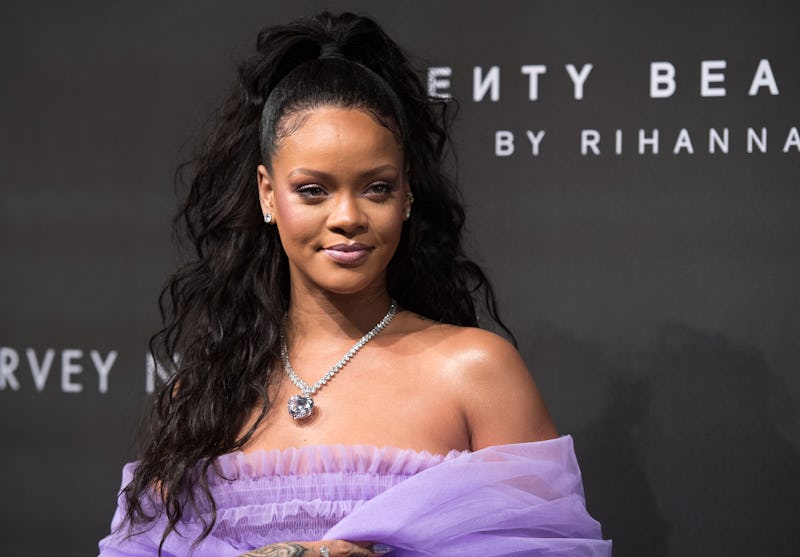 Chris J Ratcliffe/Getty Images Entertainment/Getty Images
Kylie Jenner may have her wigs, and Kim Kardashian may go platinum, but no one rocks a change like Rihanna. The Fenty Beauty creator can basically do no wrong when it comes to style, and she's given fans a new look to rave about. Rihanna's new long brown hair proves that she can rock any look at any time and still look as flawless as ever.
On Tuesday night, the "Lemon" singer took to her Instagram story to debut stunning long chocolate brown locks that harkened back to her iconic 2013 Grammy's look. However, the star doesn't seem to be one to repeat a look, and made some changes from her previous long brown look.
Now, she's rocking a gorgeous, side-swept bang paired with long layers. The new hair is styled with just a bit of a wave to the tresses, and it's so, so glam. In fact, to say that it's a gorgeous look on the star is an understatement — and yes, gorgeous can be an understatement when it comes to Rihanna.
Long hair isn't uncommon on the star, though. Until this most recent change, she was rocking deep black locks that went well past her collarbones. The biggest change from that look to her new hair seem to center on her decision to lighten the color, add a long bang, and incorporate even more length.
Rihanna herself acknowledged the new hair during an Instagram story adding the caption, "New hurr, who di$?"
It's your fans, Rihanna, praising your impeccable sense of style.
On social media, the reaction was undoubtedly positive. In fact, many fans were able to draw parallels to other looks the star has rocked.
The new 'do does, in fact, look similar to her "Unfaithful" music video hair. But it's definitely got a bit of a modern update.
They do have a serious point, though.
One excited fan pointed out that when Rihanna changes her hair, it sometimes means new music is coming. Could that be? Rihanna, are you working on something? She did just record the track "Lemon" with N.E.R.D after all.
But for the most part, the reaction to her hair is all about her the look and less about trying to connect the dots about a potential new album.
In fact, fans can't get enough of it and are asking for more photos.
No matter what she does, though, Rihanna is the queen of slaying ever single hair cut and color.
Rihanna's hair history is an illustrious one. From red to blonde to black, she's had nearly every color imaginable, and she's looked utterly stunning with each one — including her current chocolate brown.
Who can forget her gorgeous red locks at the 2011 Billboard Music Awards? The star rocked this style during the launch and tour for her Loud album, and the color quickly become of her most iconic choices.
She changed the look up for the Grammy's red carpet in 2012, though. The rooted blonde look was gorgeous on the singer.
Who could forget her return to burgundy on the Met Gala red carpet? The singer and Fenty Beauty founder on a red carpet is truly a sight to behold.
Perhaps her most iconic hair, however, is the look she wears most often. Rihanna's black hair has been short, long, wavy, and basically every other sort of style. While she clearly loves to experiment, the dark hue is iconic Rihanna.
The truth is that no matter what Rihanna's hair looks like, she a style star that can't be denied. But hey, who doesn't love a new look?