'Rise' Won't Return For Season 2, But The Show's Creative Spirit Lives On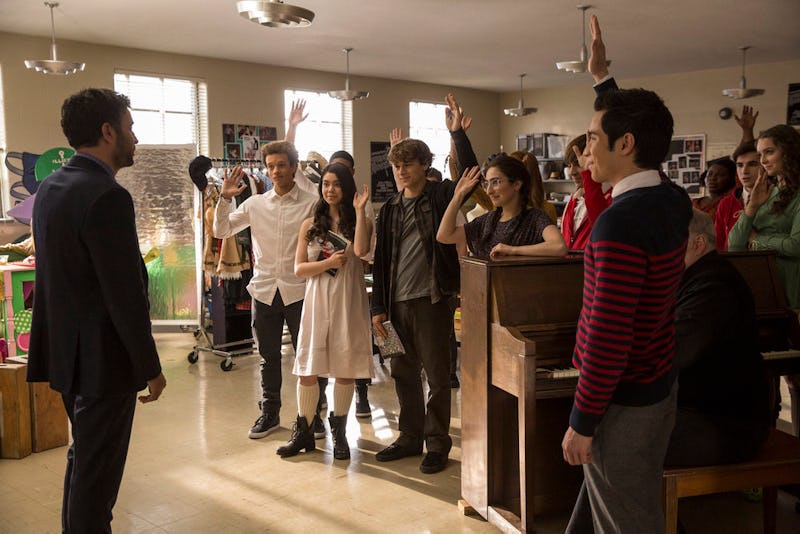 Eric Liebowitz/NBC
In its first season, Rise has taken an empathetic look into the lives of the members of a public school drama program who want to to challenge the assumption of what high school theater can and should be, but unfortunately it looks like their production of Spring Awakening isn't going to make it past opening night. Anyone hoping to see Rise return for Season 2 will be disappointed to hear that Rise has been cancelled by NBC after its debut season, as reported by Deadline. The May 15 season finale of the show features the premiere of the Spring Awakening production that the season has been leading up to. Unfortunately, without Lou Mazzucchelli (Josh Radnor) bringing his students together another year, fans will never know what other productions they would have done to challenge themselves, the school, and th community.
The show's cancellation means that the loss of the only network television series focusing almost exclusively on a high school drama program, and perhaps the only mainstream media depiction of a high school drama program that isn't High School Musical. From using theater as a tool to learn about one's self to backstage romances, Rise was realistic about the after-school lives of those who would rather be singing Sondheim than trying out for a sports team. (Well, aside from football hero/romantic lead Robbie.)
However, just because Rise is over, it doesn't mean that there isn't Rise-adjacent media for fans to explore. There are plenty of ways that fans can keep the spirit of the Stanton High theater program alive, even if the show is dead. Here are a few ideas:
Listen To Spring Awakening
The soundtrack of angsty youths across the globe. Chances are if you were in drama club in high school, the original cast recording of Spring Awakening was incredibly important to you. "Finally," said theater students everywhere, "a musical that understands the theater world doesn't have to be all red-haired orphans and technicolor dreamcoats, amazing as they may be!"
Since the teens of Rise learned about themselves through by immersing themselves in the musical, why not sit down and listen to the album yourself, from front to back, whether it's for the first time ever or the hundredth?
Read Drama High
While Rise strays from the book on which it's based, there's no denying that the story of Drama High: The Incredible True Story Of A Brilliant Teacher, A Struggling Town, And The Magic Of Theater by Michael Sokolove had a major influence on the series. Drama High tells the true story of Lou Volpe, a high school drama teacher from Bucks County, Pennsylvania, who turned the theater department at Harry S. Truman High School into a nationally recognized program that still brings in audiences from Broadway and beyond. If your favorite parts of Rise were the inspirational speeches and the student-teacher creative relationships, then you'll likely love Drama High.
Go See A Local High School Theater Production
What better way to get into the spirit of Rise than to see a real-life high school musical? While you may be hard-pressed to find a high school doing Spring Awakening, seeing a marquee drama club production is really the most immediate way of finding out (or remembering) what high school theater is all about. And after the show's cancellation, you may be missing a bunch of young, hopeful children with a do-it-yourself ethos who are putting everything they have into bringing a show to life.
Still, there are many aspects of Rise that won't be as easily replaced. The show's celebration of the arts as an educational tool, the thoughtful inclusion of a trans teen character, and a Radnor starring role, post-How I Met Your Mother, will all be missed. Rise's cancellation is unfortunate for its fans, but thankfully the show got a full season to take this troupe to opening night.