'Riverdale' Is Reportedly Renewed For Season 2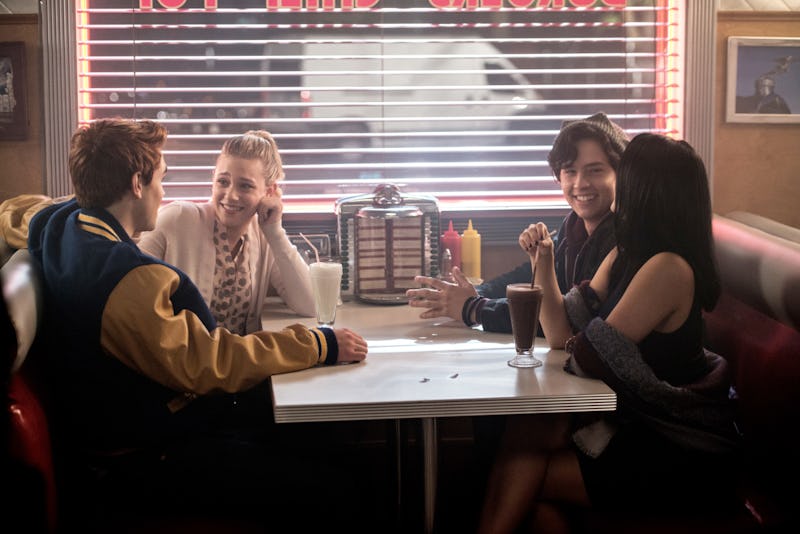 Warner Bros. Television
The CW's Riverdale might not be excelling (per se) in terms of ratings, but the popular show is still a favored part of the CW lineup. So favored in fact, that Riverdale has already been renewed for Season 2, reports Variety. The series based on the iconic Archie comics is only six episodes in, but is already slated to join other comic book franchises Arrow, Supergirl, The Flash, DC's Legends of Tomorrow, and The Flash, as well as non-comic shows Jane the Virgin and Crazy Ex-Girlfriend, in renewal town. Ratings or no ratings, this series has definitely made an impression.
According to Variety, the series averages "a 0.4 in the 18-49 demographic and with 1.16 million viewers adds a 78 percent in the 18-34 demographic in Nielsen's Live+7 ratings." This basically means that, while people aren't knocking themselves over to watch the series (at least live), the ratings are also nothing to sneeze at — especially because who actually watches a show at the time it premieres on television anymore? Apparently, fans of Riverdale are watching and the network has taken notice.
While the series is based on the characters of the Archie comics such as Archie, Betty, Veronica, Jughead, and more, it has a much darker tone than the wholesome cartoon. The series follows the teens of Riverdale as they investigate the murder of one of their own, Jason Blossom, as well as their confusing adolescent emotions (which are almost as dark and bewildering as the circumstances of the murder.)
In related news, our old pal Vampire Diaries is ending after a seven season run. It sort of feels like Riverdale, with its low-key eerie (if not supernatural) vibe, is taking the popular vampire series' place as the CW teen drama that has fans on the edge of their seats. Tune in to the next episode of Riverdale on March 9 as a means of grasping just why this new Twins Peak-esque series is stealing hearts and grabbing second seasons. Or, if you already know why, tune in for more of the drama. Just tune in, guys. It's amazing. I promise.