'Riverdale's Cole Sprouse & Lili Reinhart On Bughead's Future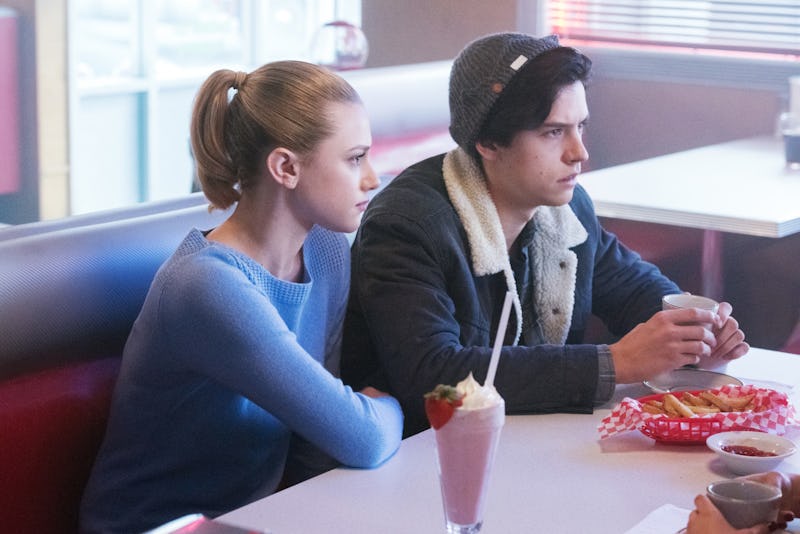 The CW/Dean Buscher
The unlikely romance that blossomed between Jughead Jones (Cole Sprouse) and Betty Cooper (Lili Reinhart) is arguably the best (and most addictive) part of Riverdale. Fans of the breakout CW show are so obsessed with the couple that they dubbed the couple Bughead to encompass their relationship. At The Paley Center for Media's Riverdale event in Los Angeles, I spoke with Sprouse and Reinhart about what the future of the on-screen couple looks like now that Season 1 is coming to a close (and why Sprouse was so shocked fans loved them to begin with).
It's no wonder why fans are obsessed. Riverdale takes a turn (well, many turns) and shows the cute girl next door go for the sensitive guy (for once) in a relationship that's just natural and easy. They just work and they make each other happy. But according to the actors, Bughead may have some turbulent times ahead.
Sprouse suggests that the twisted upcoming plot may cause some friction. "Bughead has been through a lot of trauma Season 1 and will experience more in Season 2. It's not smooth sailing — we get darker and weirder in Season 2," he says. He also says their conflicting personalities could be an issue.
"They're balancing their personalities off each other, which is so apparently contrasting, and I think they're obviously going to have realistic bumps in the road," Sprouse explains.
Reinhart's take is that any teen relationship (in real life or on screen) will come with its drama, regardless of who it is. "With any young relationship, they're still figuring out who they are," she says. "That kind of affects your relationship with other people. Things change. People breakup and get back together."
Bughead may experience a bit of on-again-off-again in the future, which I (and my teen self) know very well. "It's kind of an open-ended situation because anything can happen between two teenagers who are falling in love," says Reinhart.
Bughead shippers should rest easy knowing that both Sprouse and Reinhart are on their team. "I want them to have a happily ever after if it's honest and real," says Sprouse. "If they can comfort each other in a storm of sh*t that seems to be hitting them at light-speed, that's what I want." His on-screen counterpart agrees. "It makes sense to have these two people who are kind of lonely and on the outside and don't really fit in to a particular group to be together," says Reinhart. "I do hope they pull through, as long as they keep making each other happy."
Both actors say they're still shocked fans are so on-board with Bughead to begin with, since Archie and Betty are together in the comics. "Because I was an avid comic fan, I understand when properties change how volatile people can get," Sprouse says, particularly in regards to Jughead's asexual history. "There was a lot going in that was betting against these two characters finding joy. I think when people really took to it and enjoyed and loved it, that was something to me that was really refreshing, truthfully," he says.
Reinhart sees both sides. "Some people really hate them together. Some people really love them," she says. Still, she ships the on-screen couple and tips her hat to the decision to put them together. "That's the whole point, our show is not a direct carbon copy of the comics."
Regardless of what happens to Bughead, fans can continue watching Sprouse and Reinhart's real-life shenanigans, which are still pretty darn cute.