Why The RNC Is Backing Roy Moore's Alabama Senate Campaign After All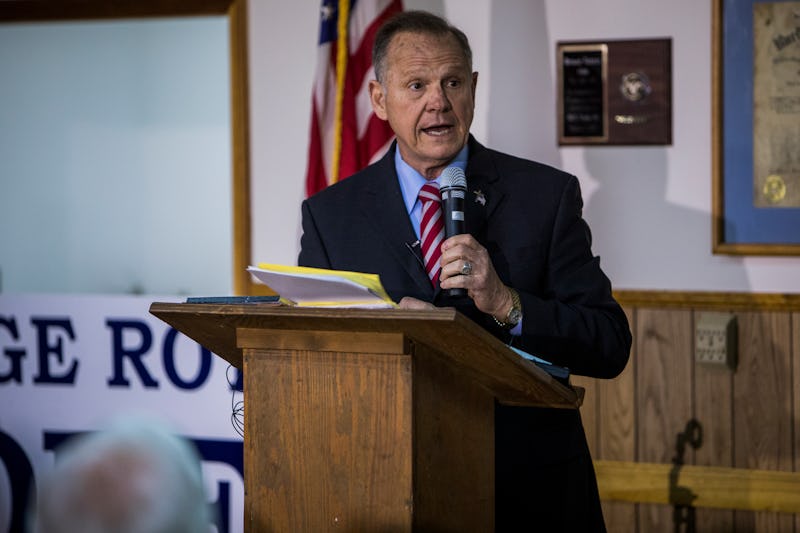 Joe Buglewicz/Getty Images News/Getty Images
A conservative super PAC and the Republican National Committee (RNC) began funding Roy Moore's Alabama campaign for Senate again, The Washington Post reported on Monday. Initially, the RNC had stopped advertising in Alabama after numerous sexual misconduct allegations against Moore were publicized in November (he has vehemently denied them). The group reportedly changed its mind after President Trump decided to throw his support behind the controversial candidate.
Eight women have accused Moore of sexual misconduct. Four of them were minors when he allegedly harassed, assaulted, or "dated" them; one woman claims that he undressed and assaulted her when she was just 14 years old. Moore has called the allegations "fake news." The RNC halted its support for Moore when these women first came forward: It ended its joint fundraising agreement with him and stopped paying Alabama canvassers.
Now the RNC has announced that it will once again fund Moore's campaign for the eight days remaining until the election. The America First Action super PAC, which says it is "dedicated to electing federal candidates who support the agenda of the Trump-Pence administration," also declared that it would spend $1.1 million on Moore before the election.
When the accusations against Moore began emerging, many congressional Republicans distanced themselves from him. Senate Majority leader Mitch McConnell asserted that Moore should drop out of the race and said, "I believe the women." McConnell softened his stance on Sunday, saying, "The people of Alabama are going to decide a week from Tuesday who they want to send to the Senate. It's really up to them." However, he left open the possibility that he would support an ethics investigation into Moore if he is elected. An investigation is already underway targeting Al Franken, the Democratic senator from Minnesota who has been accused of nonconsensual touching by six women. "I respect women. I don't respect men who don't," Franken said in his apology. "And the fact that my own actions have given people a good reason to doubt that makes me feel ashamed."
The Post reports that Trump's recent endorsement encouraged the RNC and the America First Action PAC to once again throw their support behind the alleged child molester. On Monday, Trump expressed his support for Moore on Twitter and officially endorsed him for the first time in a phone call.
"Democrats refusal to give even one vote for massive Tax Cuts is why we need Republican Roy Moore to win in Alabama," Trump tweeted. "We need his vote on stopping crime, illegal immigration, Border Wall, Military, Pro Life, V.A., Judges 2nd Amendment and more. No to Jones, a Pelosi/Schumer Puppet!" Trump declined to openly endorse Moore in the immediate aftermath of the accusations, though he has consistently criticized Democratic opponent Doug Jones.
For his part, Moore has denied any instances of assault, abuse, or inappropriate behavior. "Judge Moore is an innocent man and has never had any sexual misconduct with anyone," his campaign chair said in a statement on Nov. 13.
Moore still does not have much enthusiastic support among congressional Republicans, and some are continuing to speak out against him. On Monday, for instance, Sen. Jeff Flake from Arizona tweeted, "A Roy Moore victory is no victory for the GOP and the nation."
Recent polls show that the race between Moore and Jones is extremely close. Because in-state institutions haven't taken many polls and outside polling institutions don't have much experience tracking Alabama elections — it's a consistently red state that doesn't typically host competitive races — there's good reason to treat the polls with skepticism.
The Alabama special election will take place on Dec. 12. If Moore wins, he risks an ethics investigation that could lead to a statement of formal disapproval or even eviction from the Senate. Many representatives, including Republican Sen. John Cornyn from Texas, have said that they would support such an investigation. A vote on expelling a senator hasn't taken place since 1862.